Day 1,638, 23:41
•
Published in USA
•
by Thedillpickl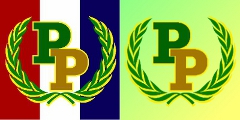 Pickle's Patriots & the Pickle Party present:
Hi kids!
Yesterday was interesting for awhile. Three articles of note were Ajay's
OFFICIAL Voting Orders
, then someone named
borissajkas
released
eUSA OFFICAL VOTING ORDERS
(note the unique spelling of 'official'!) and finally
Sajler
produced
[eUSA ALERT] VOTING ORDERS
. (Note how using Caps Lock in their titles make them look even more
offical
.)
It was very nice of these folk to step up and speak for the legitimately elected government of the eUS. Ajay even took the extraordinary step of assuming the temporary position of Director of eHomeland Security to mass PM many new players in our community. How thoughtful of him.
Let's Meet Our New Friends!
First, might I suggest some suitable
background music.
Have a look at boris.
Click image to enlarge.
Click image to enlarge.
Now Sajler.
Click image to enlarge.
Click image to enlarge.
Well That Was Fun
Early on the comments and trolling were quite amusing. Ajay never did show up, which would have allowed us to be entertained by his whimsical remarks. By the late afternoon (evening time in good ol' Serbia) everything fizzled out and the fun was over. I would give the show 3 stars simply because of the voting by non-commenters. It could have been a 4+ if The ring master had shown up for his party.
Post your comment
What is this?

You are reading an article written by a citizen of eRepublik, an immersive multiplayer strategy game based on real life countries. Create your own character and help your country achieve its glory while establishing yourself as a war hero, renowned publisher or finance guru.