Day 3,739, 01:49
•
Published in Romania
•
by Nicolae Crefelean
So do you feel the love?
😁
It started with confusion.
Mesther
had no idea what happened that he got his strength switched from 209k to 196. It turned out he clicked
Yes
on what he thought was a friendship request. This is a good reason for which eRepublik could introduce different images for each alert type.
Then I went looking for some small player to offer my strength to. I went to my MU, I sorted my colleagues by strength, ascending, and checked which of them had a damage over 0, which clearly indicates they were active today. Then I checked if they had that green circle next to their names in the citizen details pop-up when you keep your mouse cursor over a player's name. I finally found someone and we switched strength.
But what about the hearts on the battlefield? Nobody seemed to care. I clicked it and I noticed it costs 5000 cc. Quite a lot, considering I still need to raise almost 22k cc for a set of houses. So I ignored the heart button, then someone activated it.
😁
Awesome! I spent all my 240 energy
😁
on the battlefield, plus 1-2 EBs. Awesome indeed.
😛
Minutes later, another heart. This time I was a bit more prepared for the unexpected, so I spent 4 more EBs.
😁
Then I pondered about spending gold for EBs, but Plato didn't think about some discount, so I stayed away. Heck, Plato didn't even tell us that the heart is only active for one minute, and that it costs 5000 cc. You have to click the button and activate it to find out.
What about that "50% less damage" message on the battlefield? It's there. Plato said the damage won't be affected, but who knows what other bugs lurk behind the scene if something so visual is there.
😛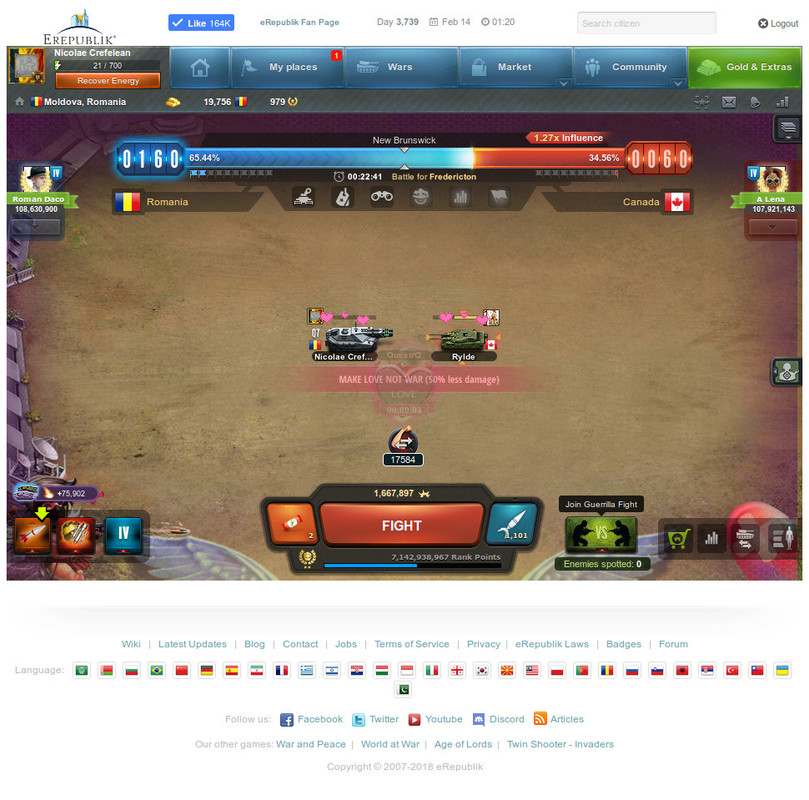 You know, I suggested in a ticket yesterday that we should be able to send the strength switch requests to at least 3-5 people simultaneously, and also make it last 2 hours from the switch, not from the time of the request. That way more people would be motivated to be active, so they can be the "first come, first served". Too bad it's not like this. But actually... even their announcement contradicts itself, so we can't be 100% sure what's going on.
"the strength will be switched for the next two hours. The 2 hours are counted from the moment the request is sent"
Oh, and the event was announced yesterday. Sweet, huh? Quite a lot of time to prepare with anything in advace.
😛
Anyway, there was no chicken so far. Don't forget to be in top 2. #1 gets the normal BH reward, while #2 gets double that.
On Valentine's day, the first loser is actually the big winner.
😁
Only in eRepublik, huh?
Cheers, and happy hunting (for hearts and medals)! o/
P.S. And if the
Campaigns page
would also display where LOVE is activated, that would be
sweet
!
😛

Love is in the air:
https://www.erepublik.com/en/article/2664353