Day 1,614, 11:14
•
Published in Ireland
•
by Sweet Drinker

[img][/img]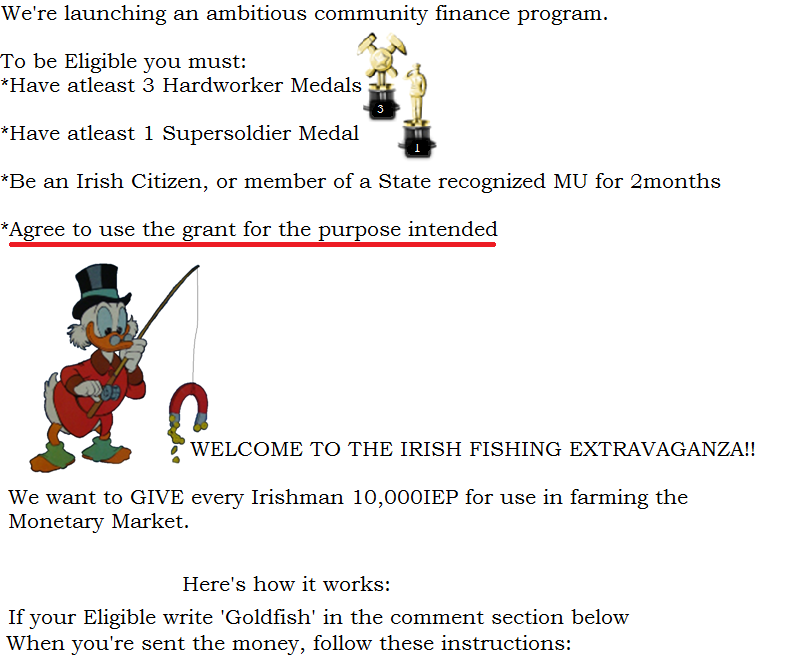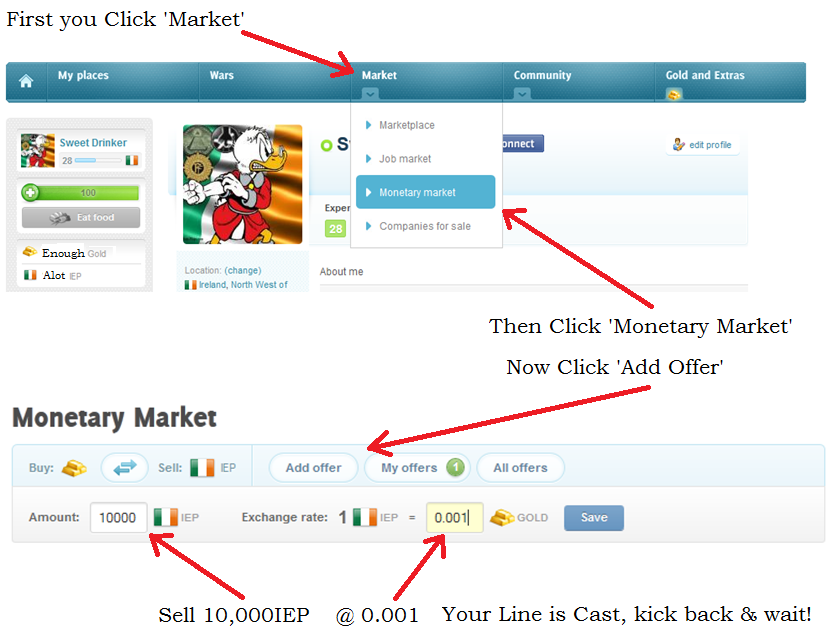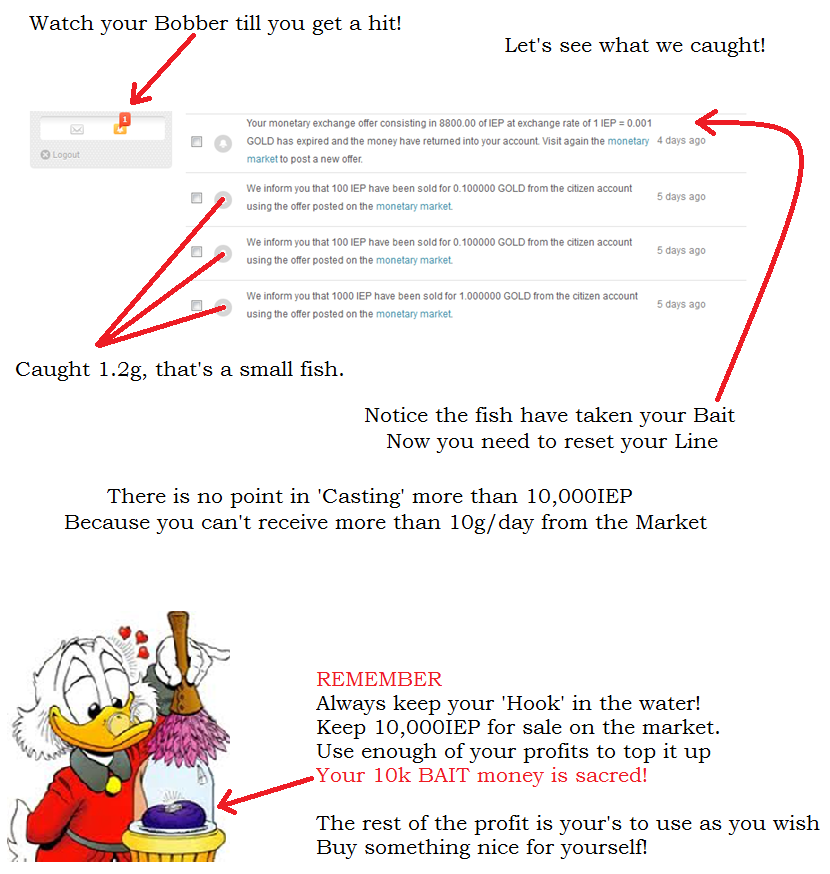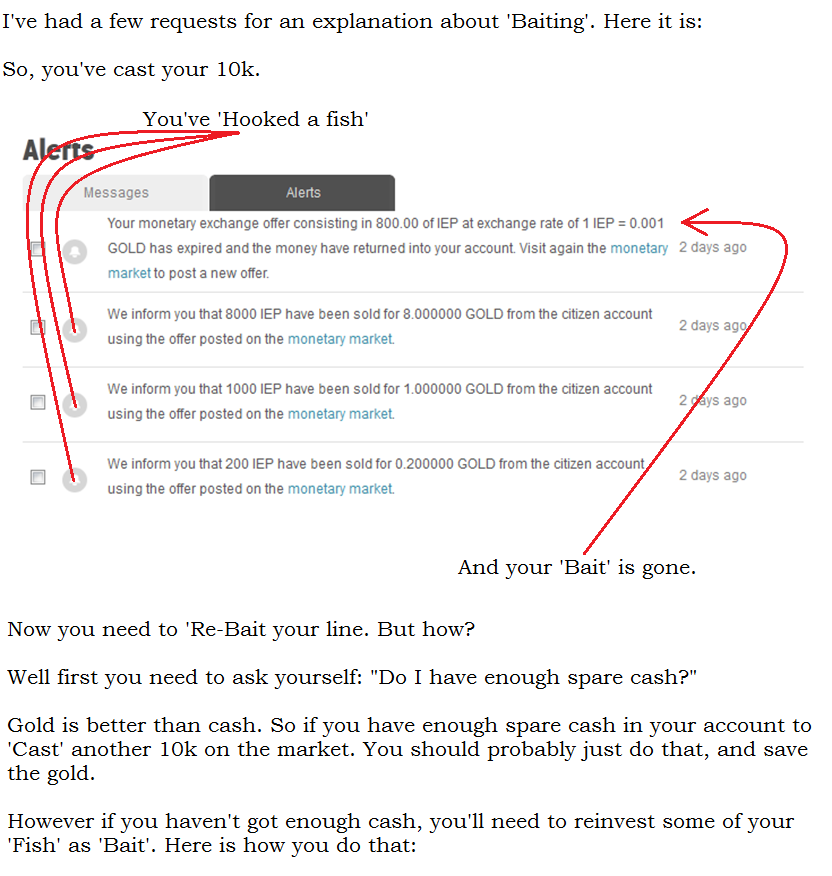 Notice that I 'Caught' 9.2g of 'Fish', and spent 5.5g of it on 'Bait'.
That's 3.7GOLD profit, from doing practically nothing.
Now that's good fishing!
😃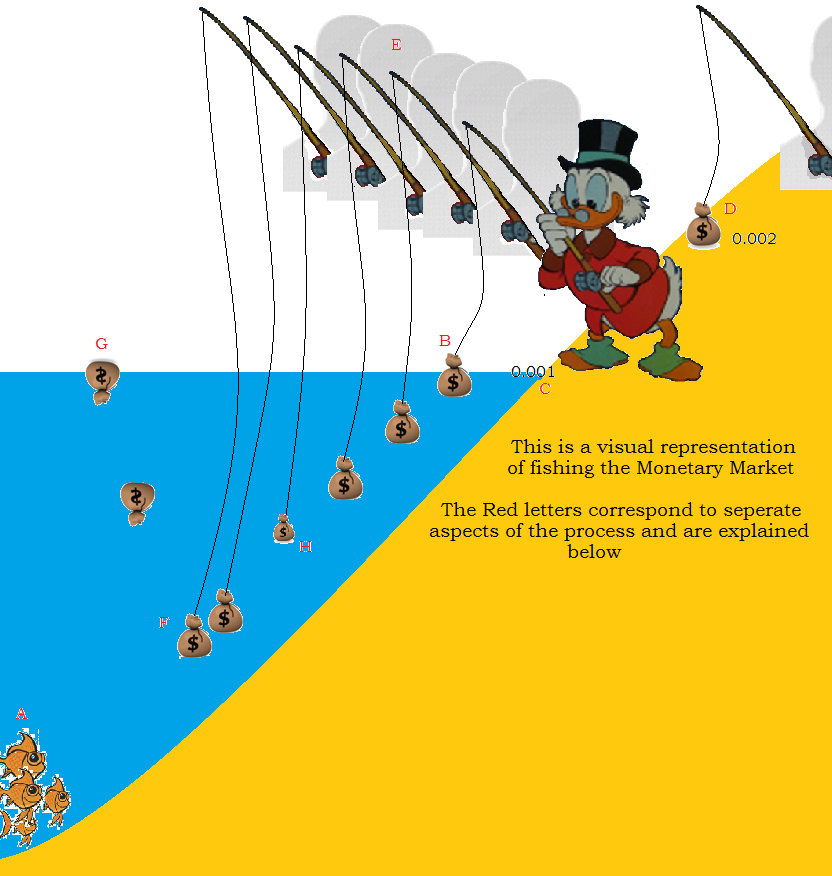 A)These are the goldfish
Notice there are lots of them, and they vary in size.
Goldfish eat cash, but like deep water, they will stay as far from the surface as they can while continuing to feed.
B)This is my Bait
I've only just cast, so my bait is at the surface (nowhere near the Goldfish)
All casts ofc start at the surface.
C)This is the surface of the water
Sea level is at 0.001 Perhaps someday sea level will change, but for now it is at a constant level.
D)This is a failed cast
This fella has cast his bait at 0.002 and since sea level is 0.001 his bait hasn't reached the water. Don't expect to catch fish above the water level!
E)These are other fishermen
My diagram only has a few, in reality there are thousands of them...
And they all got here before me
🙁
F)The Bait of other fishermen
Is deeper in the water than mine because it's had more time to sink.
Since goldfish stay as deep in the water as they can, they won't approach my bait while this bait is available to them.
G)GoldFish only eat 'live' Bait
Bait can only survive so long underwater. If it 'drowns' it will float back to the surface (don't worry, you get your money back). Also, if a goldfish 'nibbles' your bait (takes a small amount of cash like 100), it won't survive for much longer and again the rest of it's body will float to the surface.
Since there is more bait available than there is Goldfish to eat it all, alot of bait drowns and floats back to the surface. To increase the odds of your bait making it to the Goldfish it's best to time your cast when as much of the erep population is asleep for awhile. This allows some of the previous fishermen's bait to drown, forcing the Goldfish to come alil closer to the surface, and toward your bait!
H)This fella has made a mistake
His bait is smaller than mine because he hasn't put a full 10,000cash onto his hook. Though we cannot control how big a Goldfish will actually strike our bait, we DO know that you can't catch a Goldfish that is larger than your bait. You can't reel-in a Goldfish larger than 10gold, so it is pointless to put more than 10,000cash on your hook.
Don't fail like that guy by putting less than 10,000cash on your hook
And I see alot of you ARE FAILING to put the full 10k bait onto your hooks!
Robbing YOURSELF of the opportunity to catch the largest possible Goldfish.
The most delicious thing in the game!
If you're interested in applying for the
Irish Fishing Club Grant
,
make sure you're eligible and understand the process,
and write the appropriate phrase in the comment section of
THIS
article below
*LIMIT ONE PER CITIZEN*
Current Fishing Vlub Members:
Winston Hope Smith, Kurdt Fradenburg, MUFC92, Bean&teddy, Darragh, igor7, Irasian, Skylo, Lexone, Patrick, Padraic, Stilpo, Appleman, Grubb, Domagoj, Marinko, Pip Kelly, Dan Breen, Louise Brooks, Milesian, Seanan, BiednyMis, MikeBane, columbia, castaneda, Grainne, Conway, Gormley, Marcus, Klynn, woods, Mirek, MSM, Ethel Rose.