Day 1,864, 03:00
•
Published in New Zealand
•
by New Zealand Public Information
Hello eKiwis,
Over the past few days since the updated edition not much has happened. So today I will remind you about the Otago RW and about the results of the Congress elections.
As many of you read in MoI news and MoD news before, our government is in talks with eChile regarding Otago, so please do not support a RW there until you are given notice it is being returned.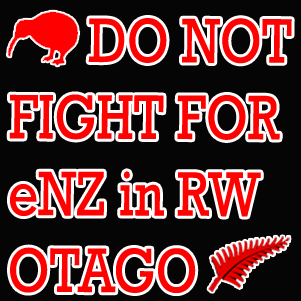 Please obey this order for good!
Otago will not be returned yet!
Thank you in advance.
🙂
Do not fight for New Zealand in Otago,
fight for eChile instead
, or go to
another battle
and help our allies!
Long live eNZ and CoT!
Our Congress has been busy these past few days, passing a number of bills that are working to strengthen our nation. I have included a list of these bills:
- A mutual protection pact with Spain: approved (23:0)
- A mutual protection pact with Bulgaria: passing (19:0)
Our nation held a Congressional election on December 25th and I am pleased to announce election results. We had 3 regions: Auckland, Canterbury and Otago and 30 congressmen are elected.
Top 5 parties and results are:
Ujedinjenje ili smrt 69 votes 37.7%
Love and Peace 64 votes 34.97%

Beer 'n' Boobs Party 29 votes 15.85%
Te Pori 11 votes 6.01%
Ranginui 10 votes 5.46%
Total votes: 183
The eNZ government would also like to take this time to congratulate the new Congress members on their elections: 30
Djeza
kawala023
BataRaja
David SunTzu
Koske
Sonatar
VEXXXBG
Damjan Musanovic
StylerPFC
lordbonislav
Krupanjac1389
Sove1
LeginBc
Tasmaryn
majka65
qjke
Peles_93
GemaMilos
Darkonje
DobrsBanovani
JarkesH
MeAwesome
Valentyme
Teoslav
Jimi Jimson
Trento96
Edmond Rothbard
Rafael Saltori
ave-imperator
Koca7
The Ministry of Information is always looking to promote eNZ media. Here are some articles that are circling within our community news feed.
MoDefence orders:
http://www.erepublik.com/en/article/-mod-orders-for-day-1858-2179484/1/20
Food giveaway:
http://www.erepublik.com/en/article/food-from-jungle-day-1-862-1-863-2181954/1/20
Funny corner:
http://www.erepublik.com/en/article/merry-christmas-to-all1-2181906/1/20
And other articles you can find and choose by category here:
http://www.erepublik.com/en/main/news/rated/all/New-Zealand/1
NZ Forum
http://erepubliknz.freeforums.org/index.php
IRC Chat on Rizon #nzarmy
http://mibbit.com/?channel=%23nzarmy&server=rizon.mibbit.org
Well that is all for now my Kiwi friends. Please remain attentive to the MoD Orders of the Day and please fight hard for eNZ in the battles that count!
Our government will continue to fight for our nation and ensure that strong, free and fun eNZ remains on the map for everyone!
Sincerely,
Helen Moon
Minister of Information in eNZ
Post your comment
What is this?

You are reading an article written by a citizen of eRepublik, an immersive multiplayer strategy game based on real life countries. Create your own character and help your country achieve its glory while establishing yourself as a war hero, renowned publisher or finance guru.