Day 1,870, 13:03
•
Published in India
•
by Death and Taxes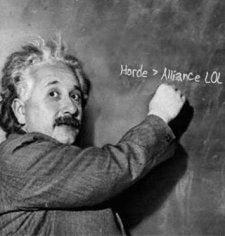 OK, this was not the article I was intending to write. The article I wanted to write was on the lines of
Hail! Croatia. Hail! India. Fail Indonesia! Fail! Thailand
and then waffle on how wonderful things were, what with India obviously leaning back towards EDEN again, having MPP's with Canada, Ireland and China now in place.
Not to mention the highly fortunate and convenient recent NE campaigns where we managed to form a double block on our respective enemies as outlined
HERE
like so: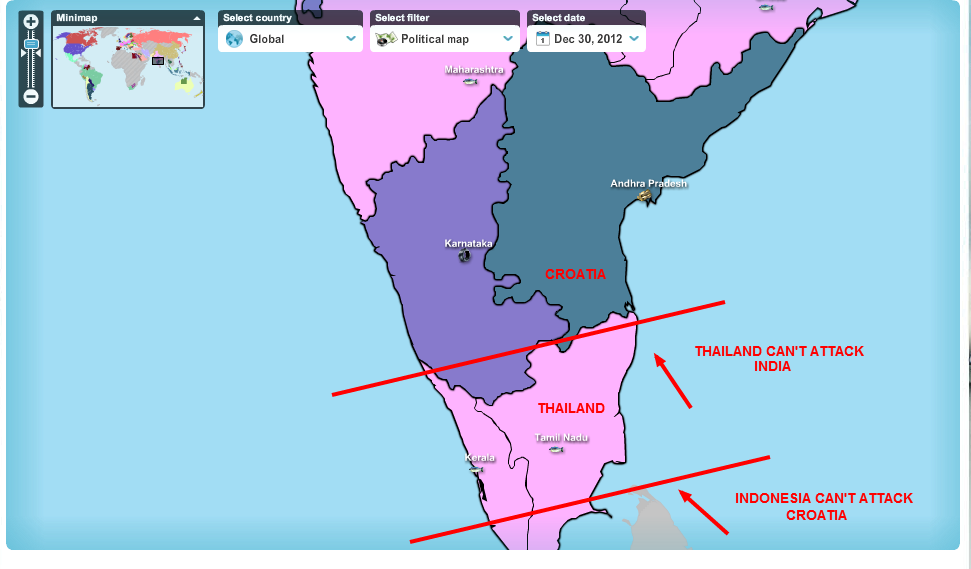 Great huh? So why am I not writing this article, well I'm not writing it is because of this: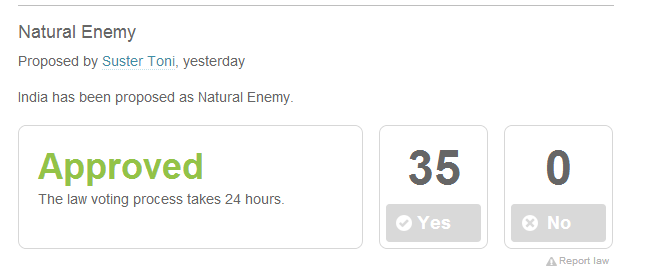 Which then resulted in this:
Which then resulted in this on the Indian side: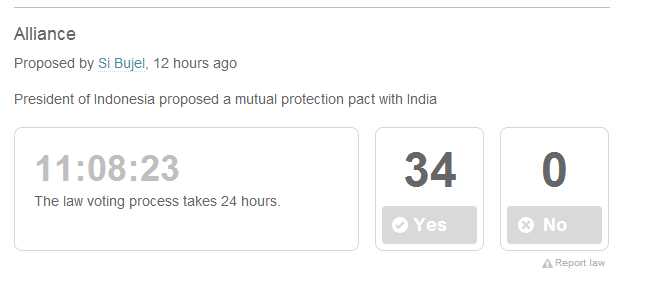 But was completely rejected on the other side:
Until someone upped the odds like this: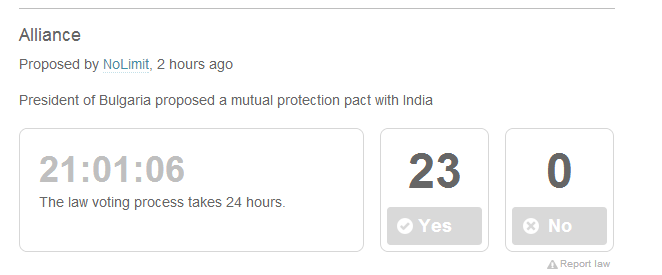 Which thankfully was reciprocated by this: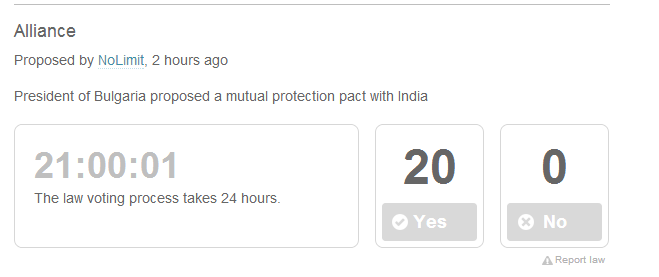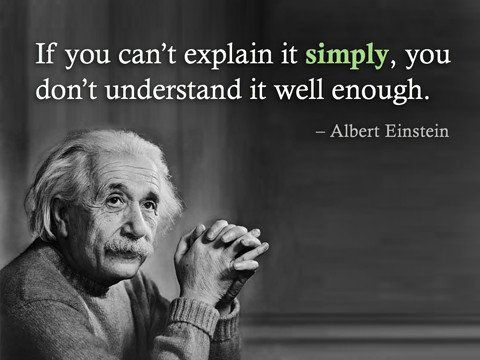 So. I CAN'T tell you what has gone wrong, because I'm not privy to the governmental and congress PM threads. I'm also hardly ever on IRC or SKYPE to utilise what appears to be the standard means of communication in eIndia.
However, as I've pointed out before, there is an onus on the government to communicate to its people and also to a wider international audience by using the press. Unfortunately, over 24 hours after the start of this debacle we still haven't had any official communication.
eIndia. I'm sorry, but this is very poor. Should I be the only one who seems and feels the need to try and explain to this country what is going on using the media? There is an art to communication, and it is the finest propaganda medium in eRepublik. You must tell your own story and tell it well....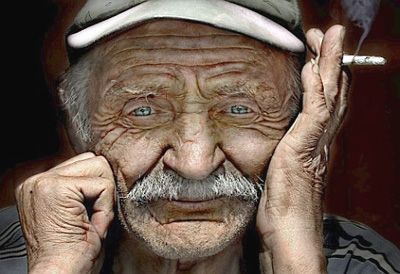 I have the link to the logs where the discussions took place between eIndia and Croatia before the NE were started. However, those of you who know me realise that I don't do leaked logs, nor do I do screenshots of PM's or feeds. Why? Because they are easily manipulated and people don't believe them any more. There is also the element of reputation, people can send stuff to me and know I am not going to pass it on elsewhere, even to my best friends in eRepublik.
What I can tell you was that the conversations took place between:
Wild Quark
eIndian MoFA
Vladimir Alexei
eIndian dMoFA
sino301
eCroatian Prime Minister
Ahileuss
eEgyptian Prime Minister and vMOFA of eCroatia
Ashwamedh
Congress member
Frojla
Some eCroatian commander
So what was the conversation about that I can't tell what happened? Well to be honest, it was the usual..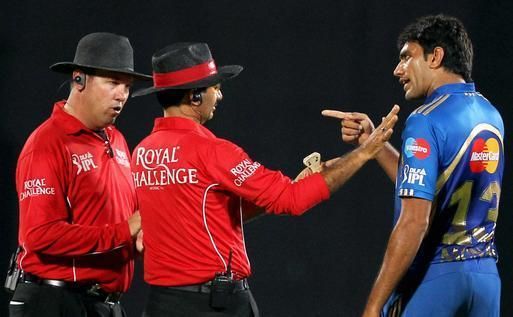 Which isn't surprising as English is not the first language of Croatia. But the gist of the matter is that both sides were unable to come up with a compromise and a clear decision about how both countries could progress together. This is a failure of diplomacy on both sides.
I will add that the Croatians had set up something singularly unpleasant and insulting to our eIndian representatives but someone else can explain what that was, it's not for me to say
So it was after this discussion that Croatia launched their NE proposal.
The Croatian CP has written an article
Here
about the story leading up to the natural enemy proposal. Even taking into account the weakness of Google translate it still comes across as a complete rambling mess.
So what does this leave us with? Well hopefully, a media piece that people can comment on and enlighten us with and give their perspective on. As for me, well here is what I think:
Croatia and India had a beneficial land deal going on. Croatia screwed it up by failing to contain their MU's when they were supposed to give one of our regions back.

India has a strong and vocal segment that wanted to leave GEA/EDEN and forced through a disastrous referendum that no-one likes or trusts.

India gave her word and fought for EDEN during the last few weeks and helped Croatia from being wiped. In addition, she has signed MPP's with EDEN or pro-EDEN countries.

There was a chance in the last couple of days for Croatia to take advantage of this and cement India back into the pro-EDEN camp.

By chance or design or complete incompetence, Croatia has screwed this up and so now, from my point of view, there is no going back for India. India will join CoT and fight to wipe Croatia from the map, and she will be bringing friends...
There is still time to turn this around however, and I would ask both sides please to try diplomacy once again...
Thank you for reading....
Post your comment
What is this?

You are reading an article written by a citizen of eRepublik, an immersive multiplayer strategy game based on real life countries. Create your own character and help your country achieve its glory while establishing yourself as a war hero, renowned publisher or finance guru.