Day 1,896, 07:27
•
Published in Pakistan
•
by marios captain
Hello e-pakistan...
The purpose of this article is to present you my goals as a
COUNTRY PRESIDENT CANDIDATE...

LET'S START...

E-PAKISTAN faces many SOCIAL/MILITARY/FINANCIAL problems...

To start with, i think that it is the financial problems that causes all the others...
More detailed, the lack of e-pakistan's gold leaded the map to look like that...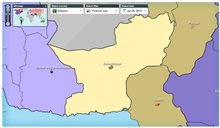 E-PAKISTAN, needs to conquer it's previous regions...
To be honest, that's can't happen from one day to another...
Coordinated efforts are needed - BOTH FROM OUR MILITARY UNITS AND BY EACH ONE OF US SEPERATELLY.

When a resistance war opens, we should all be ready to make a big damage,even by using our bazookas,bombs etc. Each hit is important, so no damage should be wasted...

If we want our resistance wars to be succesful, we have to do something more... And that's it INVITING NEW PLAYERS TO THE GAME. Inviting new players to the game means more people , which means more and more damage in our battles...

E-PAKISTAN SHOULD TRY TO DEVELOP BY MAKING THE BEST POSSIBLE USAGE OF IT'S LIMITED WEALTH...

That's why pakistan should try to conquer new territories - but not overdo it...


TO SUM UP, MY GOALS AS A COUNTRY PRESIDENT CANDIDATE ARE THE FOLLOWING...
---
1)INCREASE E-PAKISTAN'S CITIZENS BY AT LEAST 20%
---
2)CONQUER 2+ NEW REGIONS -Sindh -Punjab...
---
3)HELP EVERY NEW PLAYER WITH A SYMBOLIC NUMBER OF FOOD AND WEAPONS TO IMPROVE AT THE GAME...
---
PLEASE COMMENT...
Post your comment
What is this?

You are reading an article written by a citizen of eRepublik, an immersive multiplayer strategy game based on real life countries. Create your own character and help your country achieve its glory while establishing yourself as a war hero, renowned publisher or finance guru.