Day 1,900, 23:17
•
Published in Colombia
•
by W.A.R
Buenos dias, tardes o noches eCompatriotas:
Como ya lo he expresado anteriormente, mi gobierno sera un gobierno de inclusion y de unidad, sin distincion de partidos politicos o tiempo en el juego, solo de personas que deseen al igual que mi actual equipo sacar adelante nuestra eNacion.
Como todos sabemos, una sola persona no puede cambiar el rumbo de todo un ePaís. Las propuestas para mi presidencia son conocidas por todos y ya existe un gran número de colaboradores y de ciudadanos que me han expresado su deseo de contribuir en nuestro proximo gobierno, debido a esto en caso de ser electo CP para el próximo periodo y para poder cumplir a cabalidad con todo el plan de gobierno trazado, hace falta engrosar el número de personas con ganas de trabajar por e-Colombia durante mi gestión.
Para ello he decidido hacer una convocatoria y que todas aquellas personas interesadas en trabajar en Ministerios, secretarías, intendencias y demás, puedan hacérmelo saber y formar así un equipo de trabajo integral, no excluyente, transparente y comprometido.
Todos aquellos interesados, por favor llenar el siguiente formulario antes del dia Sabado 2 de febrero de 2013 a las 2 pm Hora de Colombia:
http://goo.gl/xG5ab
No siendo más,
-W.A.R-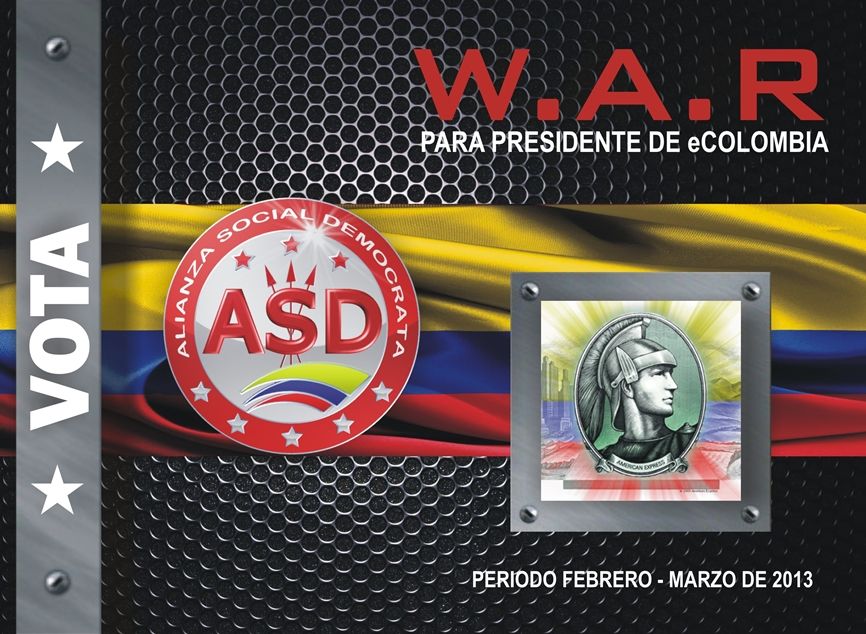 Post your comment
What is this?

You are reading an article written by a citizen of eRepublik, an immersive multiplayer strategy game based on real life countries. Create your own character and help your country achieve its glory while establishing yourself as a war hero, renowned publisher or finance guru.