Day 2,030, 22:08
•
Published in Ireland
•
by The Irish William Wallace
That's right, I am no longer the man I used to be - MikeBane, for I have been consumed by the Dark Side of the eForce. And I will speak few sentences at a time because what I say is poetry.
I am going to enact emergency executive powers to me, the Supreme Chancellor Palpatine, and become President of the ILP and then...Emperor of eIreland!
If I am elected in the ILP, I will declare it a new party! The first galactic "Imperial Party" which we will use to harbor in the dictatorship of the Sithitariate.

Dzworokka yun; nyâshqûwai, nwiqûwai. Wotok tsawakmidwanottoi, yuntok hyarutmidwanottoi
I'm spittin rhymes you can't even understand
We will become a totalitarian and center party because whatever I, EmperorPalpatine says goes whether it is left or right or off the scale. Why should you do this? Because I have a...
That's right, a Death Star. Only through me can eIreland achieve a power greater than its ever imagined. Use my knowledge, I beg you. Ever since I've been in eIreland, you all have been seeking a life of great significance...of consciousness.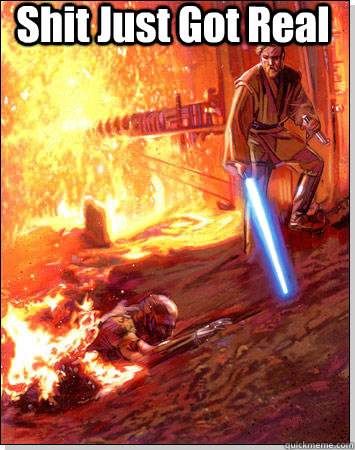 The Dark Lord of the Sith,
EmperorPalpatine
Post your comment
What is this?

You are reading an article written by a citizen of eRepublik, an immersive multiplayer strategy game based on real life countries. Create your own character and help your country achieve its glory while establishing yourself as a war hero, renowned publisher or finance guru.