Day 1,875, 15:07
•
Published in Belgium
•
by Kiyonori Dragnier
Dear world,

I wanted to write about something that is sadly underrated and unknown by many eBelgian Citizens, yes I'm talking about eBelgium national forum !

The eBelgium community is mainly based on this forum where you can participate to many things or meet the community.

The first thing you'll see is how welcoming our community is.




If you don't see a lot of things in the forum after registration don't worry ! After registration and posting in the Welcome section of our forum, if you're an eBelgian Citizen you'll get your forum mask that will allow you to see more things in the forum, this is to prevent unknown or unrelated people to bring havoc on our beautiful community !

If you're someone that is making his debuts on eRepublik or if you're feeling like learning about some game mechanics don't worry ! We also have a beautiful section with some guides.




If you don't find what you're searching, you can also ask your questions by posting a message, we'll be happy to help you in learning how the game works !

Are you looking for random topics or some discussions unrelated to eRepublik? If yes then we have a magnificient section full of discussion about everything... or everyone, see how Raskol and Beaver Juice are loving each others by making some dedicated topic for them !




If you're bored about talking or you feel like wanting some fun we also have a ultra mega fun forum games section ! Play "Tug of War", take on a crazy defy like counting to one million !, help at making a story where everyone put the next few words to create a Best Seller or perhaps you prefer to give some slaps or hugs to others members of our community. Yes, we have fun here !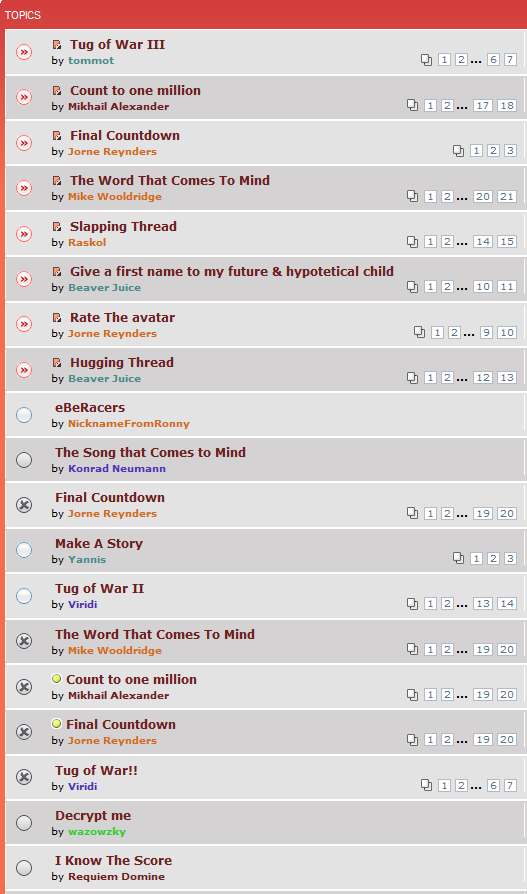 Do you want to speak about something related to RL events or having a question about a problem that worries you? Then come to see our best psychiatrist in our very true "Real life stuff" part of our forum. We have cookies !




Of course our beautiful forum isn't limited to what I talked before, there's even more sections in our forum, if you're member of a political party you can ask an access to see the private part of it, the same applies for military units or congress members where we debate and make positive things for eBelgium.

Our precious community isn't only on our forum but also on IRC in Rizon at #eBrussels, where you can talk directly to us or even making parties ! Yes, we have a lot of fun here !




Why I wanted to talk about this? Because there's something very important when playing a game like eRepublik. It's called communication, trust me, by playing eRepublik with a community you'll discover more things, make a lot of eFriends and you'll see a totally different way to play eRepublik. Isn't it amazing?

Really it costs nothing to come and spend time with us, give it a try I'm sure you won't regret this, if you have any questions about our forum don't hesitate to send me a PM, I'll be happy to answer you.

Best regards,
Kiyonori Dragnier
Post your comment
What is this?

You are reading an article written by a citizen of eRepublik, an immersive multiplayer strategy game based on real life countries. Create your own character and help your country achieve its glory while establishing yourself as a war hero, renowned publisher or finance guru.