Day 1,937, 07:28
•
Published in Switzerland
•
by Trogdorthetroll100
Clonoss's name matches his activites very well! Creating an army of clones is very fitting to his name,

http://www.erepublik.com/en/article/the-ban-hammer-still-updating--2183165/1/20
But today he took it even farther. Clonoss does not simple clone multis, he also clones other peoples work, exactly! Take a look for yourself:
Me, on 1936 11:03

Clonoss, on 1937 1:28
Me, on 1933 11:45

Clonoss, on 1935 23:05
Even his fake multi's are copiers.
Plasmakp, the MoD for months and the real MoD still:
Bella Marta, the multi of Clonoss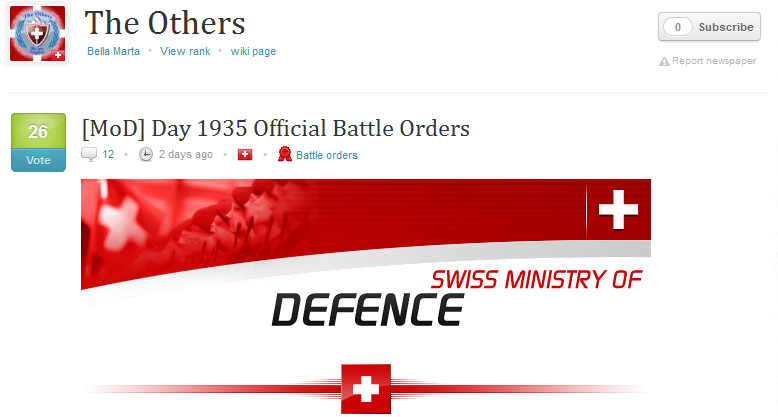 It honestly makes me sad. Yeah Cronoss has done much worse things than this, but if he was even pretending to be a president he wouldn't have copied everything I said, made laws like these:
Please explain to me how emptying the swiss treasury through MPPs (that get rejected by other countries because they know Cronoss is fake) and making
trade embargoes
helps the growth of Switzerland. Anyone can see with eyes unclouded that you are the disease of eRepublik. Nations across the globe have supported the resistance because they know you are a phony, a fake, a cloner. Your own interests should be < the countries interests.
Sincerely to you, the Swiss people,
Swiss MoFA, TrogdortheTroll100
Resistance government
We are the resistance....
Post your comment
What is this?

You are reading an article written by a citizen of eRepublik, an immersive multiplayer strategy game based on real life countries. Create your own character and help your country achieve its glory while establishing yourself as a war hero, renowned publisher or finance guru.