Day 1,897, 21:50
•
Published in USA
•
by Gnilraps

---
A Statistical Analysis
Day 1,897 of the New World
29 January, 2013
Easy Company is overseen by some of the most well-organized and dedicated personnel anywhere in this game. But I will wait for another day to introduce you to them individually. This article examines Easy Company as a unit. More specifically, this article examines Easy Company in its four Divisions and locates them comparatively in the United States and in the World.
All statistics and charts can be found on
Easy Company supplies approximately 9% of the active fighting population of the United States, offering tanks and food based on consistency of activity.
We have a very active, fighting First Division.
As you can see, our First Division is 35 strong, with over half fighting daily. In terms of influence, our 20 most active rank 3rd as a unit in the United States.
We are very proud of the fact that although our First Division only represents 10% of our overall membership, they account for 14% of our overall tanking. This means our Second Division is being fed with very active fighters who are growing in strength.
Easy Company is currently accepting applications from Division 1 Soldiers who want to be in the elite privately-funded MU in the country.
Our Second Division is our current strength relative to the world around us. Number 1 in the United States in terms of influence (and number 8 in the world), these bread and butter fighters show up every single day to drop damage according to the orders set by Department of Defense and the National Security Council.
EZC and the USAF's Air Force combine to make the United States Division 2 the 7th ranked nation in (D2) damage. We are currently running Operation Romeo to get more tanks into our D1 and D2 fighters' hands.
D2 is also a relatively large portion of our overall activity. They account for 24% of our active fighters but 27% of our overall activity. Along with our D1 numbers, this means Easy Company is growing from inside, mentoring new players into becoming active contributors on the battlefield. CURRAHEE!
Being also ranked #1 in the United States in Division Three damage, you can begin to see the real source of our pride as a unit. Every day, as Division 4 gets further bloated by players who have no way of avoiding it and no real chance at sniffing much Battle Hero Gold. This makes Division 3 the most exciting Division in eRepublik.
Tanking in Division Three must be done wisely, since your time there is limited to the inevitable ticking of your XP clock. As a result, Easy Company has mostly abandoned the routine Mass Attacks which so often just end up throwing valuable damage and XP into meaningless battles for the sake of camaraderie.
Our camaraderie is based on kicking ass when it counts, which is why during crucial battles, supplies tend to run more freely. In fact, during Operation Gangnam Style, we supplied Gold for Damage Boosters during our massed attacks. That just how we roll.
Though our D3 is a full 25% of our fighting force, they only account for about 17% of our tanking activity. This, again, is designed allow our D3 soldiery to linger as long as possible while strength-training in preparation for their matriculation into our Fourth Division.
The entire structure of Easy Company is that it be equally supportive of every member regardless of Division. As a result, the most serious tankers in the game do not always choose us. So although we are the fourth largest D4 unit in the United States, we only rank 5th in D4 damage.
However, it must be noted that while some other strong D4 units are heavily populated with soldiers who will not always fight according to the Department of Defense and National Security Council's orders, Easy Company does not struggle with complaints or refusals. We set our Daily Orders throughout the day and our uniformed fighters light up the enemy with fire.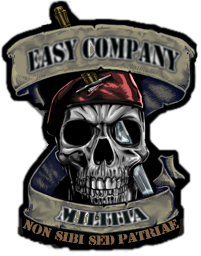 Finaly, let's take a brief look at some of the faces who are routinely among our top 10 in each Division.
When you hear the battle cry CURRAHEE!!! you can always follow us in to battle, for you know we will be fighting for the United States of America, for Honor, and to see our enemies under our boots.

---
You may now return to your regularly scheduled clicking
Post your comment
What is this?

You are reading an article written by a citizen of eRepublik, an immersive multiplayer strategy game based on real life countries. Create your own character and help your country achieve its glory while establishing yourself as a war hero, renowned publisher or finance guru.