Day 4,881, 03:32
•
Published in Ireland
•
by Irish Department of Defence
Well I write to you for what may be the very last time.
Not because general lethargy and disinterest in the game is driving me into 2-click mode (although that seemed the path we were headed) but because the Irish Telegram community received a massive injection of hope and belief when an act of injustice was righted and we had returned to us our true and proper Minister of Defence.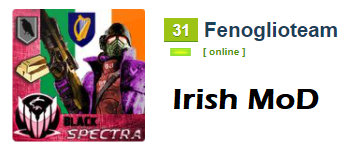 TRAINING WARS
Recent Irish tradition has been to support 4 partners in our core regions for Training War purposes and that remains the intent heading into next month.
The regions given up for this purpose are Mayo, Louth, Cork and Wexford as best illustrated, with current status, below;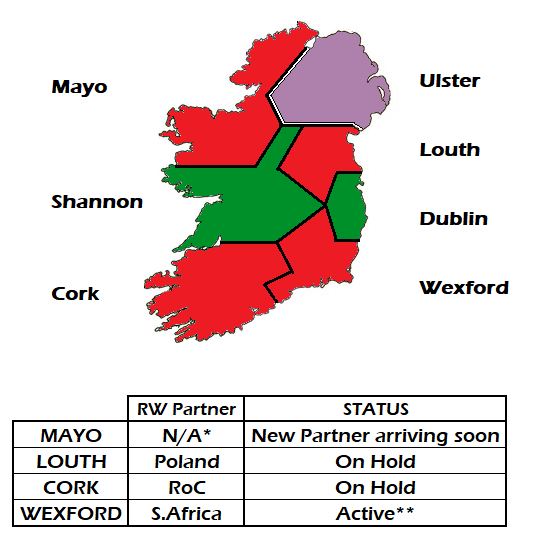 *Portugal accidently removed Canada from Mayo and have held it since at Irish request but are now moving back to Newfoundland to allow a new partner to move in.

**South Africa have been steadfast friends in our recent manoeuvres and counter-manoeuvres caused by the UK's hostility & intransigence and are currently in Dublin at Irish request holding the Training War between Dublin and Wales.
Although we did offer to withdraw from the mainland during peace talks with the United Kingdom, their refusal means we still have control of 3 regions over there.
Our rough intention is to hold onto Wales and West Midlands to enable the Training Wars with South Africa and France to continue and we are currently talking to a couple of other nations who might be interested in landing in North West of England to engage in a Training War with both ourselves and potentially our new French neighbours.
STANDING ORDERS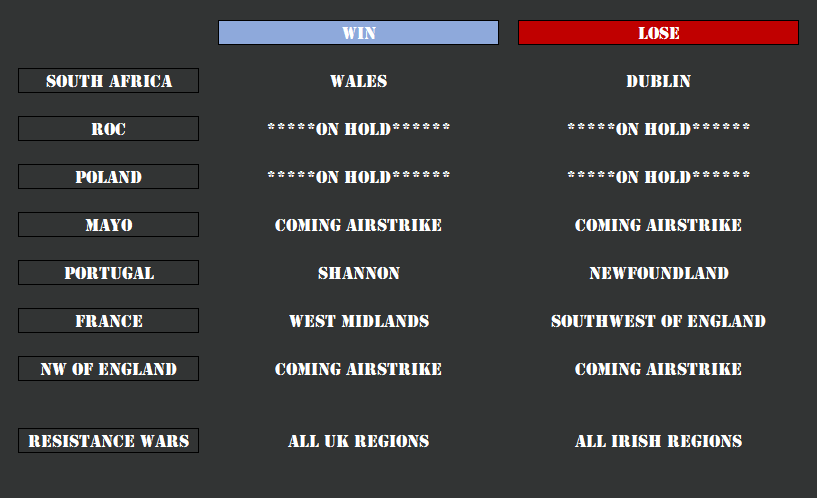 ALWAYS CHECK NATIONAL WALL FOR LATEST UPDATES
Alfa - Vice Deputy MoD