Day 4,383, 00:42
•
Published in Republic of China (Taiwan)
•
by OMR.Ding
我知道有些人我知道有些人不會看無頭雞的導言,所以就直接重點整理了。
前言:來源自:
https://erepublik.com/en/main/latest-updates/0/321
---
As we're completing the 12th year of eRepublik's amazing journey together our sincere thanks goes out to all of You for making this possible.

We take huge pride in our players and volunteers, it is your passion, dedication and sometimes resilience that made eRepublik a unique gaming universe. However, we are even more proud of being able to help you forge friendships that went way past the eWorld boundaries into the real world.

This year we're changing the routine and adding a pinch of strategy: lots of gifts are spread around the world and you'll be the one to decide what you will be going for.
無頭雞好棒棒,存活了12年。所以我們應該打破慣例!
我們想出了全新的整人方式,為了整一些只想免費拿禮物的玩家!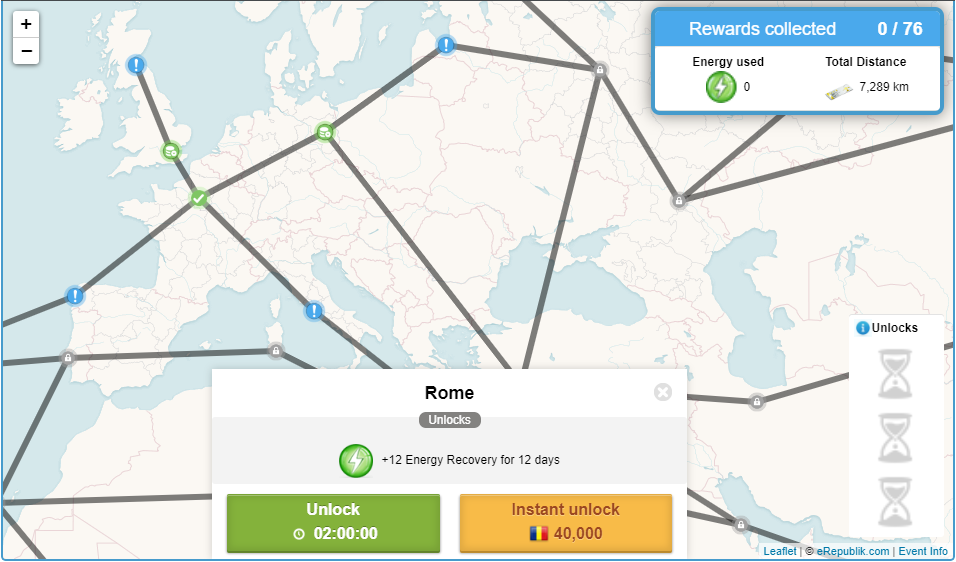 In order to claim the gifts, you will need to unlock the location that holds them on the special event map. Depending on the location you choose you'll have to wait between 1 to 8 hours to complete the unlock.
After you unlock a gift, you'll need to prove yourself a worthy citizen who does a little bit more than just logging in. During the event, the energy consumed and traveled distance will be logged, and a bit of each will be deducted when claiming a gift.
You can also use your currency to speed up your unlocks or recover some lost time.
You can add up to 3 locations in the unlock queue until day 4,383 [27 Nov 2019 23:59:59].
At the beginning of the event you'll be able to pick to unlock any location as your starting point. Once your first location is unlocked, you'll only be able to choose from the locations which are directly linked to it. Use the 6 hours remaining to the start of the event to plan your path wisely.
A gift in an unlocked location can be claimed at any time until
Day 4,391
[28 nov 2019 23:59:59], provided you have the required traveled kilometers and consumed energy. Kilometers and energy are counted starting
Day 4,383
[20 Nov 2019 00:00:00] until
Day 4,390
[27 Nov 2019 23:59:59]
Thank you !
為了領取禮物,你需要解鎖在活動地圖上的禮物位置,根據選擇的位置,將需等待一至八小時。
活動期間內,會記錄消耗的能量跟飛行的里程距離。在你解鎖了禮物後,仍需要使用飛行距離跟消耗能量來索要禮物。
你還可以花費你多餘的紙幣省去不必要的等待時間拿取你想要的禮物。
你可以在解鎖對列中放置排三個位置(Day 4,390 23:59:59之前)。
活動開始時,你可以選擇任意點作為起點,解鎖第一個位置後,你只能從與其直接連接的位置選擇。
在活動開始前的六個小時,請規劃好你的搜括禮物行程。
您可以在 Day 4,391 23:59:59之前的任何時間之前 領取地圖中已經解鎖的禮物。所累積的里程數跟消耗能量從 Day 4,383 00:00:00開始計算 到Day 4,390 23:59:59。
感謝!
---