Day 3,613, 06:17
•
Published in Indonesia
•
by MoFA Republic Of eIndonesia
This is the newspaper of eIndonesia's MoFA. Containing news about eIndonesian relationship & affairs, and other information about eWorld political, events, and so on. Please vote, comment, and subscribe.
Hello dear friends across eWorld,
Two weeks ago we had unprovoked attack organized by Sweden & USA against us, helped by their friends from Pacifica and former S+A. They managed to occupy our beautiful country but since then we won several rw's against Sweden and the war is ON.
Our goal is to be free, and we will be free!
Stats from Java rw...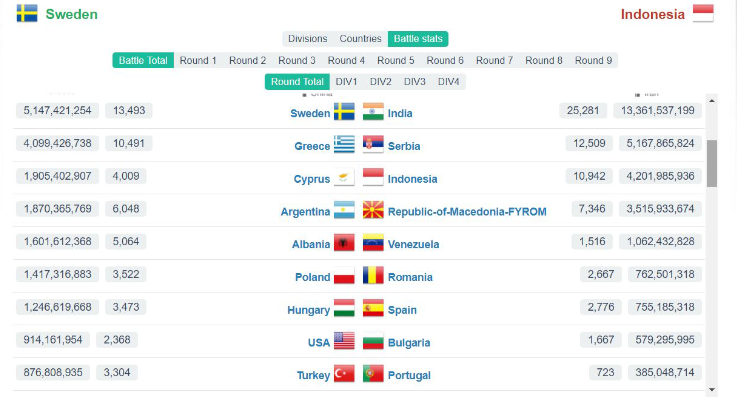 Thank you Macedonia, Bulgaria, India, Serbia, Spain, allies, old and new friends, thanks to everyone who fought for us!
We know that all of us suffered a lot from the surprising wave from our enemies, but that did not demotivated us to stop fighting for freedom or giving our last points of influence to help our closest brothers. We know how it is to be on the top, but we also know what it's like to be on the bottom. That is a circle of life, which we all learn from. And we have learned our lesson, and now, now is the time to hold one to our enemies! We can and we will show that victory can not be achieved only by tanking by several people, but with united forces. Our time is coming, and we are waiting forward to show the true value of the saint bond we share with our brothers! No one can take it from us!
To know that we are not alone, no matter what, is what motivate us. True friendships is the one that survives the bad days, not only the good ones. And all of us have been in our worst, and we fought with everything we have for our family. A true friend never let you down even under most threatening circumstances. They will never betray you even under pressure. The importance of friendship cannot be undermined because we cannot survive without good friends. A true friend is someone, whom you know will be there for you, whenever you need him.
In any path we choose, there are obstacles that appear, but the most important thing is to skip them together. Even if we fall, we must raise. Raise with the hand of our closest friends, and take the fall as a new experience. The real greatness is to stand by the weak ones, and be ready to give assistance and help anytime they need it, protect them and keep them safe. The true unity is not to ask from the others to get what you need, but to sacrifice to achieve what is everybody's need.
That is the reason because we are calling all of you, our dear friends, to take our collaboration on even deeper level this month. Make new friendships between the people in our countries, stick together, and help each other.
Indonesia is waking up, and we are ready to fight and show the World - We are here! We are coming!