Day 3,011, 11:53
•
Published in Belarus
•
by Silexu
A. The beauty of Belarus
If you want to read about what to do in Belarus you can start with some
Belarus Digest
articles:
Tourism In Belarus: Things To Do
Eastern Belarus: What To See And Do
24 Hours In Minsk
So you can enjoy something like this:
Mir Castle
Тhe secret of Nesvizh castle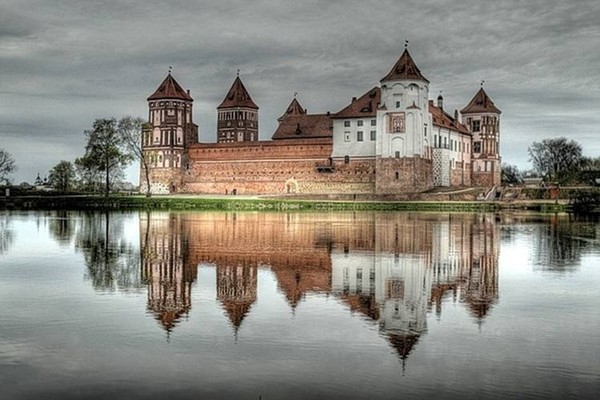 Mir Castle - lake view
Hrodna - Baroque St. Francis Xavier Cathedral
Brest Fortress
Minsk at night
Amazing nature of Belarus
Belarus National Park Belovezhskaya Pushcha
Belarus Nature Tranquility
And let's not forget the national costume of Belarus:
B. History of eBelarus
A very nice brief overview of eBelarus history was provided by
Shi0N de Aries
:
"The funniest memory was regarding Belarus accepted to EDEN as full member. The official letter, article and etc. used to refer Belarus as "Bulgaria" (unfortunately all the logs and screenshots are on my netbook which is somewhere in Belarus, but not here) This was the end of 2011.
Being a member of that, definitely great, alliance and at the same time a small nation without real imperious ambitions was a time when we first conquered a region of another country, that was Dainava, Lithuania. Nothing really special in this, but for us it was a real change. Let's say, we were very motivated by the victory, and the whole community skype-chat occupied a Half-Life server somewhere to celebrate. That was real meat there. Some of us still remember. That was end 2011 or beginning 2012.
The next years were about internal fight in order to eradicate political resistance or remove those, who would like to teach us their ways. With EDEN fallen apart there was a new military chapter with ACT - with the help of allies we managed to fully conquer another conuntry - again for the first time in history - that was Finland via airstrike. The guys liked the idea and in next months we made 5 airstrikes in total. Now it's around 7, I believe, more than anyone else (not sure, really) Feeling that we can make a difference was tremendous. (Oh, that over-compensating of a small country, lol)
Currently we're playing a sort of self-ironic dictatorship, based on our RL dictatorship matters, flavoured with a crazy sort of Belarusian language dialects used by local rednecks, it's hard to translate or explain - you should live here.
Shortly, I can say that we have won this game."
C. Interview with Belarus people
For the interview section I would like to ask a question to all Belarus players because I have a feeling you are a great community.
Did you organized real life meetings where you could meet and share your experiences in the game? Do you have some articles or pictures from such events?
[Update]
It seems that my attempt to find out about the real life community was not successful. Therefore I made a small interview with three Belarus players. The questions were:
Q1. Do you think a baby boom is possible in Belarus?
Q2. Will Belarus have another successful campaign/airstrike?
Q3. What still keep you in the game?
Q4. Who will be the first Belarus legend?
I've got the following answers:
AlFox
1 yes
2 yes
3 habit
4 Pan Alies Bu
Kobby 88
1. Baby boom is always possible. But keep a beginner in this game is impossible
2. -
3. Small and cozy community, interesting people
4. Pan Alies Bu
Pan Alies Bu
1. It may be, but people do not remain in the game. I have something to offer them, if they are not willing to pay 15 euros a month.
2. Yes.
3. Friends cozy chats.
4. Maybe I, but not necessarily.
[Shout]
Globe Trotter in Belarus
https://www.erepublik.com/en/main/article/2583458