Day 2,531, 04:05
•
Published in Finland
•
by Ministry of Education FI
[Ulkoministeriö / MoFA] Suomi eroaa Asgardista / Finland leaving Asgard
[English version below]
Suomen eduskunta on tehnyt päätöksen koskien Asgardista eroa. Äänestäneistä edustajista
80%
kannattivat Asgardista eroamista, kun taas
20%
kannattivat Asgardiin jäämistä. Puoluekohtaisesti kovimpia kannatuslukuja eroamiselle löytyy
Unionilta ja Liberaalilta Edistyspuolueelta
, joidenka äänestäneistä edustajista 100% äänestivät eroamisen puolesta.
eSuomen tulevaisuuden linjaa Ruotsia ja Norjaa kohtaan tullaan rakentamaan yhdessä uuden eduskunnan kanssa.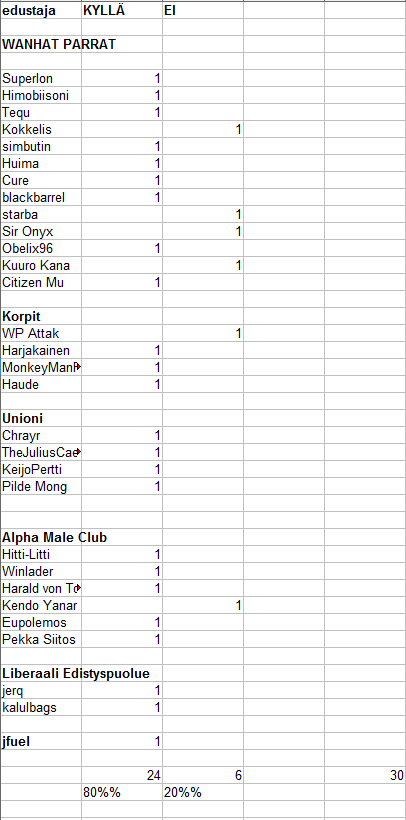 ====
Finnish congress has decided to leave Asgard after long discussions and a lengthy vote. 80 % of congress members voted for leaving Asgard, while 20 % wished to remain in the alliance. Unioni and LEP -parties were the most vigilant ones to pursue for the leaving, while other parties were more divided regarding the matter.
For now Finland will be neutral and wishes to maintain good relations with all of her friends allies. In near future we will pursue to join an alliance which the Finnish congress determinates.
-
Ulkoministeriö, Ministry of Foreign affairs of Finland