Day 2,530, 08:07
•
Published in Greece
•
by Asteria HQ

United we stand!
Greetings, citizens of Asteria! It has been most exciting week for us all. A lot of epic battles, billions of damage on each side in battles, walls dropping and rising fast – you can't deny the tournament being fun so far.
The ones hoping to profit from the tournament were members of Aurora. A few of its members targeted one of our own members, Greece. As soon as we found out about what's coming, plans to save Greece were made. Serbia run to aid Greece by NE-ing Bulgaria, and Argentina NE-ed Indonesia. Battles were running smoothly, as Bulgaria and Indonesia, along with the rest of Aurora, tried to focus on Greece. Unfortunate for them, they did no harm to us at all.

First day started with the RW of Greece's northern neighbour along with AS of Mexico, NE of Ireland and NE of Bulgaria. We decided the ignore the latest two, so that we have less fronts tomorrow. But after a few rounds, we saw that Ireland battle was also fine. By the evening, all three battles were being won without a problem, only Bulgaria was leading 55:0. We decided to give it a try after all. Asteria united, lead by Argentina and Brazil, managed to turn around the battle, which ended up with 87:56 for Greece.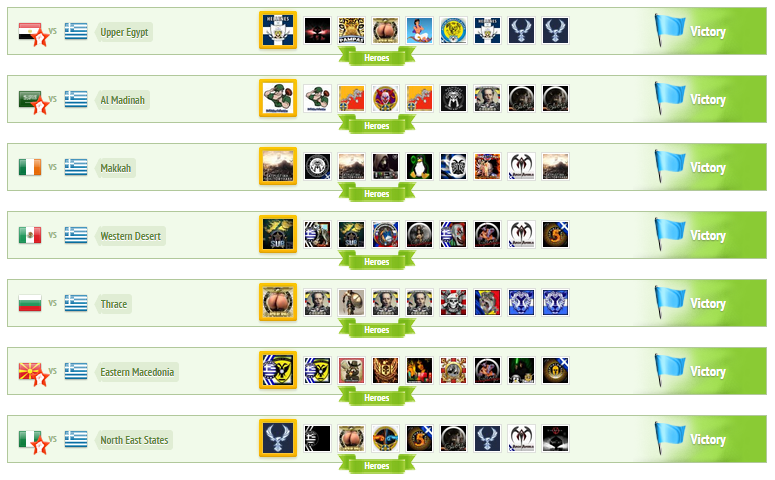 The next day we dealt with Ireland, successfully RW-ing it from Arabia. Greece won one of Bulgaria's cores and in the evening we stopped Indonesia, who joined the party a little late. Yesterday yet another RW was raised in Eastern Macedonia. It was very close, and it almost seemed lost at the moment. But then, we united again and showed them how the alliance works. The RW was won, and another Aurora member left without congress for sure (after Venezuela).
Seeing that it's cores will be taken, Bulgaria tried to hide in Ukraine. It cut itself off from cores by releasing Taurida. We then gathered 10 brave soldiers and waited to support the RW in Donbas, ensuring they can't run from Romania. The next RW was started during the RW in Eastern Macedonia. Most of our soliders were busy there, so special thanks to those who took time to fight in the RW in Ukraine. We managed to kick Bulgaria from Ukraine, and we defended the RW in Greece which was
their last chace for congress
, which means that Bulgaria is third Aurora country without congress this month. Great job guys!

Big thanks to Romania for all the help they have given with COs and mobile fighters. They have proven to be fully mobile country, being able to help any time at any RW. They were big help for Greece in the RWs also. Besides that, they have given congress to Belarus, one of our most loyal Leto members, for the first time after a few months.
Slovenia has also been helping out allies a lot, with both their and Romanian tanks being Top 5 in important battles. They have also managed to conquer territories in Italy.
Great cooperation has been achieved in Venezuela, who is currently occupied by Serbia, Peru, Portugal and Brazil. Peru has achieved safe congress there, while others are enjoying bonuses. Thanks for hosting us Venezuela!

I can honestly say that alliance has had a huge improvement recently. I want to thank everyone who took part in these epic battles, and I hope to meet you on the battlefield again. Don't forget, if you want to talk to us, you can find us on our public channel:
In the end, let's greet all our members:
Hail Argentina
Hail Brazil
Hail China
Hail Greece
Hail Romania
Hail Serbia
Hail Slovenia
Hail Leto
And also thanks to other friends who helped a lot. We hope to see some of them closer to us again (*wink
😉
.
Enjoy the game!
Bogi
, Asteria SG