Day 2,489, 04:55
•
Published in Belgium
•
by Teddy beer eBe

Greetings citizen,
I write this article to explain you how you can publish one.
How to create a newspaper is obvious, so i will not explain that. 😉
First, you have to chose a Title.(an articles cannot be published without it)
Best is to chose an effective title to bring many readers to your article.
An unattractive one can make them ignore it.
Second, the article himself.
The tools you find in the game are similar to those you find in forums.
eRepublic use
BBcode
.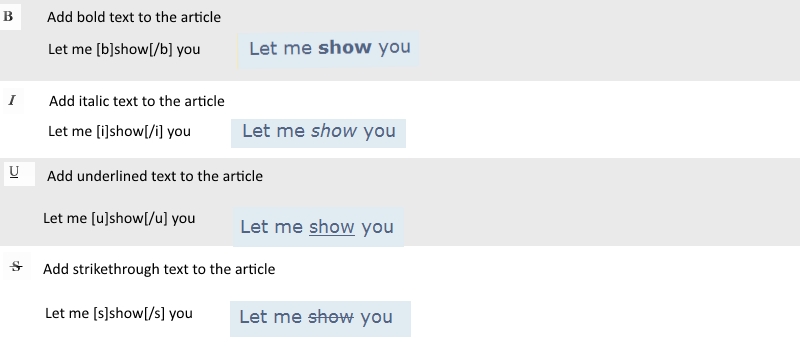 And
you
can
combine
them
Here [bold][italic]You[/italic][/bold] and [bold][underline] Combine[/underline][/bold]
The width of the images in articles are restricted to 675 pixels.
If you look for a image host:
http://www.servimg.com/
You could write a link directly in your article but it's not very "sexy".
Best should be to have a word/ a text you can click and that bring your reader directly to the page.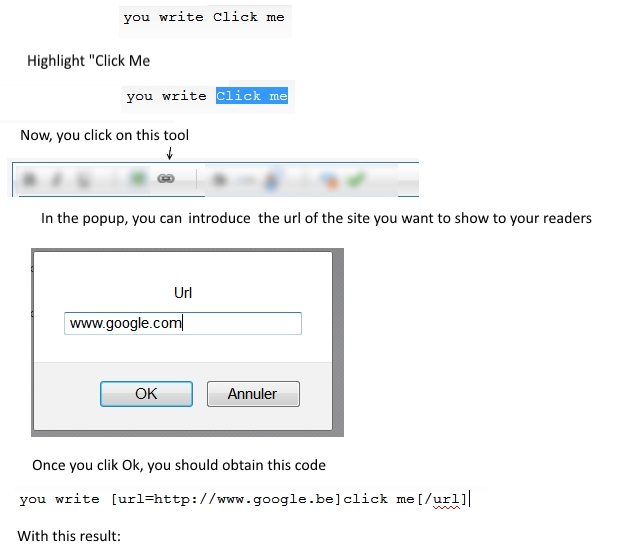 you write
click me
You can even use a picture. All you have to do is highlight BBCode for pics like i show you before.

| | |
| --- | --- |
| You can clik this picture.==> | |

---

Ok, that's what you can do with what you see but there is more code that can be used.
Columns
..If i write next to this picture, you can see that space above this text is lost.
..
But with columns,
you can fill that space with... whatever you want.

Roses are red
Violets are Blue
This poem make no sense

Potatoes
How to use:

Right
: Write your text/show your picture on the right side

exemple
well i don't know what to...
Never mind
Center
:Write your text/show your picture in the middle

Malcolm
He He ! It's Malcolm and he is in the middle. Get it ?
indent:
work a bit like the tab key

Tab1
What could i do with that ?
Good question.
you can use to make sections.
and subsections
As long you don't close a
indent
,
your article will continue
on the same tab.
indent = → and /indent = ←
Superscript:
Subscript:
X2
H2O
Want to add some smiley's ? Here is the list.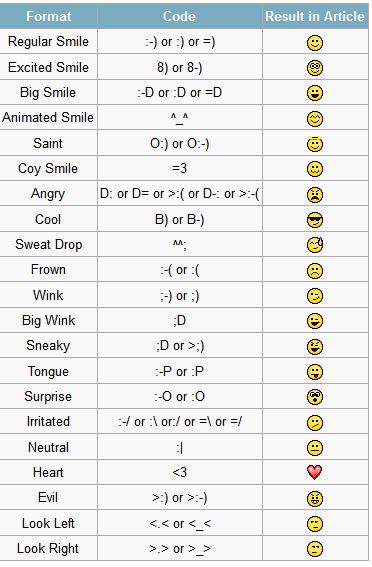 Are you ready to publish ? Not yet.
You have to chose in which Category it fits
-First Steps in eRepublik,
-Battle orders,
-Warfare analysis,
-Political debates and analysis,
-Financial business,
-Social interactions and entertainment.

If you put your article in the incorrect category, Moderators may change your article into the correct category.
Once you have chosen a Category, you will be able to publish your article.
But wait !!!
Don't forget to "save" it before you publish.
It's not rare to see all your work disappear when you push "
Publish
" and then get the message "
CRFS Attack detected
"
Click in your article, crtl-A, ctrl-C and then
publish
.
If you have chance, your article is published.
In the other case, all you have to do is start a new article and press ctrl-v to past the article we had the good idea to save.
I hope this article will help you.
I wish you a nice day.
| | |
| --- | --- |
| Teddy beer eBe | |