Day 2,395, 05:35
•
Published in United Kingdom
•
by Mr Woldy
Hello all.
A few years ago, the people of the eUK held a referendum on who should succeed Kumnaa the great as
monarch
, and appointed me to 'claim the throne'. Despite this, I have endeavoured to only discuss Kingship and my status as King when I run social programs such as games, noobie MU's and giveaways, avoiding the use of monarchy as a political influence and also resisting political interference or bickering over the role, which remains without power. The Royal Household has been ran solely for fun and community, and I hope to keep it that way.
It has recently been brought to my attention that I am not advertising enough the few charitable initiatives I operate in the capacity of King, and so I have decided to write an article on what social programs I currently run and which new ones shall be introduced over the next month.
Royal Writers
The first big announcement is the complete revamp of the
Royal Writers
project. The Royal Writers was a scheme I ran last year to encourage new players to write articles and encourage debate in the media, amidst the vote buying extravanganza. Awards were given out every week based on merit and article quality, which was judged by myself and members of the MoHA.
I am going to reintroduce the Royal Writers, but with a twist. As well as awards being given for good articles, every player under level 25 who releases an article with at least a paragraph of decent content, whether it be political, humorous, or informative,
will receive 150 GBP
. Any writer under level 30 who gets an article into the top 5, will receive
300 GBP
. I shall keep an eye on the media to spot winners, though if you fall under these parameters feel free to message me pointing out your eligibility. I shall cap prizes at one per person per week.
Further to that, as an extension of the Royal Writers I hope to set up a shout squad, to communicate ingame with articles worth shouting to help increase readership of articles, especially when vote buying dominates the top 5.
Young Achievers
For almost
three years
I have ran the 'Royal Welcomes' part of the Young Achievers scheme which gave cash and guns to people who signed up to the forums and posted in the request thread. The donations made have generally matched inflation, though admittedly I stopped updating my OP on the forums to reflect that.
The Royal Welcomes are something which I am going to expand, as political activity is no longer something synonymous with using the forums. The forums remains a great place to participate and socialise, especially with your party, as such the Royal Welcomes are going to be open to anyone less than 6 months old, and are adjusted to the following:
To any player requesting a welcome ingame (via PM): 15 Q7 Guns + 20 Q5 Foods
To any player who posts on the forum threa😛 10 Q7 Guns + 20 Q5 Foods
To any player who is elected a Congressmen or PP: 10 Q7 Guns + 10 Q5 Foods
This I hope creates a more open Royal Welcomes scheme that encourages and rewards people with varying levels of engagement with the eUK community.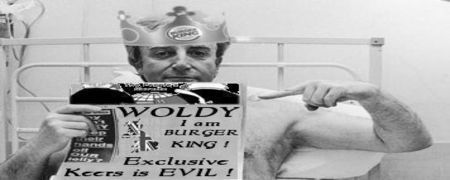 Courtesy of Horice
Overhauling Titles
The last thing that needs to be reviewed is titles. All in the name of fun, lords and ladies have been appointed left right and centre in the eUK, and the general criteria for receiving a title from me has been that you ask for one. I feel that titles and royal family members can be used as a mean of entertaining and rewarding players, as such I would like to adopt a new system for the appointing of titles.
For royal family members, including the heir to the throne, I hope to put in place something more serious. As I myself was appointed through a popular vote, I would like to treat positions in the Royal Family as a kind of rewards system. Each month (or fortnight if demand is high) nominations shall be ran for people who have embodied community spirit in the eUK, and after a poll shall be granted a position in the Royal Household with a title of their choosing (and a one-off payment so they don't share with the public my sordid artworks). In other words titles in the royal family shall be given as a reward for community service in the eUK, a small offer of popular sentimentality to show a form of thanks to the individuals nominated who may not get recognition elsewhere.
The first round of nominations is open now, simply fill in
this form
For Lords, Ladies, Dukes, etc; something more light hearted and fun. I would like to propose a raffle system. This is of course chiefly for entertainment, and consists of a wheel of fortune-come-name out of the hat means of granting titles. What I plan to do is have a range of titles, from the serious to the silly, to the 'pick your own'. Contestants pick a number between 1 and 30 and offer a small fee (10GBP), and with a random number generator the selection of titles are allocated their own number. Those who match win the title and possibly a cash prize.
There's no better time than the present, so I present to you a range of titles:
a. Viscount [PYO] + 200 GBP
b. Earl [PYO] + 100 GBP
c. Lord Kitchener + 10 Q7 Guns
d. Lord Ellpus
e. Deer Lord + 1 overseas deer region*
f. Lady in Waiting
g. Royal Cobbler
h. Noted Peasant + 20 Q5 Food
i. Court Jester + 1 GBP
j. Groom of the Stool + 10 Q7 Guns
Simply comment with the number (between 1-30) that you would like, and donate your 10GBP to me to be entered
. There is a one in three chance of winning!
Current list of digits
.
One's vision for the holders of titles
Also, once the structure is finished I shall also be looking to
finally
launch
Universally Challenged
. The University Challenged based team quiz show down. We need at least 4 teams to get the ball rolling. so if you are interested
sign up here
.
In the meantime, if you are an active citizen who wants to upgrade training grounds or companies, apply for an Emergy grant from the government
here
.
Thanks for Reading.
Mr Woldy.
---


To apply for the 'Woldy's Young Achievers' Scheme, simply pop your name in this thread on our external forums:
http://tinyurl.com/WoldWelcomes
---
*It is up to the individual to acquire and claim their chosen region, the Crown holds no liability
P.S. Never mess up your shouts...
http://prntscr.com/3rgcgk
http://prntscr.com/3rgcb8
http://prntscr.com/3rgc55
http://prntscr.com/3rgc0y
http://prntscr.com/3rghky
http://prntscr.com/3rgpzy
http://prntscr.com/3rgq7z
http://prntscr.com/3rh0ux