Day 1,971, 17:09
•
Published in USA
•
by UNOK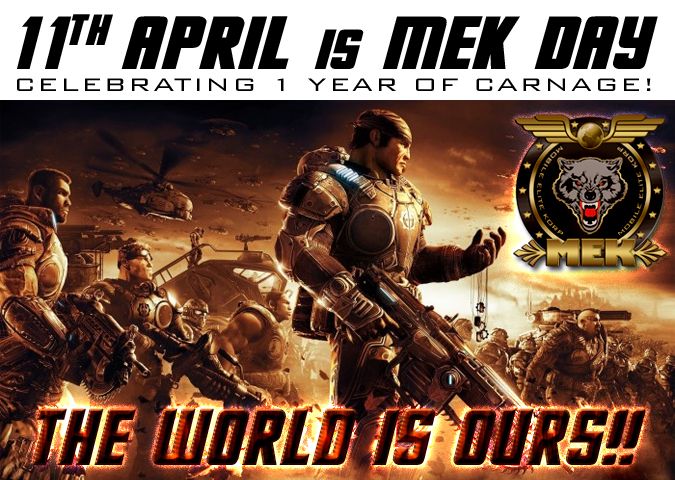 Popix!
Yesterday the eWorld rises from the dawn with a strange feeling in the air: It was
MEK day
MEK was celebrationg it's first aniversary, and for a special ocasion like that, we decided to contribute for a new world order, and impose our efforts by helping long time allies.
MEK is a Portuguese MU with 29 dedicated and insane soldiers from Division 4 only, that fights for the best interest of his friends, and for much fun!
To celebrate this, we decided to make something big, something GIGANTIC. And nothing is better than
free Guayana
(Goiaba for friends) to create it
😃
Furthermore, and knowing in advance that the spaniards would focus on the fight in Guayana, we open RW in Newfoundland and Labrador (Canada) and in Pampas (Argentina) to be liberated. After the well successful RW in Canada, we opened a new RW, this time in Nova Scotia, this one was also successful. In total,
4 regions were freed from spain's control in 24hours.
---
Guayana
---
It were 14 rounds of much madness and fun! It wasn't 15 because Spain didn't fought as hard as we expected. Besides winning all round in D4, we gave rockets, weapons and CC for the players in the lower divisions to win the points required to win the battle.
A special thanks go to our MEKinho
freegigi
for being relentless in distribution throughout all day, night and dawn!
Round 1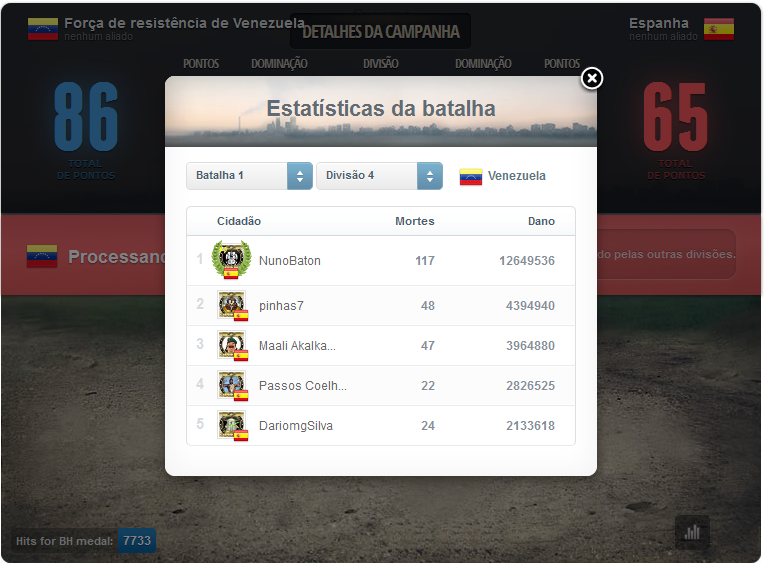 Round 2
Round 3
Round 4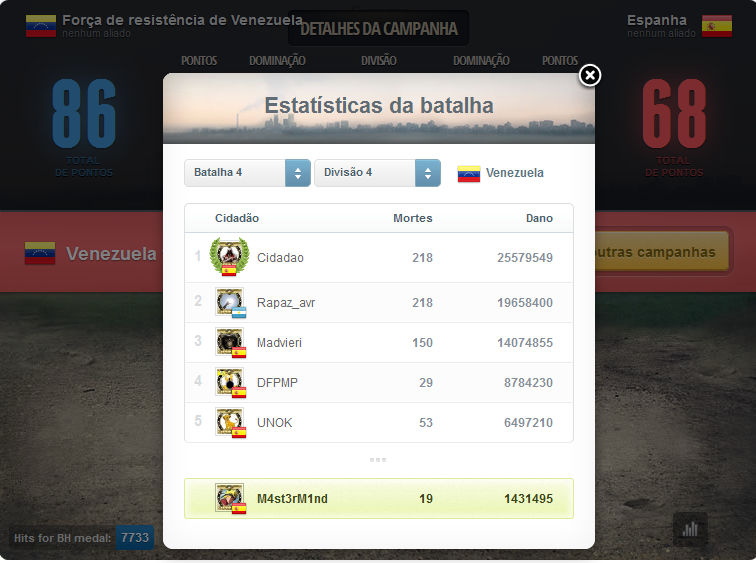 Round 5
Round 6
Round 7
Round 8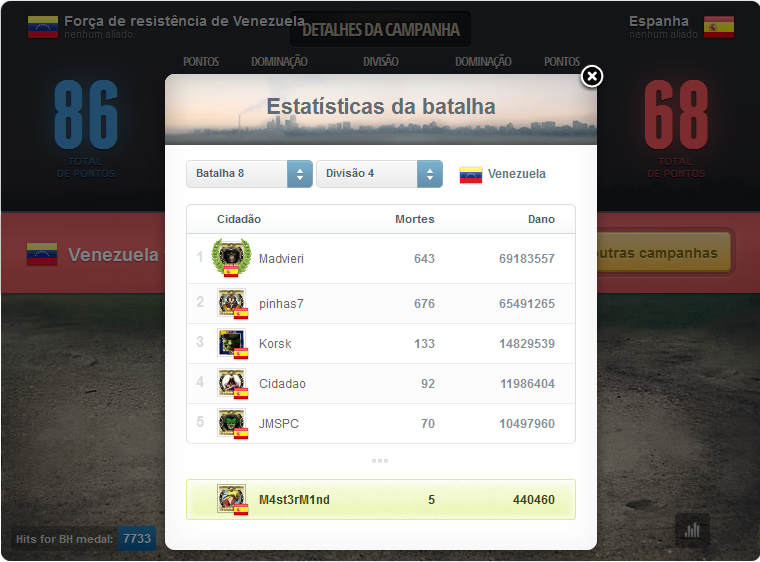 Round 9
Round 10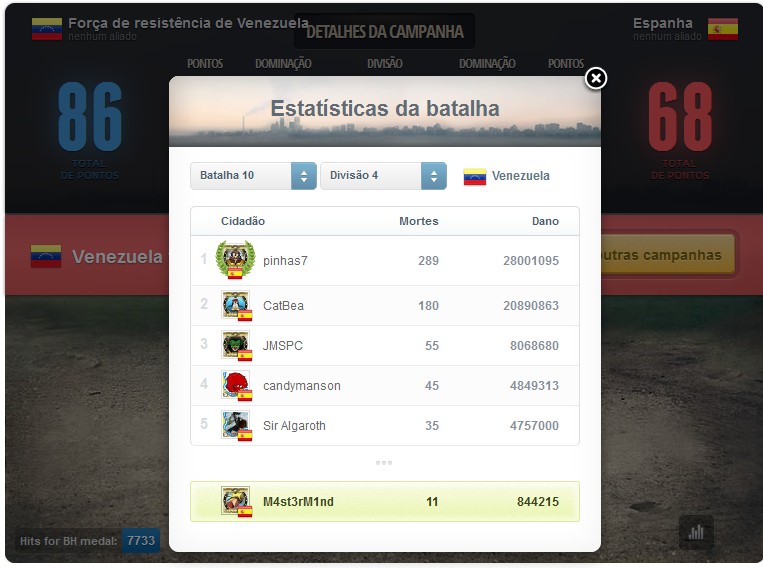 Round 11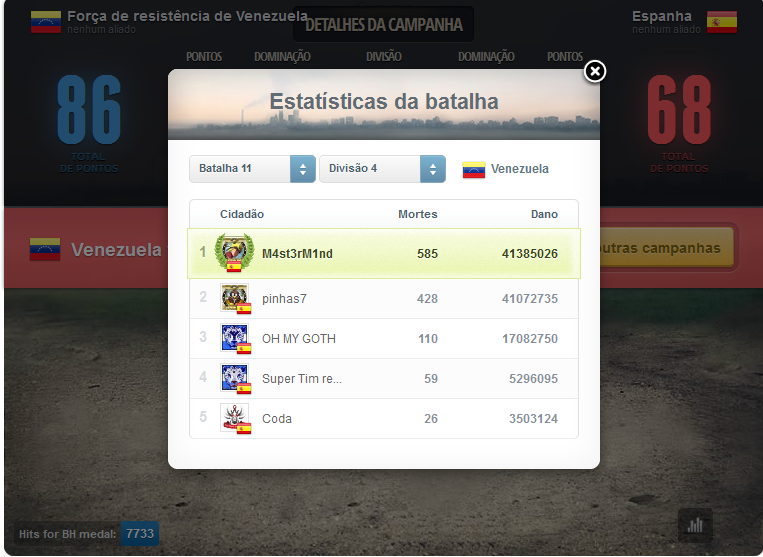 Round 12
Round 13
Round 14
Top5 Campaign
In the end, goal achieved
With this, we considered to have won the right to claim Guayana as our own country. And from this day forward, Guayana shall be named
MEKLAND
!!!
Summarizing::
Rounds:
14
BH:
13
CH:
1Damage: OFF THE CHART!!!
We also like to thank our friends that helped us with epic damages in all divisions.
Thank you all \o/
(Here we should have write a list with all those who helped, but since we were afraid to miss someone, we decided not to name anyone
😃
)
---
NewFoundland and Labrador
---
Easy battle, we practically didn't fought here, since it wasn't necessary.
And since Spain wasn't fighting, we went taking BH for Spain's side
😃
---
Pampas
---
As expected, this battle was also won easily. Argentinians dominated easily all rounds for an easy victory.
The only thing we have to tell about the battle in Pampas was the BH won by us on Spain's side close to the end of the round because they weren't fighting
😛
Edit: Thanks to Bitorino, here it is a print from campaign ending in Pampas
😃
And after this epic event, what happened?
11 MEKs in Top100 of the eWorld
The MU with the biggest damage on day 1969!!!
As you can see here, we even "broke" the egov4you site:
127.98% Portugal Damage 😛
This 1.5B are only from day 1969, if we add damage made on day 1970 we pass the
2 Billions damage mark
!
And with this we end this epic event...or not? NOT! We realized that we have enough damage to open an RW in Amazonica (Colombia) today and win the first 7 rounds in D4!
The end of this 2 days of pure fun took place in the 7th round of this battle, on which we fought against legendary tanks of the eWorl
😨
Trico, Yetlanesi, Mr.Coder and Drako Yang!
Round 1
Round 2
Round 3
Round 4
Round 5
Round 6
7th and the last round of MEK Day
Venezuela's side
In conclusion, it were 2 unbelievable days, those type of days that deserve to be tell to our grandchildren when we are older.
And after all this, I'm without words to describe the atmosphere we lived in this 2 days on MEK's channel and PM. It was out of this world, we ARE from another world
😃
Hail MEK!
Hail Friends!