Day 1,968, 14:19
•
Published in Hungary
•
by TWO Alliance
Hello citizens of the eWorld!
Winter is over. Hello, dear Spring!
(absolutely not for those allergy sufferers).
The votes have been counted and verified and the results are in; the new TWO HQ has been decided! The CPs and some representatives met together to discuss about the candidates proposed for the HQ, and therefore to vote for the Secretary General, Supreme Commander and Secretary of Foreign Affairs of TWO for the upcoming month.
So without further to do, here is the HQ!
The Secretary General is Talon Karrde
Talon is a 4th time Country President of the United Kingdom, ex-Secretary of Foreign Affairs of TWO and an all round good guy. He works hard and was the only person to run for SG this month, but he will not disappoint us!
His deputy is
aVie
, the man behind the epic site eGov4you.
The new Supreme Commander
is
Thomas765
Another ex-Country President of the United Kingdom, though this time with a CP term under his belt from Austria. Thomas was ONE's Supreme Commander too so should have more than enough experience to help TWO!
His deputy is
Mr.CaCkO
, a new member here at the HQ and a familiar face in Slovenian cabinets.
The new (or old!) Secretary of Foreign Affairs is Mininuns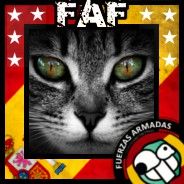 Mininuns is a Foreign Affairs whiz, having been MoFA in Spain many times, a Secretary General of TWO and he has been the Secretary of Foreign Affairs for the past month and hasn't steered us wrong yet. He's also my boss so of course I have to be nice with him!
His deputy is me,
Betafoxtrot
, yet another UKer, this is my first time in HQ and I'm sure that I will do my best!
I'm sure you will agree that with a team like this, TWO and ACT will do well and exceed all expectations in the eWorld. We will all do our best to make sure TWO remains as the best alliance in the game.
It's over to Mininuns with the analysis you've been waiting for!
- Yes, you'd better not misbehave! haha
That is me! I wanted to mention I have been given the pleasure of becoming
TWO's Official Cat
.
All hail The Cat! Miau.
Here we go:
Spain
has been quite busy these days. As a reaction to Argentina's AS over the United Kingdom, they quickly offered their help to these, which ended up with a sucessful AS to their original regions. A great sign of real friendship!
They also signed a treaty with Portugal. It is the so called ''Iberian Treaty'', which could lead to something new between these two countries in a near future. By this treaty, Spain keeps Norte, Algarve and Azores while Portugal stays with the rest.
For more details, click
here
!
Spain's actions during the past month were more than accurate, we hope they are able to continue like this!
Just, great.
In spite of some of the problems they experienced last month -mainly on RWs-,
Serbia
was able to prevail! Moreover, they got the European goldmine, but it is right now empty.
In addition, they left MKD some regions in the Middle East for them to obtain more bonuses. If that was not enough, they helped Poland to get the Asian goldmine by attacking Turkey, where they still retain some regions.
Awesome job!
Hungary
has been quite focused on helping TWO. They had some little problems with Belarus, but they seem to be solved.
As we stated in our previous article, they last month made a deal with Russia in order to get an oil region: the ''Elbrus Treaty'', being that the reason why they have got a Russian region under control.
Thanks for being so nice!
As we all know,
Poland
launched an AS against Turkey, being the 5th one in eRep's history! By this movement, they managed to obtain the Asian mine. Some people were asking themselves if this action influenced on a negative way the help provided to any of our TWO members, and it has been demonstrated the answer is clearly a NO!
Because of the mine, many people wanted the Polish citizenship, so a large number of requests were soon made. This happened in Serbia too, and -unfortunately- some congressmen wanted to take advantage of the situation by trying to sell some CSs.
If, by any chance, some Polish congressman is doing the same, please, inform their government...or us!
Anyway, keep rocking!
The
United Kingdom
received an AS from Argentina, as a result of a babyboom campaign which was carefully planned.
This has made Argentina's population to grow, but this will not avoid them not to be removed from the eUK! There were rumours which indicated this war was planned, but -as the British government stated already- it is all false.
Ireland decided to join the party with Argentina, something it has been considered to be ridiculous as it will be fateful for them in the long term. They claim they just want a ''United Ireland'', but it is not new it is not a very convincing argument .
Just like Argentina, they tried to introduce real hate ingame, and that is something condemned internationally. It can be well-seen by many people of our community to encourage the proper development of some special events ingame, but under any circumstances people should start insulting other players; something we have -unfortunately- seen at some article's comments.
We strongly call for calm at all these brainless guys, as this is just
a game.Be sure you will never be alone in this, UK!
Slovenia
decided to stop its TW with Italy in order to help TWO as much as possible. Actions like this, together with the fact they do not have any problem in setting its Cotd for an allied nation, is something we strongly appreciate in TWO.
My compliments!
Now, lets move on to ACT!
Estonia
is at war with Finland, and -together with
Latvia
- they do not have any objection when it comes to the time of helping TWO, nor Lithuania, one of their closests friends.
With the help of TWO,
Venezuela
managed to reduce the Colombian babyboom to ashes! The TOP 5 is now occupied by 3 of our countries. It is without any doubt a strong smack over CUA.
Furthermore, the rent treaty with Spain is not depriving them of having oil and rubber due to their current situation in regards to Colombia.
Our Asian brothers,
Thailand
, have got the whole Malaysia under their occupation. They have had fun these days too, as they have been involved in a great war against Croatia. However, they will not be for now on alone, as
Montenegro
launched nearly a week ago an AS to Malaysia.
Slovakia
decided to go party rocking to Austria. They runned out of vodka, but I think they would like some more!
By the way,
we have got a surprise for you
, our beloved readers. Take a look at the newsletter!
I hope this article was to your liking. We will make some more!
It will be, as always, a great month!Hail Hungary
Hail Poland
Hail Serbia
Hail Slovenia
Hail Spain
Hail United Kingdom
Hail Estonia
Hail Latvia
Hail Thailand
Hail Venezuela
Hail Montenegro
Hail Slovakia

HAIL TWO & ACT!
Mininuns
TWO's Secretary of Foreign Affairs & Official Cat