Day 1,496, 03:40
•
Published in Slovakia
•
by Leinades
Danyr History:
*
Day 0 [ENG|POL|HOL]
*
Byzantine Empire, Northern Alliance, ALA [ONLY POL VERSION]
---
ENG VERSION
(Polska wersja niżej)
Most probably you realize that there is a lot of players who are not famous. But even when they are not known by everyone they are often private heroes. We should talk about them. And as recently we don't have anything interesting to write about - I think it is a good subject. You should read about it
😉
Today I would like to introduce you a Pole who is living in eCzechoslovakia. Who is he? What has he done? Why should we consider him as a hero?
Hochelus
was born in ePoland. He wasn't famous at all in the beginning of his career. It has started later when he joined his first political party - "
Partia Imperialna
". Just after few days he started to be considered as an active member of it. His career started. But still he didn't know how it will all go in future.
After he joined Partia Imperialna he had joined an organisation called "
Slavic Union
" (PL: Unia Słowian). It was ruled by Slovakians - with members like for example Ghostbiker. Soon Hochelus bacame one of leaders of Slavic Union in Poland and member of its MU: SUAF (Slavic Union Armed Forces).
Asked "Do you consider your person as a head of Slavic Union, is this point of view the right one?" he replies:
"Do I was a head…. I don't think so, maybe a little in ePoland , but for me in SU more important were Ghostbiker & Grof Tocaky. And despite of things like - was this project rightfull or not - it was really hard to achieve its tasks. Maybe it was an interesting thing making new people join it . And maybe someday we will make it, but right now project is "delayed and waiting for better moment".
Hochelus avatar from that days:
What was this avatar meaning? (only PL version) http://www.erepublik.com/en/article/o-naszych-avatarach-s-oacute-w-kilka-oraz-radosna-wiadomo--1546478/1/20
He was still growing in people opinion. He became more famous, day after day. Everyone wnown him from Slavic Union and it's vision - in that times it was really posible for their ideas to become true. Still his career in SU was second one and including career in Partia Imperialna. That youg player, which was a newbie in beginning became an old one with nice authority. He won party president elections, and next after talks with PI members and it's management he decided to run in elections to become country president.
Official information: http://www.erepublik.com/en/article/czwartek-z-pi1-1471167/1/20
When it was finally the day - August 5, 2010 - Hochelus was able to check his popularity. He was issued by the Imperial Party and supported by the Polish Libertarian Party (PPL). Although he failed to break through concrete political concrete. He took 3rd place. He won 225 votes.
After losing elections, politics in Poland began to bore him. More and more he was addicted into the organization of Slavic Union, Imperial Party was no longer his priority. Just like today - ruled by the concrete. It couldn't be beaten and the young players sometimes didn't even have chance to try. He established new contacts with the Slavs - mainly Russians, Belarusians and Slovaks. He entered into a strong friendship with the founder of the Slavic Union - already mentioned Ghostbiker. He decided to travel to Slovakia to start a new life. Partially he laughed a little that he was forced to do so
😉
It was times of PERUN, and Slovakia was full of Poles who were looking for a new life, or a congressman medal . He could join PERUN and be someone like smrtan, but decided to stay with his vision and friendship with Ghostbiker.
Official information: http://www.erepublik.com/en/article/witam-wszystkich--1555017/1/20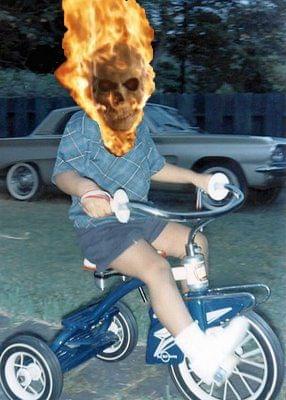 Ghosty on bike
😉
Hochelus joined the largest Slavic party in those days, the party of his friend Ghostbiker, called "Ghostyho Vesela Town". Their friendship was so strong that they decided to start him in the CP elections in Slovakia. It was a little strange because Hochelus was in Slovakia only for a few days. But that did not stop him.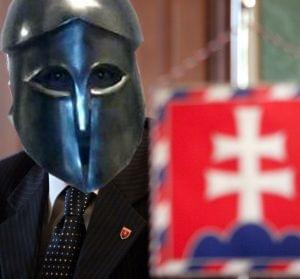 It was November, 2010. Slovakia had less citizens than Poland. Hochelus knew that becouse of that he had no chance. Competed with three other great personalities: guralPB, Lawyee and Swebuda. He tooked third place. He gained 28 votes - 4 more than Swebuda. Elections won Lawyee with 88 votes. This failure, however, did not stop his career. He was happy that he won with at least one person.
He started one more time in January 2011. This time with one rival. It was again Lawyee, who won with 135 votes. Hochelus only get 41. These were the times of formation of Czechoslovakia. Lawyee was more experienced. He probably won the elections for this reason.
But what to worry? You have to try again! And he decided to do so month later.This time there were four competitive. It rarely happened that there were so many (five) candidates in this country. His opponents were John of Parma, Tomas Jelinek, milestailsprower and Maria_M. The last two candidates were not very well known and was not worth worrying about. Despite this Hochelus lost again - this time with Jan Parma. Despite the lost he was then vice foreign minister. His career continue to grow, gaining more and more support. It's another month - March. Hochelus candidate again. This time again with one rival, which, however, could be overcome. It was Nerux. But Hochelus was again defeated. Despite this, he gained more and more votes. This time it was 70. Nerux had 119.
Nerux saw the abilities of Hochelus, and proposed position of vice-president. Hochel agreed.
"Hmmm, now looking from the time perspective, few tries was meaningless, and once i candidated because "We need to put someone on voting list, and no one wants, so you
candidate, because you have experience (in candidating
😃
)" After all i always candidated, because i wanted to do something good, get experience, have some reason
to play more. But after that i realised, that most important thing isn't to succeed on yours dreams, but to keep going to them. What to do, when u complete yours dreams?
I think, that kind of situation have now Ghostbiker, he have nothing more to archieve, nothing more to do. Best election i remember was these one, where we kept on convection
from "GodFather". Back then i had a huge help from lentak, even if i candidated "for serious", i had a lot of fun from writing articles, and wonderful climate in party,
and from people who helped me back then" - Says now Hochelus.
Haf Haf! vrrrr.... Haf! Mmmmm....
After a lost election with Nerux, Hochelus was exhausted. But it's worth to say what happend between these president elections. Ours hero finished story of friends party -
"Ghostyho Vesela Strana" and began a story of a party "Vesela Strana". Ghostbiker trusted him, and Hochelus at december 2010 became a president. His young blood introduced
a lot of changes. He was re-elected at february 2011. But his boss - Ghostbiker was in charge. But... he always cared what his friend thought about his ideas.
Ghosty thought about Hochelus like someone from his eFamily - best friend, best man, someone like a dog. And this is exactly what we think about, when someone remind Hochelus
- A dog. Is this a offence of ours hero? No, because even he thinks about himself as a dog, but a nice one, with claws.
A funny party presentation from times of Hochelus: http://www.erepublik.com/en/article/vesela-strana-program-strany-1607053/1/20
Hochel decided to candidate for a president AGAIN. It is the last time. Back then, he had biggest chance to win. It was August. He fought with Vladislav Baloun - he was
a politician, he never liked. He lost again (like he did before) but he had 94 votes, and Vladislaw 99! Even if he lost, he became vice-minister of foreign business.
Hochelus after president election, and being party president became for a little time 2click. His private life didn't give him so much time for a game, but always we were able to hear something about him - mostly in his party live. These times I'm going to skip, and I'll write a little about the latest times. At November 2011 every
member of party Vesela Strana came back to live. To the Slovakia after holiday in Slovenia came back a huge person - Ghostbiker. He decided to start as a president of Czechoslovakia.
His competitors were Lawyee, and logamac. It was a rough, fierce fight, probably the biggest one in a whole history of Slovakia, and Czechoslovakia. Hochelus, like the other
members of party participated in a advertisment of Ghostbiker's, but his long tongue, and his abilities of Trolololo made him lost. Ghostbiker lost with Lawyee. The difference
was 2 voices. He got 97 of them, and Lawyee 99. On the third place was logamac, with only 7 voices.
A month later party Vesela Strana put on the election Leinades. He won. It was the first victory in a president elections from July 2011, when Dimitru Osraldescu became a president (of course from party Vesela Strana). Hochelus became minister of foreign affairs.
He Re-activated a project of embassy, and together with the Defence minister - Markusiak, and other people from the goverment, he signed a decision about putting Croatia on theirs "Natural Enemy" list. It was a huge goverment, but they didn't turned upside down everything, like Markusiak did. instead of complaining on that mistake, he decided to fight for Czechoslovakia, and he financed weapons. The fights last until today, and he's always ready to fight for his country.
---
---
---
POL VERSION (Polska wersja)
Każdy chyba wie, że jest wielu nieznanych graczy. Są oni jednak "prywatnymi" bohaterami. Warto o nich wspomnieć. Z powodu iż ostatnio nie ma o czym pisać - myślę, że to będzie dobry temat. Warto poczytać
😉
Dzisiaj chciałbym Wam przedstawić Polaka mieszkającego w eCzechosłowacji. Kim jest? Co zrobił? Czemu można go nazwać bohaterem?
Hochelus urodził się w ePolsce. Nie był tam z początku zbyt znany. Jego kariera rozpoczęła się z czasem, kiedy dołączył do swojej pierwszej partii - "Partii Imperialnej". Już po kilku dniach stał się aktywnym członkiem. Jego kariera została rozpoczęta. Nie wiedział jednak jeszcze co go czeka.
Po dołączeniu do Partii Imperialnej stał się również członkiem organizacji "Slavic Union" (PL: Unia Słowian). Organizacją zarządzali Słowacy - między innymi znany polityk i podróżnik Ghostbiker. Niedługo potem stał się główną twarzą Slavic Union w Polsce, oraz członkiem grupy bojowej SUAF (Slavic Union Armed Forces).
Na pytanie "Czy uważałeś się za twarz Slavic Union, czy ta wizja była słuszna?" odpowiada tak:
"Czy byłem twarzą…. Nie czułem się twarzą tego ruchu, może trochę w ePolsce , jednak dla mnie zawsze twarzami SU będą Ghostbiker i Grof Tocaky. Słuszny czy nie słuszny, na pewno bardzo trudny do zrealizowania projekt i może to przyciągało tych śmiałków co chcieli nam pomagać i może kiedyś to się nam uda mimo, że w tym momencie jesteśmy raczej w stanie "uśpienia i oczekiwania"."
Avatar Hochelusa z tamtych czasów:
Co oznaczał ten avatar?
http://www.erepublik.com/en/article/o-naszych-avatarach-s-oacute-w-kilka-oraz-radosna-wiadomo--1546478/1/20
Kariera naszego bohatera rozkręcała się. Stawał się coraz bardziej znany. Wszyscy go kojarzyli ze Slavic Union i ich wizją - w tamtych czasach wizją, która nie była wykluczana jak dzisiaj. Kariera SU nie zatrzymywała wcześniej rozpoczętej kariery w PI. Ten niegdyś młody gracz, który mało wiedział o grze stawał się już starym wyjadaczem. Wygrał wybory na prezesa partii, a następnie w porozumieniu z innymi członkami, oraz zarządem Partii Imperialnej postanowił wystartować w wyborach prezydenckich.
Oficjalna informacja:
http://www.erepublik.com/en/article/czwartek-z-pi1-1471167/1/20
Kiedy nadszedł wreszcie ten dzień - 5 sierpnia 2010 roku - Hochelus mógł wreszcie sprawdzić swoją popularność. Został wystawiony przez Partię Imperialną i poparty przez Polska Partie Libertarianska (PPL). Mimo tego nie udało mu się przebić betonu politycznego. Zajął 3 miejsce. Zdobył 225 głosów.
Po przegranych wyborach polityka w Polsce zaczęła go nudzić. Coraz bardziej zapuszczał się w organizację Slavic Union, Partia Imperialna nie była już priorytetem. Podobnie jak dzisiaj - rządził beton. Nie dało się go przebić, młodzi gracze czasami nie mieli nawet szans, aby spróbować. Nawiązał nowe kontakty ze Słowianami - głównie Rosjanami, Białorusinami i Słowakami. Zawarł mocną przyjaźń z założycielem Slavic Union - wcześniej już wspomnianym Ghostbikerem. Postanowił wyjechać na Słowację, aby rozpocząć nowe życie. Częściowo śmiał się trochę, że został do tego zmuszony
😉
Były to czasy PERUNu, Słowacja była przepełniona Polakami, którzy szukali nowego życia, albo medalu kongresmena. Mógł wstąpić do PERUNu i być kimś, jak smrtan, lecz postanowił zostać przy swojej wizji i przyjaźni z Ghostbikerem.
Oficjalny artykuł:
http://www.erepublik.com/en/article/witam-wszystkich--1555017/1/20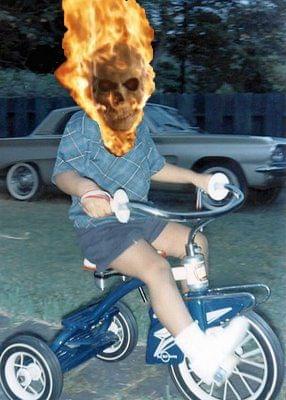 Ghosty przywiózł Hochelusa na swoim odjechanym motorze.
Dołączył do największej Słowiańskiej partii w tamtych czasach, partii swojego przyjaciela Ghostbikera o nazwie "Ghostyho Vesela Strana". Ich przyjaźń była tak mocna, że postanowili, aby kandydował na prezydenta Słowacji. Była to trochę dziwna decyzja z powodu iż Hochelus na Słowacji był zaledwie kilka dni. To jednak mu nie przeszkodziło.
Oficjalny artykuł:
http://www.erepublik.com/en/article/hochelus-kandid-aacute-t-na-prezidenta-gvs-1557321/1/20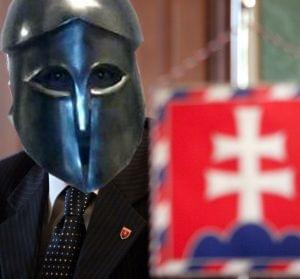 Był to listopad 2010. Na Słowacji było o wiele mniej osób niż w Polsce. Hochelus wiedział o tym, że z tego powodu nie ma szans. Konkurował z trzema innymi wielkimi osobistościami: guralPB, Lawyee i Swebuda. W wyborach zajął trzecie miejsce. Zdobył 28 głosów - o 4 więcej niż Swebuda. W wyborach wygrał Lawyee z 88 głosami. Ta porażka jednak nie zatrzymała jego kariery. Cieszył się, że wygrał z przynajmniej jedną osobą.
Kolejny raz wystartował w styczniu 2011 roku. Tym razem miał jednego przeciwnika. Był nim ponownie Lawyee. Wygrał on z 135 głosami. Hochelus zdobył ich jedynie 41. Były to czasy formowania się Czechosłowacji. Lawyee był bardziej doświadczony. Z tego powodu prawdopodobnie wygrał te wybory.
Ale czym się przejmować? Trzeba spróbować jeszcze raz! I tak postanowił. Miesiąc później - w lutym znowu kandydował. Tym razem było 4 kontrkandydatów. Rzadko zdarzało się, aby było aż tylu (pięciu) kandydatów w tym kraju. Jego przeciwnikami byli: Jan Parma, Tomas Jelinek, milestailsprower i Maria_M. Dwaj ostatni kandydaci nie byli zbyt znani i nie warto było się nimi przejmować. Mimo to Hochelus znowu przegrał - tym razem z Janem Parmą. Mimo przegranej został wtedy vice ministrem spraw zagranicznych. Kariera się nadal rozwijała, zdobywał coraz większe poparcie. Nadszedł kolejny miesiąc - marzec. Hochelus znowu kandydował. Tym razem miał ponownie jednego przeciwnika, którego jednak mógł pokonać. Był nim Nerux. Hochelus jednak ponownie przegrał. Mimo to co wybory zdobywał coraz więcej głosów. Tym razem było ich 70. Nerux miał ich 119.
Nerux dostrzegł umiejętności Hochelusa i zaproponował pozycję vice-prezydenta. Hochel zgodził się.
"Hmm, teraz patrząc z perspektywy czasu, kilka prób było bez sensu, a raz kandydowałem bo "trzeba było kogoś wystawić, a nikt nie chce, więc Ty kandyduj, bo masz doświadczenie (w kandydowaniu
😃
)." Mimo wszystko zawsze kandydowałem, bo chciałem zrobić coś dobrego, zdobyć doświadczenie, mieć jakiś powód do dalszego grania. Jednak potem zdałem sobie sprawę, że nie jest najważniejsze, żeby osiągnąć marzenia, jednak, żeby do nich dążyć. Bo co robić dalej? Myślę, że teraz tak ma Ghostbiker, że nie ma już nic do osiągnięcia, do zrobienia. Najlepiej wspominam wybory, gdzie trzymaliśmy się konwencji "Ojca Chrzestnego" wtedy mi bardzo pomagał lentak, mimo, że kandydowałem wtedy "na serio" to i tak miałem dużo frajdy z pisania artykułów i miłej atmosfery w partii oraz osób mnie wtedy wspomagających." - mówi teraz Hochelus.
Po przegranej z Neruxem Hochelus był już wyczerpany. Ale warto powiedzieć też co się działo między tymi wyborami prezydenckimi. Nasz dzisiejszy bohater zakończył historię partii przyjaciela - "Ghostyho Vesela Strana" i rozpoczął historię partii "Vesela Strana". Ghostbiker zaufał mu i Hochelus w grudnia 2010 roku stał się prezesem. Jego młoda krew wprowadziła wiele reform. Ponownie prezesem był w lutym 2011 roku. Mimo to formalnie rządził jego boss - Ghostbiker
😉
Ale... Zawsze liczył się ze zdaniem przyjaciela. Ghosty uważał go za takiego członka eRodziny - najlepszego przyjaciela (człowieka), takiego pieska. I właśnie z psem kojarzy się Hochelus. Czy jest to obraza naszego bohatera? Nie, bo on sam uważa się za takiego psa, ale miłego jak kot, który ma pazury.
Żartobliwy program partii za czasów prezesa Hochelusa:
http://www.erepublik.com/en/article/vesela-strana-program-strany-1607053/1/20
Hochel postanowił PONOWNIE kandydować na prezydenta. Jest to już ostatni raz. Wtedy miał największe szanse na wygraną. Był sierpień. Walczył z Vladislav Baloun - był to niezbyt lubiany przez niego polityk. Już tradycyjnie - przegrał, lecz miał aż 94 głosy, a Vladislav 99! Mimo przegranej został vice ministrem spraw zagranicznych.
Hochelus po wyborach na prezydenta i prezesowaniu w partii był przez pewien czas dwuklikiem. Życie prywatne nie dawało mu tylu czasu na grę, lecz zawsze tam troszkę było o nim słychać - najbardziej w gronie partyjnym. Dlatego te czasy pominę i napiszę trochę o tych najnowszych. W listopadzie 2011 roku wszyscy członkowie partii Vesela Strana ożyli. Na Słowację po wakacjach w Słowenii wróciła wielka osobistość - Ghostbiker. Postanowił wystartować na prezydenta Czechosłowacji. Jego konkurentami byli Lawyee i logamac. Była to zacięta walka, prawdopodobnie największa w historii Słowacji i Czechosłowacji. Hochelus jak i inni członkowie partii uczestniczyli w reklamie Ghostbikera, jednak jego wielki język i zdolności trololo zgubiły go. Ghostbiker przegrał dwoma głosami z Lawyee. Zdobył ich 97 a Lawyee 99. Na trzecim miejscu logamac z jedynie 7 głosami. Miesiąc później partia Vesela Strana wystawiła na prezydenta Leinadesa. Wygrał on. Było to pierwsze zwycięstwo w wyborach prezydenckich od lipca 2011 roku, kiedy prezydentem został Dimitru Osraldescu (oczywiście z partii Vesela Strana). Hochelus został Ministrem Spraw Zagranicznych. Reaktywował projekt ambasad, oraz wraz z Ministrem Obrony - Markusiakiem, oraz resztą rządu podpisał decyzję o ustawieniu Natural Enemy na Chorwację. Był to wielki rząd, lecz on nie odwrócił kota ogonem jak to zrobił przykładowo Markusiak. Zamiast narzekać na ten błąd walczył za Czechosłowację i finansował broń. Walki trwają do dziś, a on zawsze jest w pogotowiu, aby walczyć za swój kraj.
---
Article by Leinades (C)
HAIL HOCHELUS!