Day 2,911, 14:24
•
Published in USA
•
by James S. Brady Press Room
Dateline:
Monday, November 9th, 2015. (Day 2,911)
Location:
James S. Brady Press Room, The White House
Today's WHPR
1. WAR
2. Presidental Elections Recap
3. November Media Team Recruiting
4. WHPR Wrap Up
WAR
Matt Oaks
eUSA STARTS NEW WAR
Well everyone, November is starting off with a bang. Yup that's right, your predictions and hopes have now been answered.
eUSA has found its next target.
This time around, Indonesia will fall before 'Merica's mighty armies. Indonesia has long been an enemy of the eUSA and it's time to, as Wild Owl put it, show them who's boss.
Congress is finishing the final touches on the preparations for war and strategies are already being set into motion. Indonesia is currently allied with FYROM/BG/Chile but like in the past, we will be able to call on our own allies to aid us. That means Pacifica is going to stretch its muscles once again.
"Look at that bluish-grayish blob just sitting there. Ugh"
"As you can see, the fun has already started, get your piece!"
There was skepticism that this this administration's fiscal policy would impede our great nation's ability to wage war. Well my friends, it appears that simply isn't the case. We did it to Spain we can do it to Indonesia. One. Region. At a time.
I urge each and everyone one of you to get involved and keep your eyes peeled for further announcements regarding the war.
Let's get hyped for another a** kicking eAmerica!
Presidential Elections Recap
Matt Oaks
Presidential Election November 2015
The polls have officially closed and the new President has taken his seat in that big black chair in the oval office for the first time of many to come this term. Along with a new President comes a new cabinet, but first a recap of the elections:
'Official election results November 2015'
As seen above, President Wild Owl won by a fairly large margin, grabbing over 50% of the popular vote. Voter turnout difference versus last election is negligible with only two less voters this coming out this month. The campaigns were lively, entertaining and informative and Jude definitely had his share of die-hard supporters. But, in the end, the above is what happened and we now have another Wild Owl administration in the white house. I know WO and the entire team are looking forward to a great November.
Now to introduce the official November 2015 Cabinet:
Vice-President: Oblige
Chief of Staff: Derphoof
Secretary of State: Orikfricai
Secretary of Defense: Hale Kane
NSC Chairman(left):Henry William French and Co-Chairman(right): Tyler Bubblar
Secretary of Media: Matt Oaks
Secretary of Citizen Affairs: Jaden A.
There you have it folks, your November 2015 Cabinet! I know personally that each and everyone one of the people above are going to work as hard as possible to make this a great month for eUSA! So join me in welcoming them!
November Media Team Recruiting
Duncan Crowe
This November is going to be media heavy. The American people deserve to know what's going on as often as possible. In order to make that happen the Media Department is looking to assemble a team of writers, researchers and interns to get coffee in order to keep the media team running like a well oiled machine. Even if all you can do is give ideas for stories I want you.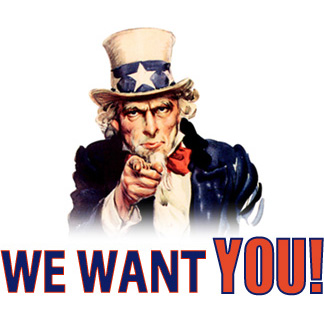 'I'm sorry WE want you'
So if you wanna work for the national media team to get media experience or even just to be a patriotic American, send me a PM and I promise we can find you something to do.
WHPR Wrap Up
Matt Oaks
Well, that's it folks, your first WHPR of the new term. Personally I'd just like to say how excited I am to be bringing updates to you guys, the American people, as often as possible. Whether I'm informing you, entertaining you, warning you or boring you; I hope I can at least make this term one people can look back on and say that the media was solid. Boom, sappy part over, back to ending the article.
As a nod to last month's team: Until next time, keep it classy, and keep shakin that ASS, eMurica!
Sincerely, Your Media Team:
Matt Oaks
Duncan Crowe