Day 2,205, 11:48
•
Published in United Kingdom
•
by WayneKerr
Country President elections are just round the corner and once again the Party President for
UKPP
has derped and forgot to elect the parties candidate... judging by the party feed,
Invalidation was the clear winner
. So a lot of you will already know and understand what I am about to say, you may skip the rest, go straight to the top of this article, press the vote button and then scroll down to leave me a comment...
A 3-Way...
This month we have had 3 people make the effort to write some stuff with regards to becoming our next CP. We have the
ESO
backed Professor Moriarty, ChewChewShoe running under the
UKRP
banner and
TUP
's very own Invalidation. I'm going to ignore Professor Moriarty for the purposes of this article. It would be too unfair on the others to give such epicness more exposure!
Becomes a 2-Way...
ChewChewShoe and Invalidation, both divide opinion, both are not what you would call '
model
' members of the community and they both are not afraid to use underhanded tactics to further their agendas. On paper they have all the attributes needed to make
excellent CP's
. But then I read both manifesto's and decided that really,
only one has what it takes...
For over two years now the
UKPP
has existed, through it's
ups
and
downs
,
changes in leadership
,
deaths
and
births
, we have always remained true to one thing. Quite possibly the most important thing in eRepublik. The
FREEDOM
to play the game as you see fit, having
NO MASTER
, other then yourself.
I look around the eUK today and see the imprint we, as a party, have left on the eUK. We have some of the lowest taxes in the game, we no longer sign MPP's to express a sign of friendship, Congressman are free to use citizenship passes as they see fit, forums no longer dominate our politics, almost everything we desired has come to pass. Even our '
political enemies
' have come around... well at least some of em.
Ends 1-way
Chew wants Government to stick its nose into the things WE do in the community, he wants to tie us up in
red tape
, which we all know just causes resentment and ostracises members, he wants to bring back the failed
immigration committee
, he even wants Government to
meddle with our parties
basically he wants to take us back two years. All in one term too, which is pretty impressive!
Invalidation on the other hand has pretty much released the
ultimate UKPP CP manifesto
. A hands off approach to the domestic side of the game with emphasis on us to make the eUK however we want. We as a community or as groups or even as individuals decide on what to build, who to give it, we decide on who war and when. All he asks is that you actively partake in whatever it is you want from the game. This is what we have wanted all these months...
and ya know what makes it sweeter?
It's coming from a TUP mouth.
This, UKPP, is why on the 5th you should vote Invalidation!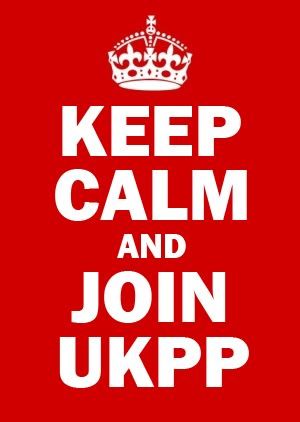 innit...
Post your comment
What is this?

You are reading an article written by a citizen of eRepublik, an immersive multiplayer strategy game based on real life countries. Create your own character and help your country achieve its glory while establishing yourself as a war hero, renowned publisher or finance guru.