Day 4,398, 05:50
•
Published in Croatia
•
by Rabbit of Caerbannog
It is no secret Croatians love their food and there is usually no need to wait for special occasions for an impressive feast. Christmas is a special time though.




For Croatians, the big day in the Christmas period is "Badnji Dan" (Christmas Eve Day) and "Badnja Večer" (Christmas Eve night).

The term badnjak means "to be awake", hence referring to staying awake all through the night until Christmas Day. The tradition of bringing a log into the house and placing it on the fire on badnjak, and keeping it burning throughout Christmas Day, has been going on in regions in Croatia for centuries.




Another old tradition is the sowing of pšenica (wheat seeds) in a bowl of water (usually on St. Lucy's day), which will grow until Christmas and is then used to decorate the table on Christmas.




Since Christmas Eve is a fasting day, traditionally on Christmas Eve Croatians eat a small meal in the evening.

On Christmas Day, Croatians traditionally prepare a roast – either turkey, lamb, pig or duck. Winter dishes like sarma and stews are also eaten over the festive period. And an abundance of traditional Christmas desserts.

Here are some tasty things you will likely see on the table over the festive period in Croatian households:

1. Bakalar



After soaking in water for 24 hours, dried cod is usually served as a stew with potatoes.

Recipe:
https://www.croatiaweek.com/croatian-christmas-recipes-bakalar/


2. French salad



Also known as Olivier or Russian salad with mayo, egg, peas, potatoes, pickles, carrots… There is also versions without mayo and potatoes, I find it much more refreshing and less heavy.


3. Sarma ❤



Sarma is minced meat, spiced and moulded together with rice, which is wrapped in sour, fermented cabbage leaves, known locally as kiseli kupus and in Germany as sauerkraut and then boiled in a spiced tomato sauce, which also sometimes contains bacon until the rice is cooked. A beloved dish in Croatia, it's eaten year-round, and it's a particular favourite when visiting the family home. A milder tasting version can be produced using either fresh cabbage leaves or blitva (chard) leaves. A hearty, comforting dish, it really comes into its own during winter, served with mashed potatoes.

Recipe:
https://www.croatiaweek.com/video-croatian-recipes-sarma/


4. Turkey / duck with mlinci



In the past, duck and goose were more commonly used, and are still most easily available at this time of year. Turkey is also popular in some parts and chicken especially so. Mlinci is a thin pasta-like accompaniment, which is frequently (and rather unusually) cooked in fat.


5. Roast pork (Buncek)



Slowly cooked and roasted pork (smoked), usually served with homemade bread, sour cabbage and bacon


6. Stuffed peppers



Stuffed peppers with mince and rice (similar to sarma, but not the same 😁

Recipe:
https://www.croatiaweek.com/croatian-recipes-punjene-paprike-stuffed-peppers/


7. Fiš paprikaš / Fish stew



Spicy fish stew is a popular dish in the east of Croatia in Slavonia. It's usually made outside on fire made from wood in a big pot and with at least 3 types of fish and a lot of spicy red pepper. Usually served with wide pasta strings (rezanci).

Recipe:
https://www.gct.com/community/the-inside-scoop/the-buzz/recipe-fis-paprikas


8. Cold served smoked meat



Cheese, prsut, olives, salamis, bacon, smoked ham starters


9. Pašticada ❤ ❤



Slowly cooked and baked and then again cooked beef. Served with gnocchi. Must try!
Also can be made with tuna steaks or rabbit 😉

Recipe:
https://www.petersommer.com/blog/another-bite/pasticada


10. Fritule



Fritule are deep fried Croatian doughnuts that historically come from the coastal region of Dalmatia. They are usually boozy, and are flavoured with brandy or loza (a grape rakija). They can also be served with sugar, jam or chocolate.

Recipe:
https://www.thespruceeats.com/klaras-traditional-croatian-fritters-recipe-1135857


11. Makovnjača / Orehnjača / Rogačnica



Roll made with poppy seed, walnuts or rogač

Recipe:
https://www.cookingalongthedrava.com/makovnjaca-orehnjaca/


12. Vanilla kiflice



Vanilla half-moons biscuits

Recipe:
https://www.chasingthedonkey.com/croatian-cooking-vanilin-kiflice-recipe-vanilla-crescent-cookies/


13. Štrudla



Strudel with sweet filling (apples, cherries, sour cherries..) or salty version (fresh cheese and cream, also pumpkin, potato or some other green vegetables can be added)

Recipe:
http://www.yachtgourmetcroatia.com/croatian-recipes-savijaca-od-visanja-cherry-strudel

Recipe for Bučnica (pumpkin strudel)
https://www.croatiaweek.com/croatian-recipes-bucnica/


14. Kroštule



Deep frying ribbon-shaped dough pastries popular in Dalmatia and Istria

Recipe:
https://www.croatiaweek.com/croatian-recipes-krostule/


15. Paprenjaci



Paprenjaci are peppery gingerbread cookies which date back to at least the 16th century. Decorated with a stamped pattern, recipes vary, with some substituting honey for sugar, butter for fat, walnuts for hazelnuts and the inclusion of cloves, cinnamon and nutmeg alongside pepper. In the past, when pepper was an expensive spice, they were quite rare.

Recipe:
https://www.croatiaweek.com/croatian-recipes-traditional-paprenjak-biscuit/


16. Međimurska gibanica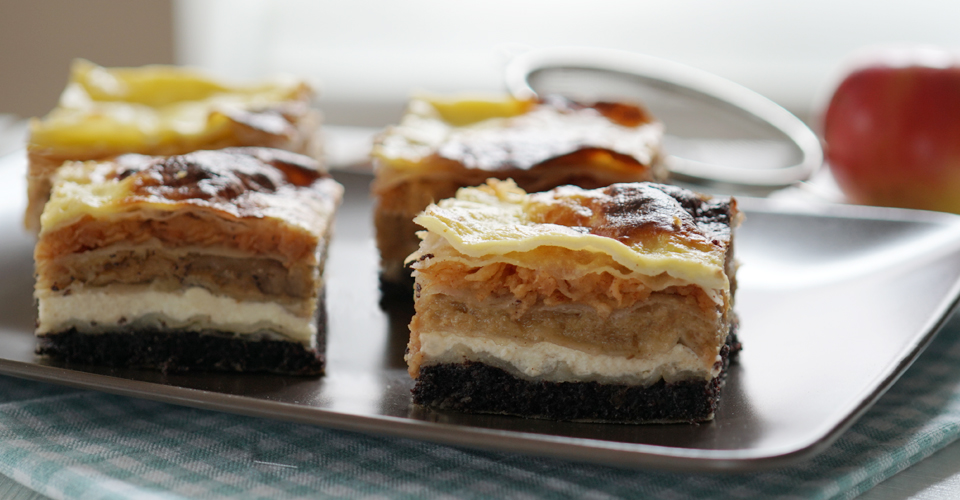 Four filling layer cake called Međimurska or Prekomurska gibanica. If you love poppy seed, apples and cheese, be sure to try this wonder!

Recipe:
http://www.kuhaona.com/en/2018/04/medimurje-gibanica-four-filling-layer-cake/

Also, you can be sure you will not be thirsty 😉

17. Wine



Most likely will be found on every table, either homemade or bought in the shop.

18. Kuhano vino (hot wine)



Scent of hot wine with herbs is one of those which will follow you around the city streets, but also is used at home as warm welcome for guests in cold winter nights.

Recipe:
https://www.croatiaweek.com/how-to-make-kuhano-vino/

19. Rakija ❤



Brandy (schnapps) made from fermented fruit with a help of the Happy machine 🙂

And if you are wondering what is a Happy machine..





That's all folks!
Hope you liked this tasty article 😉
Feel free to put some more recipes or meals you and your families prepare in this Christmas / winter time 😉

And thank you all for your help with subscriptions and my try to reach 1000 of them! 🤗

Please subscribe if you already haven't, and you can send me PM / leave comment with your newspapers and I will sub back 😉

o7
R.