Day 1,800, 06:58
•
Published in Argentina
•
by Ga.brik

El Honorable Partido Republicano se complace en anunciar a través del siguiente comunicado la lista de sus candidatos para las elecciones a Congresistas para el periodo Octubre/Noviembre 2012.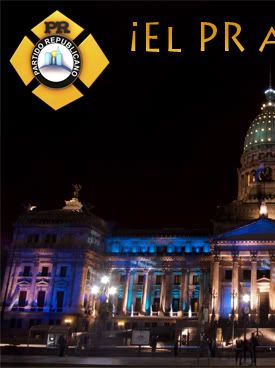 Fue larga y dificil la búsqueda de candidatos para tal preciada labor, pero siempre nos esforzamos por enviar a la gente mejor capacitada y con mejor predisposición para trabajar en el Congreso de la Nación.
El Partido Republicano presenta a su equipo de trabajo para tal honor en el Poder Legislativo de la Nación:
Wizardarg

Dado el cambio de sistema en las Elecciones a Congresistas, ya no podrán votar a nuestros candidatos personalmente. A cambio, les pedimos que voten la lista de la
Unión Militar Argentina (UMA)
, que es en la cual se encuentran nuestros candidatos postulados.
Saludos!
Gko.
Secretaría de Difusión.
Post your comment
What is this?

You are reading an article written by a citizen of eRepublik, an immersive multiplayer strategy game based on real life countries. Create your own character and help your country achieve its glory while establishing yourself as a war hero, renowned publisher or finance guru.