Day 1,931, 14:34
•
Published in USA
•
by John Killah
Everything must come to an end
This is the trouble with February, everything ends so much quicker than every other month because there's only 28 days.
So, my final quote for you all to guess is in the italics, and it's only part of the quote. Just like WhydoIbother last article, guess it and write it in the comments and you'll win a cash prize.
First, the Unity vote, VOTE VANEK
Another Primary over, another Unity system finished for the month, another Unity Candidate steps up to the plate tomorrow. This month was an interesting battle of a different polar opposites in which the New Public faced off against the Old Backstage in the forms of Jefferson Locke Vs Vanek26.
Jefferson played hard on the "New Generation Card", while Vanek played the "Experience Card". It's probably well known who I wanted to win, and I won't say I'm not saddened at the outcome, but at the end of they day, I don't feel too bad since the country is in more than capable hands … that was the best bit about all this – The country would be fine either way.
I've said it before, I'll say it again – I hate the Unity System. I hate having to use it, I hate that we can't have the old elections like we used to where it was party Vs party
ON ELECTION DAY.
I know you're all tired of it, like me, you all yearn for the days when we could do that … But to do that now would be catastrophic.
So Tomorrow, remember to vote for Vanek26, to remind the PTO's that while we're fractured most of the time, we can still come together when the occasion calls for ****block of their interests.
Final Thoughts on the term gone by
First off, being President is a giant pain in the ASS! You hear stories about how terrible being president can be, and how hard it is sometimes … but you always think "I'll be fine". But it's a lot harder than it seems sometimes.
My term wasn't spectacular … it wasn't on fire, it wasn't amazing and it won't have people talking about it for months to come. I won't have earnt a legion of fans, a cult following who worship me every decision, and I certainly haven't left my mark on the presidency and some big shoes to fill for Vanek.
But at the end of it, I don't particularly care. You see … I tried despite crap circumstances such as the shortness of my term and having an entire week of my term being taken up by working triple my hours. I know some people will disagree and say I haven't tried, but they're either the ones that had Extremely Low expectations of me, or Extremely High expectations. The main people to ask whether I've tried would be Jefferson Locke and Artela – I spoke daily with them about everything, getting their view on a lot of the things I did.
I have come out of this presidency learning something – On the national stage, I am a better follower than a leader. I can listen and follow instructions fine, but when the roles are reversed and I'm the one giving those instructions, I'm out of my comfort zone and that has shown this month. It's the reason why you will probably never see me as President again (Well, that and I'm sure some people will attempt to stop me again).
So what's next for me? I'm gonna take a month off from this game. I'm going to keep a low profile for a week, then go on holiday with my missus, and then I'll return and go back to Party work in the AMP, where I feel comfortable and in the zone.
And for people aspiring to be President, I give you one piece of advice – Steel yourself for a lot harder work that you expect, and also expect a lot of sideline bitching, AFA trolling, and criticism for any little thing you do. If you have a tough skin, you'll be fine … just shrug it off and plough on.
And with that, the term ends, not with a bang, but with a whisper. I'm sad that I couldn't get Operation Gangnam Style finished (although the great news is that alongside CoT, Japan is now in control of ALL their original regions … THEY'RE FREE!) … I'm sad that we didn't deal a death blow to the AFA, although we've shrunken their Congress Majority slightly.
On the plus side, we managed to fund a temporary solution to the DoD Orders, and through the work of Tenshibo and Jefferson Locke, we finally got an MPP with Albania
WITH
CoT's blessing since Macedonia had no problem with it. That's the thing I'm most proud of, being able to fight side by side with our Albanian brothers when they need our help.
And as for my cabinet … goddamn they were awesome. EnterAwesome stepped up to the plate at short notice when Civil had to step aside because he couldn't fulfil what was expected of him, and her releases have been great and it's been lovely to see the media team back! Mr Swagg has worked his backside off to bring us articles for newbies to help inform them of all the legitimate parties and MU's in the country. Tenshibo has been a wealth of knowledge in Foreign Affairs and he's even improved my understanding of the complex system that it is. Rainy has been a star in the Interior, bringing new ideas to the table that I know she will bring to fruition during Vanek's term. Duncan has done well considering he was thrust into a position he had very little knowledge of, and he's tried his hardest. And I need say nothing more about Artela and Jefferson Locke, they have been godsends that nobody should cast aside.
Keep it chillin eAmerica because this is your February PotUS signing out!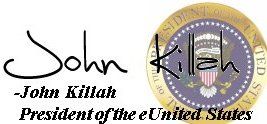 Post your comment
What is this?

You are reading an article written by a citizen of eRepublik, an immersive multiplayer strategy game based on real life countries. Create your own character and help your country achieve its glory while establishing yourself as a war hero, renowned publisher or finance guru.