Day 1,401, 11:59
•
Published in India
•
by Shakti Rocks
This article is intended to act as an guide for New players and familiarize them with the basic concepts of the game.
1. The eRepublik Time, Date and the Day of the new world is shown here. Under it is the search engine which is used to find players.

2. Horizontally positioned navigation bar, which contains multiple dropdown menus.

3. Vertical panel with information about the condition and stats of your eCitizen.

4. Solid panel containing information about the current state of your Country.

5. Many of the bands under the name "Military campaigns" and each reference to a battle in which the state of the territory in which country you are have been involved.

6. A huge bar where you see the "shouts", or short messages to your friends and place for text, which you can "shout" too.

7. Vertical panel containing links to different categories of press articles written by fellow eRep citizens.
Its time to get past the Home Page and start working. click on "My land" from horizontal bar dropdown menus.










In your first entry in "My land", the following window will appear.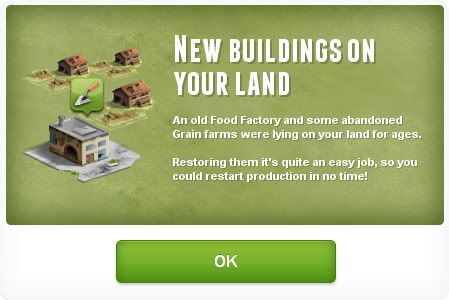 Click the 'OK' button and your buildings in your land will appear.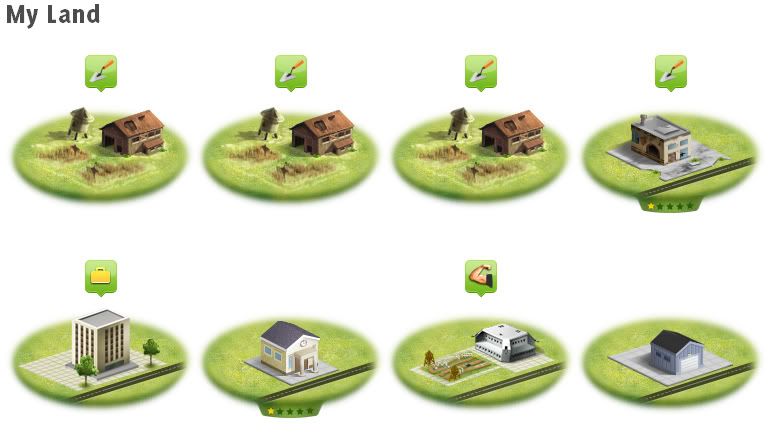 You received 3 grain farms and a Q1 Food Company from the start, but they are abandoned and you need to restore them. Simply click on each one of them and Restore the four buildings!
Well, you restored buildings, but before we work on those buildings let us find a job. To go to the Job market, click on the Building shown below, or navigate to the Job Market from the Horizontal bar : Market --> Job Market as shown below.
You can find all the available Jobs in your country in the Job Market. Naturally choose the highest paid work and begin by clicking "Apply".
From here begins the essence of your work in "My land", what you do every day after the change of eDay. Start by pressing one by one for each building to perform the activities - working, training, producing Food Raw Material from the 3 grain farms and Q1 Food from the food company.
A fixed percentage of Tax is imposed on your salary. The picture above shows the final salary your receive after tax deduction and the number of products you made for your Employer.
It shows you how much strength you gained after working in the Training grounds.
It shows the amount of Food Raw Material (FRM), you have produced for yourself, as in this case is 49 FRM. How much grain will produce depends directly on the types of regions your Country has under control. Do this on your three grain farms.

It shows the Amount of Q1 Food you have produced for yourself. To produce 1 Q1 Food, you need one Food Raw Material. A little while ago you produced FRM from the grain farms, Now you can use that to create Food for you which you can use to restore your health.Now that you have Worked and Trained for the day, You have completed your daily task. Lets go back to the Home Page and claim your reward.
Click on get reward, as shown below and receive your reward.
Missions are one of the easiest ways to gain Experience points and Strength in the game. On your first day of eRepublik, you can easily complete the first 3 missions. To view the missions, click on each of the missions shown in the left panel.
Requirements :
* Work in a Food Factory
Hint : You will find some buildings on your Land.
Requirements :
* Build 3 grain farms
* Work in your 3 grain farms
Requirements :
* Build your training grounds
* Train for the first time
Later in the game, you will be able to complete further missions. For a list of missions, their requirements and the rewards, check the below page.
http://wiki.erepublik.com/index.php/Missions
You can notice that your health has fallen. You lose 10 health whenever you are working, training or fighting. Time to use the Q1 Food you had just produced to refill your health. Each Q1 food restores 2 health. Higher quality food restores higher amount of health. But before we restore our health, let us see How much health can we restore at any time. Simply, point over the Eat Food button as shown below.
It shows you can recover upto 100 health at the moment. You can recover another 100 health after 1 hour. Click on Eat Food and restore your health. As you will progress later in the game, you will be able to recover upto 500 health in one go, which I will explain in a later guide.
Now that you have worked so hard for yourself, Let's tidy up your profile page. Click on your Citizen name as shown below.

Now click on edit profile.
Mention something about yourself in the 'Your Description' section. Upload an avatar (Profile Pic) and then Save your profile by putting your password and clicking on 'Make Changes'.
Well, now that you have got yourself in the game, time to find New friends. Not only you can talk with them, but also they can guide you through the game and help you whenever you need any help in the game.

Head over to the official eRepublik India Forum by clicking the Logo given below.

Read the New Citizenship Message, which you must have received as a message also.

Now Register yourself in the forums and then head over to the chat room to find fellow Indians and chat with them.
Well that's it for now. I hope the basic guide for first days in eRepublik was helpful for you. Further guides will be coming soon. Vote and Sub if you like it.



A special thanks to Val4aka for providing me a reference to make the guide. Also, thanks to Maverick10 Dodge Knight for encouraging me to make this article.

Post your comment
What is this?

You are reading an article written by a citizen of eRepublik, an immersive multiplayer strategy game based on real life countries. Create your own character and help your country achieve its glory while establishing yourself as a war hero, renowned publisher or finance guru.