Day 1,835, 13:45
•
Published in United Kingdom
•
by Foreign Office
Well, before beginning this article : I would like to thank
Thomas765
for his huge work by informing our population. During these 3 weeks, he published a lot of articles and no need to hide it : his work was excellent.
Now, time to talk about some events who happened on these last days
Greek gang-bang
That's the main place where you can find war. Greece who is long time Eden member (alliance opposed to UK) received a Natural enemy proposal from Bulgaria (Circle of trust member and UK friend). Shortly after, Greece launched the counter proposal.
It was only the beginning : our macedonian friends decided to propose greece as natural enemy.
Even if it was 2 vs 1 : greece received a lot of support from Eden and they were able to keep almost all of their regions.
These last days : our serbian friends decided to propose greece as natural enemy. It means that greece needs to fight on 3 fronts on the same time (which is very difficult).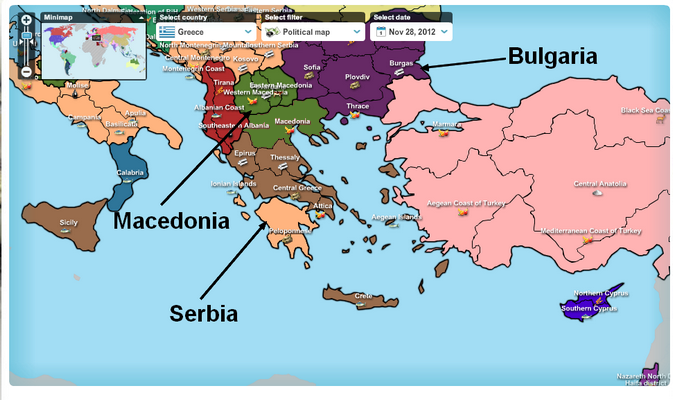 Macedonia (region) is under macedonian control.
Greeks will attack Thrace (only Bulgarian region than they can attack)
Serbia will attack a Greek region
PS : it is not shown on the map but Greece has several regions in Egypt and Saudi Arabia
Current state of war is
:
Bulgaria vs Greece
: Greece was able to win almost every campaign. Bulgaria took back initiative but sadly, they just lost it after a very long campaign in aegean islands (83-82 for greece)
MKD vs Greece
: If Greece was able to win the first campaigns, it is currently a status quo (each coutry win initiative at his turn and lose it just after). At the moment that I write this article : Macedonia will win macedonia (the region
🙂
)
Serbia vs Greece
: Since this front is opened, Serbia is crushing Greece. Our serbian friends won every campaign.
Brazil in Asia ?
Well, that's not a news, Brazil looked about having a colony in Asia.
Recently, Brazil has some internal problems : Some of their military units are proEden when they have some who are anti-Eden.
Brazilian border to Taiwan
On the same time, Brazil has all resources but it is not because you have all resources that you will be happy for ever.
During these last weeks, Brazil was able to sign MPP with several south American countries (like Venezuela and Peru) but also with countries like Slovenia.
In Asia, Taiwan (republic of China) knew that they should be Brazilian target. They launched a Natural Enemy proposal against Brazil and explained that they don't wanted any war with them. Taiwan proposal was rejected.
Now, it changed and Brazil chose Taiwan as natural enemy. At this moment, their proposal is at 26 YES for 2 NO. By attacking Taiwan, Brazil will lose their MPP with Croatia.
In Red : The first (or the second) brazilian attack against Taiwan, and their current only border with Taiwan original regions
UK MPP renewals



These last days, our country needed to renew several MPPs
We renewed MPP with Chile - Serbia - Slovenia - Macedonia and Lithuania.
MPPs were renewed because these countries are our friends.
About Chile
: since around April, they are our friend and we developed a friendship. We helped their babies during their baby-boom and helped us in lower division (mainly D1 and D2) in our campaign. In exchange, we help them in their war against argentina.
About Serbia
: they are one of our longest friends. Renew MPP with Serbia is something natural. They are always there to help when we need help. For UK : fighting for Serbia is an honor
About Slovenia
: they are also a long friend, they have almost the same amount of population than UK. Their military is quite impressive for their size. We were together in PHX and again in ONE.
About Macedonia
: an natural renewal, even when they weren't on the map : we were friend with their community. When they were added, we were one of the first countries who recognised them under their real name (Macedonia). Their military potential is huge and are always ready to help UK.
About Lithuania
: Lithuania is also a friend, despite that we are not on the same alliance (they are in ABC, a regional alliance who is near from UK and its friends). Last year, when we were invaded by Eden forces, they were a country who always here to fight along with us. Even if they weren't the strongest country, it is the kind of sign that we always love to see. Renew MPP with them is quite logic.
Thank you for reading
The United Kingdom Ministry of Foreign Affairs Team
Kravenn
,
Minister of Foreign Affairs
Lord Lewis Cromwell
,
Deputy Minister of Foreign Affairs
Post your comment
What is this?

You are reading an article written by a citizen of eRepublik, an immersive multiplayer strategy game based on real life countries. Create your own character and help your country achieve its glory while establishing yourself as a war hero, renowned publisher or finance guru.