Day 1,837, 09:27
•
Published in USA
•
by fingerguns

As most Federalists can see, John Jay is currently in the lead for our primary, and barring a massive shift, will likely be the winner for the Federalist Party endorsement. As you may or may not know, there was a lot of discussion of bribery going on in our primary thread. This stemmed from two different factors. The first of which was
Inwegen's Cabinet Article Part 1
. A lot of people said that stacking Feds on this article was intended to sway our primary towards Inwegen, and tantamount to a bribe. Anyone who has been in politics for more than a month knows that this happens every presidential election. Not to mention that Feds were stacked in a lot of cabinets, probably due to the fact that we are nationally qualified to serve. These were capable and qualified people Inwegen was promoting, so a debate ensued about whether or not he was simply trying to buy the Feds.
And now we get to the second factor, which you can clearly see below:
Colin offering to donate tanks to EZC should Inwegen lose
Now, I'm not a law expert, but clearly Colin's offered donation is obviously a bribe to make us pick someone other than Inwegen. He even openly admits that this is a bribe. For those of you who think Colin was bluffing, you clearly have never known him or seen his medal count. I would also like to add that
this move was done by Colin alone, and no other candidate approved or encouraged his actions.
Now, I'm not going to lie, 10,000 Q7 tanks is a lot. Easy Company would be swimming in tanks for a few months no doubt. If you're going to make a bribe, you may as well make it enticing. And no doubt, Easy Company would gain a lot from this offer. But here's the problem,
Feds don't take bribes
.
Not going to lie, despite the debate, bribery, and controversy, this month there were great candidates. Inwegen is qualified, John Jay is qualified, and John Killah is qualified. And that also made this month's decision particularly hard to make. The Federalist Party practically interrogated each candidate on the forum to get answers to every policy question you could think of. We challenged the candidates to prove something to us, to prove why they should be elected president, not just win our endorsement. The Feds care more for country then they care for party motives or personal promotion. If John Jay, or even Inwegen if he makes a comeback, wins our primary, they will do so because the Feds thought they were best for country and not for our gain.
One of our core values is standing for government integrity, and we intend to keep it that way.
So, in speaking for the Federalist Party,
we reject your 10,000 Q7 bribe. If offered, we will refuse. If sent, they will be sent back. There is no negotiation, there is no further discussion.We remain proud, we remain horny, and we will not be bought.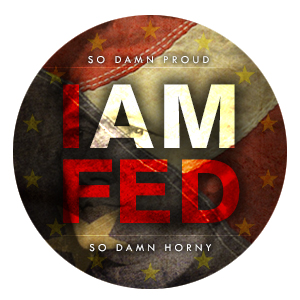 This p/h article written by
NewAzazel
. Jealous?
Post your comment
What is this?

You are reading an article written by a citizen of eRepublik, an immersive multiplayer strategy game based on real life countries. Create your own character and help your country achieve its glory while establishing yourself as a war hero, renowned publisher or finance guru.