Day 1,628, 04:19
•
Published in Australia
•
by Arfman
For more information on my re-election bi😨
May 2012 Platform
May 2012 Cabinet

Firstly, I would like to take this chance to thank everyone for giving me the opportunity to serve you. I would also like to thank members of the Cabinet for their hard work this term in delivering to the people of Australia, be it the front line staff like those in FA, the DoD, Information, or Education, or those who do things behind the scenes like that of Immigration and the Ambassadors.

I would also like to thank the Senate for their cooperation and the insights they have put into the debates. I believe this all makes up a healthy democracy.

I would like to extend that gratitude to the last term's speaker, Witherd1, and this term's, PhoenixGreen. I am grateful that the Cabinet and the Senate were both able to work together cordially within convention and without any major issues. That being said, despite the few issues we faced, the Senate was no rubber stamp for the Cabinet and has fulfilled its task as the house of review. The APP after all, held no more than 25% of the seats at any one point.

That being said, I wish good luck to all the CP candidates and may the best man win. The people of Australia is fortunate to have 4 differently experienced candidates to choose from, and after DayChange today, they will be the true winners of this election.

Addendum

Some of you may have noticed that I did not put up campaign goals in the game system. Unfortunately, this was due to a bug that did not allow it to be published.





I put it in a ticket and got the following response: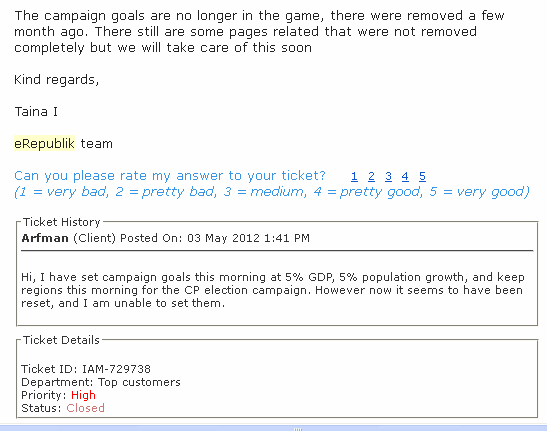 I'm sorry to say that this is beyond my control, but the article I wrote detailing my goals will explain clearly what I aim to do as CP.