Day 4,471, 12:16
•
Published in Greece
•
by Code Alliance family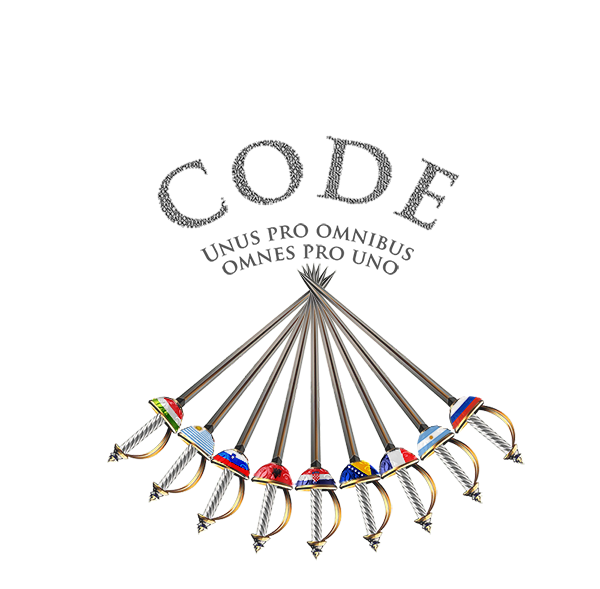 Greetings, CODE family!
Alliance PR team is proud to present you the first article from our
"People behind CODE"
series. We are starting with the most mysterious guy -
Giovanni T.
Enjoy reading!
1. What was your criteria in deciding to help CODE to set up an HQ? G:
It is important to say that I was explicitly against the founding of HQ when the alliance was formed. Why? I felt, like most initiates, that we have enough quality leaders, who will be followed by people and states without the need for formalities. The idea was for countries to act independently in arranging training wars and forming plans, and defense against Asteria and major wars would be coordinated by leaders such as: MaM, Zdlemmy, antwone, Drawback, Fanis.
What has changed? CODE has achieved absolute world domination. This soon gets boring, as does subordination. The game has become monotonous and annoying and, with exceptional activity, most players have opted for double-clicking. Leaders became tired, exhausted and fed up of the constant planning and coordination. Asteria did not sleep. They wanted to regain old strength and dominate the world again. They made a plan and implemented it, thanks to increased activity but also increased spending of money. The situation has become bad for CODE. We almost touched the bottom - there was no coordination between the states and the leaders and tanks significantly reduced the activity. The logical solution was to establish an HQ, more specifically to commit a number of people to an activity that really became a problem.
Activity and knowledge of strategy were virtually the only prerequisites for candidates for the first CODE HQ.
2. What do you think about the current situation in our alliance?G:
The situation in the alliance is not the best, but it is significantly better than the last month before the formation of the HQ. The biggest problem is the Greek boycott of buying packages. Other countries also have some problems, first and foremost in terms of activity. But there is light at the end of the tunnel and the situation improves.

3. As an alliance, what does CODE mean to you?G:
CODE is a community, group of friends. Atm, there is only CODE/Andes and the other side. Unlike the old times, there is less communication with the players from the other side. Diplomacy is one part of the game that is much lowered during the years.
4. Please, enlighten us with your opinion, how do you see CODE and the eWorld in let's say, 6 months? G:
I don't know.
🙂
In general, this game is like a sinusoid - the situation is constantly changing, so I probably won't be wrong to say that CODE/Andes will be stronger side again at that time.
5. As ex MoFA of eIreland, would you like to tell us about the eIrish community? What's happening there, are they active, some projects, packers? G:
I was MoFA of eIreland for 1 month, invited by Warbhoy in the community with a big plans and increased activity. The Irish Army was reorganized, joint strikes for the Allies became frequent, training wars were secured and bonuses were settled for our manufacturers. Since the change of government, I have returned to eCroatia and am not aware of the extent to which the new president has continued the projects.

6. How are eIreland's current relations with eUK? Becoming warmer maybe? ( Optional: Is it smart to ask who's arch enemy of eIreland?G:
I would skip this question.
7. Share with us some unforgettable memories from your favourite periods ingame?G:
The best time in eRepublik for me was the EDEN time. The alliance, number of active players, communication via IRC etc. I think it was the peak of this game. I was a member of Elite Squad Tuljani, one of the most important EDEN MU. Most of my elife was connected to diplomacy, I was eCroatian MoFA for countless times and also 3 times MoFA of the richest country in the eworld back then - eChina. It was fun to meet people from all around the world and play a game that in many respects was a snapshot of real life.

8. Why aren't you as active as before?G:
Since I was inactive or in 2-click for almost 5 years, I'm quite active.
🙂
But my activity is indeed much lower than before. After returning to active playing, I was eCroatian CP and MoFA, which requires increased activity. I needed a break, but a game with fewer players, almost no diplomacy, and a game that comes down to which side will buy more packages doesn't really sound appealing.

9. Do you actually enjoy playing eRepublik, and which segment of it it's your favourite (and why)?G:
I enjoyed playing eRepublik. Really did. Atm the only part that I enjoy is communication with other players and sometimes to fight in a good battle.

10. Friends, best friends, enemies, people you met in erepublik, people who maybe changed your way of playing?
G:
My mentor back to EDEN times, kalimero is the first association to this game. Argrob and Romper, great guys and big tanks. Zdlemmy, a person who has marked this game. All my comrades from Vatreni gušteri and Elite Squad Tuljani, people from ex Krug 13 party, especially Obersoldat. Mielga, Papi (MUFC) and Legica as the players I communicate the most these days. I also need to mention Dicto, Milos and whole CrOmega MU. o7
11. Question asked million times! What do you believe eRepublik should improve and upgrade to keep the players active and maybe even bring new ones?G:
Short term, to keep us playing a bit more: full transparency of token market. Removing the countries without rl players. Change political and economy module. And the most important: admin must frantically fight bots and bot armies.
Long term: new game version, new servers. Atm, the game isn't attractive for the new players, since they can never reach old players.
12. Favourite sports team?G:
I like to watch many sports. I even played basketball when I was young.
🙂
But whole my life I've been be fan and supporter of one club: HNK Hajduk Split.
13. Your message to our players would be:G:
Continue to fight. Continue to communicate and meet people. You are the game.

Message to all our players and friends:
Check your country's priorities, fight where is asked, help an ally.
Together we stand… Divided we fall! \o/
Our motto: We believe we are more than an alliance, we are A Family.
Hail CODE!
Hail Friends!