Day 1,849, 06:49
•
Published in Indonesia
•
by aaogi
==== eSK Battlefiled Gyeongsangnam-do ====

Round 7


Top 5 : FireStream, Cracacica Cococico, Se7enSINS



Top 5 : juliabout, Wancha Revenge, Raihan Tatuhey



Top 5 : yujioct, aaogi, Mr_NN, DCX 836, andevelez



Top 5 : aleeta, MadamChikas

Round 8


Top 5 : Ryuha, minipack, blooody, armymen



Top 5 : aleeta, cloud FF7

Round 9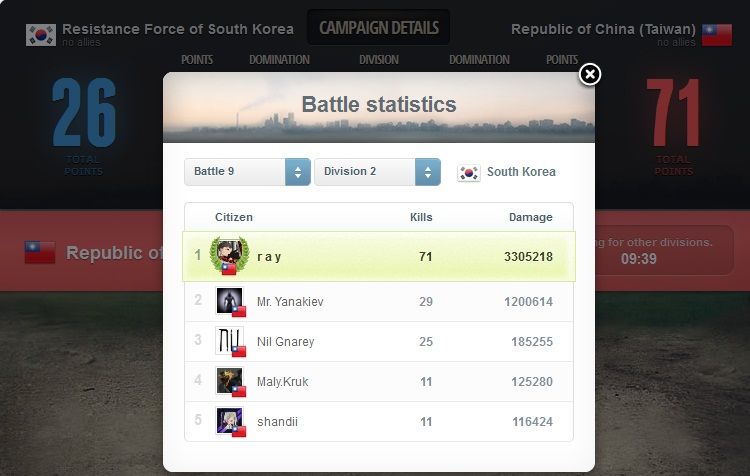 Top 5 : r a y <<< Warbar Telat 😃. wkwkwkwkwk

Round 11


Rupanya aleeta sedang berusaha mencari CH, udah kebanyakan Battle Hero nya sih. 😃 wkwwkwk

Buat yg lain yg ga disebutkan disini, terima kasih atas sumbangan damage nya. Kapan-kapan kita war bar lagi yang lebih rame (sepi euy semalem 🙁)

result :


\o/

Hail Cobra Aoi \o/
Fun Is Our Primary Objective, Solidarity is Second, Damage is 3rd
Post your comment
What is this?

You are reading an article written by a citizen of eRepublik, an immersive multiplayer strategy game based on real life countries. Create your own character and help your country achieve its glory while establishing yourself as a war hero, renowned publisher or finance guru.