Day 3,967, 08:50
•
Published in Belgium
•
by Belgium.info

Greetings fellow Belgians!
A month ago we decided to run House Aid program for our fighter and help them finance a Q2 house every week so everyone who shows enough activity to score 1k points get funds to buy one and get extra energy and more overtime work tickets to rank up faster and earn more money.
To help finance the project we reapplied for a Plato Foundation's grant and we received the ninth grant.
This week, there were 7 Belgians who applied for rewards and each of them received 6.290 cc to buy a Q2 house. In total we distributed 37.740,00 cc this week.

If you are new here or have not yet read terms and requirements to join the project you can read them
here
.
REQUIREMENTS
-Belgian citizenship
-Active Q1 house (If you are new to the game or cannot afford a Q1 house, we will provide you with the money to buy Q1 house and in advance, you will be able to buy your own Q1 house with salaries and also make some extra money.)
-Score at least 1000 points in weekly leaderboards or other activities (explained below).
-After you receive your first money donation for Q2 house, you need to have Q2 house active when you apply for another money donation for Q2 house.
HOW CAN YOU PARTICIPATE?
Every weekend there is a post on the National feed that looks like this:
eBelgian House Aid - Week x

Opened for supplies
All you have to do is to leave a comment below such post before Wednesday 00.00 eRepublik time. The post will be posted on the national feed every Saturday, you should comment even if you haven't reached the point requirement, but believe you will be able to reach it before week change. We will publish weekly reports on our project in articles, where we will also show the table of points citizens reached up to when the report was written. That way you can check how many points you have reached so far.
HOW CAN YOU REACH THE REQUIRED 1,000 POINTS?
At the end of the week, we will check leaderboards for your kills. Points you need to collect are based on your weekly kills. For every kill you make in aircraft module you get 5 points. D1 players get 4 points for every kill in the ground module, D2 players get 4 points as well, D3 players get 2 points and D4 players get 1 point for every kill they make in a ground module. NOTE! Your points from aircraft and ground module get added together.
The first new way you can earn points is by posting articles. Every article you publish will provide your account with an additional 250 points. Every article published in Belgium will be considered eligible, but
NOTE
that articles that are against eRepublik rules (including spam) won't make the cut and you will not be rewarded with points.
The second way you can earn points is by participating in BAF food program that runs on the national feed and you can apply for food reward every day after you do 35 kills in aircraft mode. Doing 35 kills in aircraft mode already rewards you with 175 points and now you can get an additional 25 points by participating in the BAF food program. You can read more about it
here
.
The third way you can earn points is by ranking up. Every rank up you reach will provide you with 100 points that week you rank up. It counts for both air and ground ranks. We will try to track the progress, but to make sure we don't miss your rank up, please contact our project leader
Gary McNichols
to make sure points get counted for you.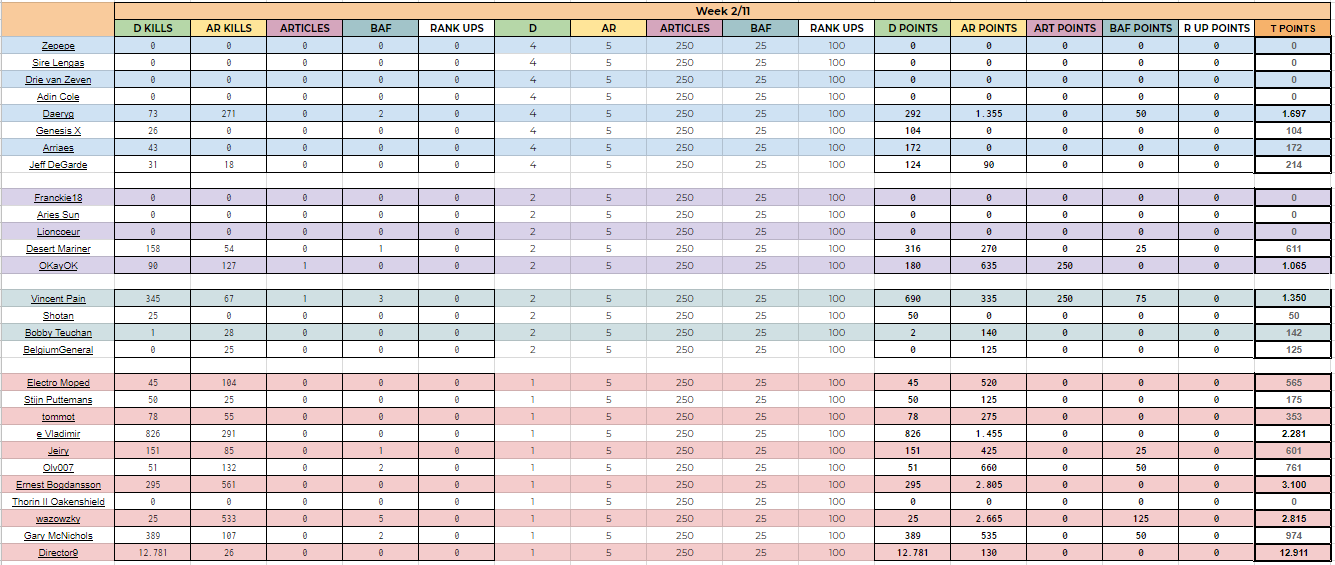 Stats for week 11
Those who already took part in the program already knows the drill and can apply for week 11 reward by commenting
post on national feed
.