Dia 1,889, 09:44
•
Publicado em Serbia
•
por Strahinjic Banovan
Hello to all Greek eRepublik players! 🙂
I address to you, once again, as an ambassador of eSerbia. I am very thankful to polemidakis who did the translation from English to Greek language (it is placed just below the original text). I believe he did the good job, however, if you are doubtful about any sentences, please read the original in English.

*****

Last time I introduced myself and wrote just few sentences about relations between (e)Greece and (e)Serbia. The article was very well recieved, it had much bigger echo than I assumed it would have. More than 400 votes gained for it (without visiting Voters Club) are the proof big enough for my ascertainment. It means that many citizens of our countries are very interested in making some relations between (e)Greece and (e)Serbia, knowing the fact that relations between us didn't much exist last few years, except fighting on the battlefield.

Before I write the main part of the text, I would like you to know few things as I want to prevent all the possible spin stories about my function.
My job is not to make our countries cooperating. I am not MoFA, I am ambassador. I am here to present (e)Serbia to Greek players and to make you more aware about what our people think about (e)Greece. Also, I will present what do you think about (e)Serbia to my compatriots.

Both countries are full of players who cannot understand how two very friendly countries in RL can be such a severe opponents in this game. Many of them hope we could become allies one day. My job is to bring you the facts so we could all see the whole picture and not just the part of it.




For now, I won't write much about our RL relations.

I am sure that the majority of our people is very familiar with the fact that two of our countries cherish strong friendly relations and that sometimes our people even call each other as brothers. I am pleased that, on both of sides, eRepublik players always notice how bad relations between our virtual countries will never change the good ones in the real life. I think that is something we should all be proud of.
So, my opinion is that there is no much point about talking of the good things in RL, as we play the game where the situation is much different.

*****

When I started to play this game, some 3 years ago, it was still V1 and the game was much different than now. I was eager to read and learn about the game and relations between the countries and I was unpleasantly surprised when I found out the next.
eSerbia was an ally of eTurkey, which was weird enough by itself, and eGreece was an ally of eCroatia in the opposition alliance. I thought, by the relations in RL, that it would be more natural if eGreece was with us instead of eTurkey.

To be honest, even today, I don't know the full truth how it happened. Serbian players told me that Greeks were guilty, Greeks told me the opposite. Just couple of Serbian players told me that it was really our fault but that can't be hold as a fact. I wouldn't like to write anything that does not fit the truth so you will understand me why I won't give much details about this start of our bad relations. It's really hard to get some credible statements about things that happened in that period.

However, what is the fact is that we were separated into different alliances by the players from both sides who, obviously, didn't take much on RL relations between our countries. As the time passed by, it became common thing that eGreece and eSerbia are rival countries and there were no players willing to change it due to the fact that the big majority (in both countries) was satisfied with how the things were going. It was the period when alliances were hard to be broken and the meaning of it was truly respected. So, none of the countries wanted to break existing friendships.

And just that existing friendships were one of the reasons why cooperation between eGreece and eSerbia in that time wasn't even imaginable. eGreece couldn't find eTurkey as a possible ally, same as eSerbia couldn't think about eCroatia in that way.

This was just the beginning, and we will see in the next articles that occasions changed during the time, but our countries still remained on the opposite sides.

*****

I will end for now. Once again, I call you to make an open discussion sticking to the theme. Please, try not to be offensive and I don't say this just to Greek players but to all. I am probably opening some hard themes but I am sure that we can all share different opinions in friendly way.

In the next article I will continue with describing how the relations between our countries were made, including how introducing (at that time) new countries to eRepublik had a hard impact on them.

εβίβα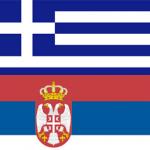 Γεια σε όλους τους Έλληνες παίκτες του eRepublik!
Απευθύνομαι σε εσάς, για άλλη μια φορά, ως πρεσβευτής της eSerbia.

Την τελευταία φορά συστήθηκα και έγραψα μερικές μόνο προτάσεις σχετικά με τις σχέσεις μεταξύ της e-Ελλάδα και της e-Σερβίας. Το άρθρο αποδέχθηκε πολύ καλά, είχε πολύ μεγαλύτερη απήχηση από ό,τι περίμενα. Περισσότερες από 400 ψήφους (χωρίς την χρήση του Voters Club) είναι είναι αρκετή απόδειξη για την διαπίστωσή μου. Αυτό σημαίνει ότι πολλοί πολίτες των χωρών μας ενδιαφέρονται ώστε να δημιουργηθούν κάποιες σχέσεις μεταξύ της e-Ελλάδας και της e-Σερβίας, γνωρίζοντας το γεγονός ότι οι σχέσεις μεταξύ μας δεν υπάρχουν τα τελευταία χρόνια, εκτός από την αντιπαράθεση στο πεδίο της μάχης.

Πριν γράψω το κύριο μέρος του κειμένου, θα ήθελα να ξέρετε μερικά πράγματα, καθώς θέλω να αποτρέψω όλες τις πιθανές παρεξηγήσεις σχετικά με τη λειτουργία μου.
Η δουλειά μου δεν είναι να γίνουν οι χώρες μας σύμμαχοι. Δεν είμαι ΥΠ.ΕΞ, είμαι πρεσβευτής. Είμαι εδώ για να παρουσιάσω την e-Σερβία στους Έλληνες παίκτες και για να αποκτήσετε επίγνωση για το τι σκέφτονται οι e-Σέρβοι την Ελλάδα. Επίσης, θα παρουσιάσω τις απόψεις σας στους συμπατριώτες μου στην Σερβία.

Και οι δύο χώρες είναι γεμάτες από παίκτες που δεν μπορούν να καταλάβουν πώς δύο πολύ φιλικές χώρες στην RL μπορεί να είναι αντιπάλοι σε αυτό το παιχνίδι. Πολλοί από αυτούς ελπίζουν ότι θα μπορούσαμε να γίνουμε σύμμαχοι σε μία ημέρα. Η δουλειά μου είναι να σας παρουσιάσω τα γεγονότα, έτσι ώστε να μπορέσουμε να δούμε όλοι τη συνολική εικόνα και όχι μόνο μέρος της.




Προς το παρόν, δεν θα γράψω πολλά για τις σχέσεις μας στην RL.

Είμαι βέβαιος ότι η πλειοψηφία του λαού μας είναι πολύ εξοικειωμένη με το γεγονός ότι οι δύο χώρες μας έχουμε ισχυρές φιλικές σχέσεις και μερικές φορές οι άνθρωποί μας αποκαλούν ο ένας τον άλλον σαν αδέλφια. Χαίρομαι που, και στις δύο πλευρές, οι παίχτες του eRepublik παρατηρούν πως οι κακές σχέσεις μεταξύ των εικονικών χωρών μας, δεν θα αλλάξει ποτέ τα καλά της πραγματικής ζωής. Νομίζω ότι αυτό είναι κάτι που πρέπει όλοι να είμαστε υπερήφανοι.
Οπότε, η γνώμη μου είναι ότι δεν υπάρχει κανένας λόγος να μιλάμε για πολλά από τα καλά πράγματα στην RL, καθώς παίζουμε το παιχνίδι, όπου η κατάσταση είναι πολύ διαφορετική.

*****

Όταν άρχισα να παίζω αυτό το παιχνίδι, περίπου 3 χρόνια πριν, ήταν ακόμα στην V1 και το παιχνίδι ήταν πολύ διαφορετικό από ότι τώρα. Ήμουν πρόθυμος να διαβάσω και να μάθω για το παιχνίδι και τις σχέσεις μεταξύ των χωρών και εξεπλάγην δυσάρεστα όταν έμαθα το παρακάτω.
eSerbia ήταν σύμμαχος της eTurkey, το οποίο ήταν αρκετά παράξενο από μόνο του, και η eGreece ήταν σύμμαχος της eCroatia στην αντίπαλη συμμαχία. Σκέφτηκα, από τις σχέσεις στην RL, ότι θα ήταν πιο φυσικό αν η eGreece ήταν μαζί μας, αντί για την eTurkey.

Για να είμαι ειλικρινής, ακόμα και σήμερα, δεν ξέρω την πλήρη αλήθεια για το πώς συνέβει. Σέρβοι παίκτες μου είπαν ότι οι Έλληνες ήταν υπεύθυνοι, οι Έλληνες μου είπαν το αντίθετο. Μόνο μερικοί παίκτες της Σερβίας μας είπαν ότι ήταν πραγματικά δικό μας λάθος, αλλά αυτό δεν μπορεί να θεωρηθεί ως γεγονός. Δεν θα ήθελα να γράψω κάτι που δεν ταιριάζει με την αλήθεια, έτσι θα με κατανοήσετε γιατί εγώ δεν θα μπω σε λεπτομέρειες σχετικά με αυτό το ξεκίνημα των κακών σχέσεών μας. Είναι πραγματικά δύσκολο να πάρει κανείς κάποια αξιόπιστα στοιχεία για πράγματα που συνέβησαν κατά την περίοδο εκείνη.

Ωστόσο, η πραγματικότητα είναι ότι εμείς χωριστήκαμε σε διαφορετικές συμμαχίες από παίκτες και από τις δύο πλευρές, που προφανώς, δεν τους ένοιαζε πολύ για τις RL σχέσεις μεταξύ των χωρών μας. Καθώς ο χρόνος περνούσε, έγινε κοινά αποδεκτό ότι η eGreece και η eSerbia είναι αντίπαλες χώρες, και δεν υπήρχαν παίκτες πρόθυμοι να το αλλάξουν καθώς το γεγονός είναι ότι η μεγάλη πλειοψηφία (και στις δύο χώρες) ήταν ικανοποιημένοι με το πώς τα πράγματα πήγαιναν. Ήταν η περίοδος κατά την οποία οι συμμαχίες ήταν δύσκολο να σπάσουν και η ιδέα μιας συμμαχίας ήταν πραγματικά σεβαστή. Έτσι, καμία από τις χώρες δεν ήθελαν να σπάσουν υπάρχουσες φιλίες.

Και ακριβς αυτές οι υπάρχουσες φιλίες που ήταν ένας από τους λόγους για τους οποίους η συνεργασία μεταξύ eGreece - eSerbia εκείνη την περίοδο ούτε καν το φανταζόταν κανείς. Η eGreece δεν θα μπορούσε να δεχτεί την eTurkey ως ένα δυνατό σύμμαχο, όπως η eSerbia δεν μπορούσε να δεχθεί την eCroatia.

Αυτό ήταν μόνο η αρχή, και θα δούμε στα επόμενα άρθρα ότι οι συνθήκες άλλαξαν κατά τη διάρκεια του χρόνου, αλλά οι χώρες μας εξακολουθούν να παραμένουν στις αντίθετες πλευρές.

*****

Θα κλείσω προς το παρόν. Για άλλη μια φορά, σας καλώ να κάνετε μια ανοικτή συζήτηση μένοντας στο θέμα. Παρακαλώ, προσπαθήστε να μην είστε προσβλητικοί και δεν το λέω αυτό στους Έλληνες παίκτες, αλλά σε όλους. Πιθανώς να αγγίζω ευαίσθητα θέματα, αλλά είμαι σίγουρος ότι μπορούμε να μοιραστούμε όλες τις διαφορετικές απόψεις με φιλικό τρόπο.

Στο επόμενο άρθρο θα συνεχίσω με την περιγραφή για το πως οι σχέσεις μεταξύ των χωρών μας διαμορφώθηκαν, συμπεριλαμβανομένου του πώς η εισαγωγή (εκείνη την εποχή) νέων χωρών στην eRepublik είχε έναν σκληρό αντίκτυπο σε αυτές.

εβίβα

Publicar comentário
O que é isso?

Este é um artigo escrito por um cidadão do eRepublik, um imersivo jogo de estratégia baseado nos países do mundo real. Crie um personagem e ajude seu país rumo à glória. Torne-se um herói de guerra, um editor renomado ou um guru das finanças.