Ziua 1,844, 04:59
•
de One Sky

Today , I will try to show you how p/h the Federalist Party is.
I will tell you why I belive the Federalist Party is so damn awesomeFirst of all , we got a really nice bunch of people here always there when you need them and always ready to help you. I came back to eRepublik 1-2 weeks ago and found some really nice people here. Fingerguns accepted me in the media department and gave me the chance to help the party.What I am trying to say is : We really care about our newbs and always encourage them to get involved . The new players are the future of eRepublik and that means they are our future . If you are new to this game , the Federalist Party is for you !

I should also tell you that the Federalist Party stands for Integrity . The party history is full of CP , VP , SoD , SoI and many others. We fight for the USA and we protect it. This is our duty , this is our job , and we are honored to fight for our country. If you really care for your country and you want to help join us and lets try to make it stronger. It is your duty as a citizen , and it is our duty to help and support you !
I am proud to say that the Feds are very active on forum , ingame and IRC . You just cant get bored here . It is wonderful to sit and chat with my friends and I am really lucky to be in such a great party. The party is well organised and those who take care of the Fed Offices do a brilliant job. Thank you guys for being awesome. I dont know what we would do without you. You have my thanks and my respect for what you do. p/h
Our goal is to become the #1 party in the USA . We know its a hard thing to acomplish but with your help I am sure we can do it . Together we can do anything . First of all , we are trying to get #2 and after that we will go for that #1 . We aim high ! Join the Federalist Party . You will not regret it.Keep fighting for your country . Dont let others tell you it is pointless. If you fall get up , if you fall again , remember that the Feds will always be there for you. Friendship and Honor above everything !

If you want to learn more about us read FG's article : Awesome

Remember , join the Federalist Party and get involved.
Signed : One Sky, a p/h Fed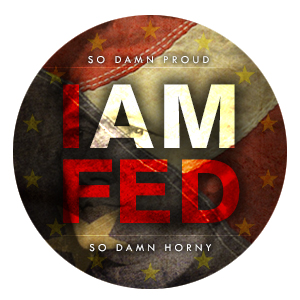 Postează răspunsul tău
Ce este asta?

Acesta este un articol scris de un cetățean eRepublik, un joc de strategie bazat pe țările din viața reală. Creează-ți propriul cetățean și condu țara ta pe drumul ei spre glorie. Îți poți câștiga faima în războaie, luptând ca un erou, în presă, scriind articole, sau construind un imperiu financiar.