Hari ke 1,896, 07:03
•
oleh dSoKre
Dragi prijatelji, stvarno tužan dan, otkad smo saznali prije par sati što se zapravo dogodilo sa našim bivšim predsjednikom eTomislavom, sada zapravo vidite kako je ova igra samo igra, a kakve se stvari događaju oko nas u stvarnom svijetu
U subotu oko 16:15
se dogodila tragedija, naš
Tomislav
sa suprugom i djetetom nas se napustio, nažalost poginuli su u naletu vlaka i otišli su sa anđelima na bolje mjesto
Ne znam kako ste vi, ali ja otkad sam saznao sam cijeli dan u šoku, iako ga nikad nisam upoznao u stvarnom životu, osjećam se kao da sam izgubio člana obitelji
Slažem se sa Giove-om, baš smo idioti, mi se tu prepucavamo radi običnih pixela i virtualnih stvari, a tek kada se ovakvo nešto dogodi onda se tek zapitamo što zapravo radimo


Ironično je da će dulje biti živ u igrici nego u stvarnom životu
EDIT: Saznali smo da je i njegova supruga Ivana također igrala donedavno eRepublik i zvala se
Perunika
Prijatelji i eNeprijatelji molim Vas da u čast
Tomislavu
stavite ovaj avatar u njegovu čast i njegove obitelji: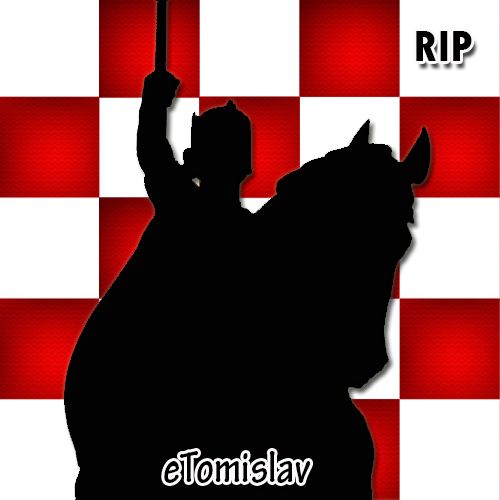 Dear friends, I hope you understand most of this, please put above avatar in a honor of our friend
Tomislav
.
I hope admins will see this too and give our beloved friend a elite citizen badge.
[EDIT] eRep team, thank you, you proved that you have ♥ !
eTomislav is now Elite Citizen
.
Rest in peace
Posting komentar anda
Apa ini ?

Anda sedang membaca artikel yang ditulis warga eRepublik, sebuah game multiplayer berbasis negara di dunia nyata. Buat sendiri karaktermu dan bantu negaramu untuk mencapai kejayaannya sambil membentuk dirimu sebagai pahlawan perang, penulis yang terkenal atau raksasa finansial.