1,874 jour, 05:30
•
de New Zealand Public Information
Hello eKiwis,
First of all I want to begin by thanking our current President,
Fanktastic
for having faith in my skills and appointing me as
Minister of Information
for January 2013.
I want to work to make sure that all citizens remain informed about what happens in our nation and the government work. The MoI team consis of: HM,
cobi63
and
Krupanjac1389
.
At this moment eNZ has 395 active citizens, and everyday it increases by 1-5. I hope there is no problem regarding the past month's huge multiple boom because all multiple accounts will be permanently banned and creators will be permanently punished too.
Over the past month since the updated edition not much has happened. So today I will remind you about the Otago RW and Congress.
Our Congress has been busy these past few days, passing a number of bills that are working to strengthen our nation. I have included a list of these bills:
- A mutual protection pact with Bulgaria: approved (19:0)
- A Presidential Impeachment: rejected (2:22)
- A Minimum wage change from 8 NZD to 6 NZD: rejected (1:22)
- A Minimum wage change from 8 NZD to 9 NZD: rejected (7:17).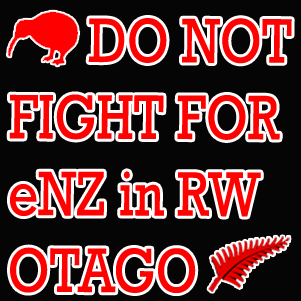 As many of you know, our former government rented Otago to eChile, so please do not support a RW there until you are given notice it is being returned.
Please obey this order for good!
Otago will not be returned yet!
Thank you in advance.
Do not fight for New Zealand in Otago,
fight for eChile instead
, or go to
another battle
and help our allies!
Long live eNZ and CoT!
In past month NZ military forces fought to aid our allies in CoT especially helped friends in eChile to keep our original region Otago and their other conquered regions.
eNZ MU's consist of:
Srpski Korpus
New Zealand Army
Sharks NZ
Kiwi Military Guard
NZ ARMY – COT Mobile Forces
Deathwatch Guard
Looney tunes soldier's
LightBeings Celestial Army
Silver Fern Guard
Hells Bells
.
My dearest Kiwis keep up the great work and please follow your MU daily orders. The rest of the MoI team will be in charge of MU analysis and interviews.
The Ministry of Information is always looking to promote eNZ media. Here are some articles that are circling within our community news feed.
Prime Minister's news:
Cabinet
http://www.erepublik.com/en/article/january-presidental-elections-2184427/1/20
MoDefence orders:
http://www.erepublik.com/en/article/-mod-orders-for-day-1858-2179484/1/20
Funny corner:
http://www.erepublik.com/en/article/great-words-2188007/1/20
And other articles you can find and choose by category here:
http://www.erepublik.com/en/main/news/rated/all/New-Zealand/1
NZ Forum:
http://erepubliknz.freeforums.org/index.php
IRC Chat on Rizon #nzarmy
http://mibbit.com/?channel=%23nzarmy&server=rizon.mibbit.org
Well that is all the news for now. I would please encourage all eKiwis to keep checking the news feeds, getting on IRC and communicating with Cabinet Ministers if you have a concern.
It is great to be back and expect another eNZ MoI update soon!
Sincerely,
Helen Moon
Minister of Information in eNZ
Publier ton commentaire
Qu'est-ce ?

Vous êtes en train de lire un article écrit par un citoyen d'eRepublik, un jeu de stratégie multijoueur immersif où l'on retrouve des pays réels. Créez votre propre personnage pour aider votre pays à atteindre la gloire et devenez un héros de guerre, un grand journaliste ou un magnat de la finance.