Day 1,695, 06:59
•
by The Dark J0ker
Last friday at 5:00 in the morning my trip to Timisoara started. I planned to go with Jablancro and metabarun by train but they must go to some wedding and I heard Dunci from Slovenia will go through Zagreb with his car and I talk to him to pick me up. Suddenly two days before the trip Dunci told me he couldn't go too
I decide to go by train myself and I thought it would be boring to travel over 400 km and 6.5 hours alone.
But It was a great trip because I met one cute girl and we're going out this week \o/
drenic
aka Gusterche wait me in Belgrade and we go at the lunch.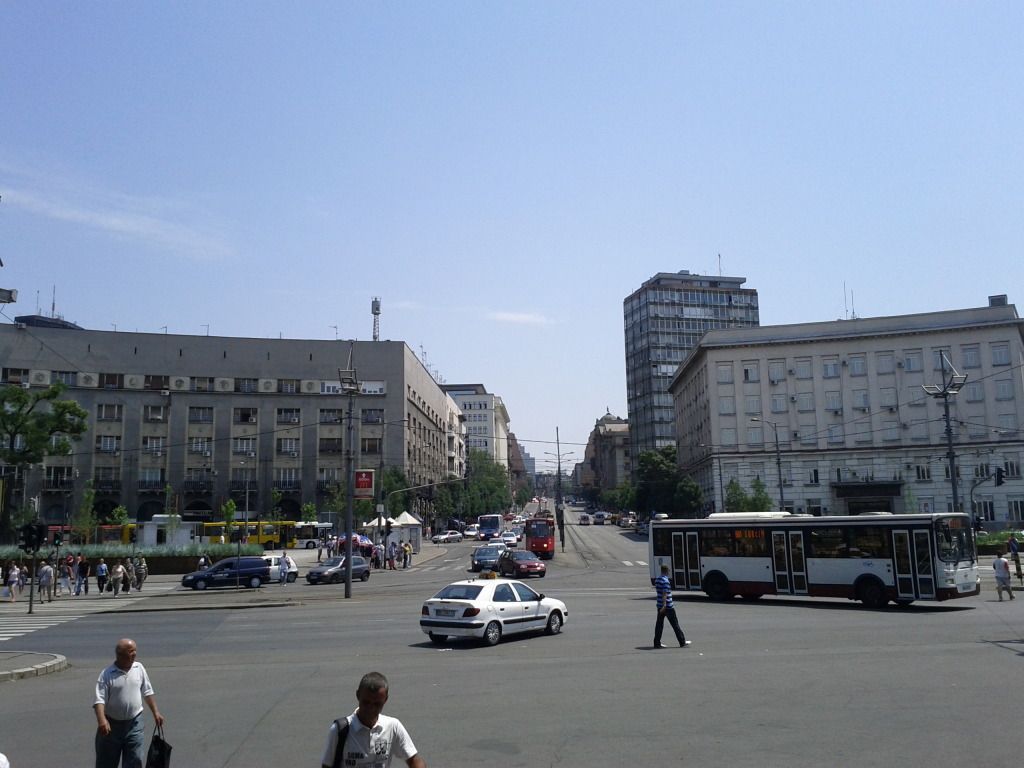 There
Milos Jablanovic
joined us and we were waiting for
Grancica
(aka Blackeye Vuk) and
Yura Zver
to finish with their jobs
We pick them up and we send
Yura Zver
and Gusterche to buy some beers and our journey from Belgrade to Timisoara can begin \o/
We drank that beers pretty soon and we must stop to gas station to buy more and now you can see our yellow submarine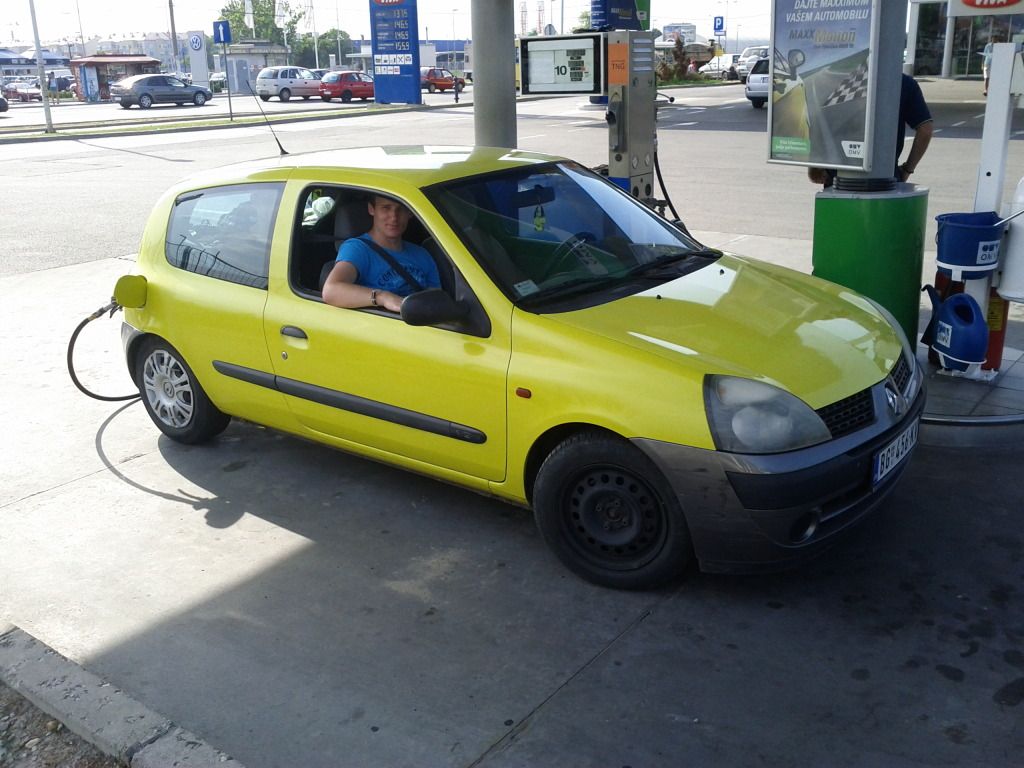 Yura Zver, Blackeye Vuk and Milos Jablanovic at the back seat of yellow submarine had a great time, there was around 50 °C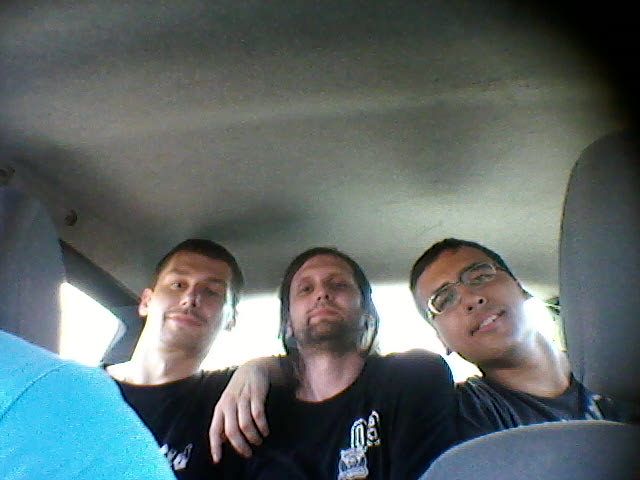 You can see Gusterche and me are enjoying in front:
Gusterche was very hardworking and he made a trip plan how to get to Timisoara: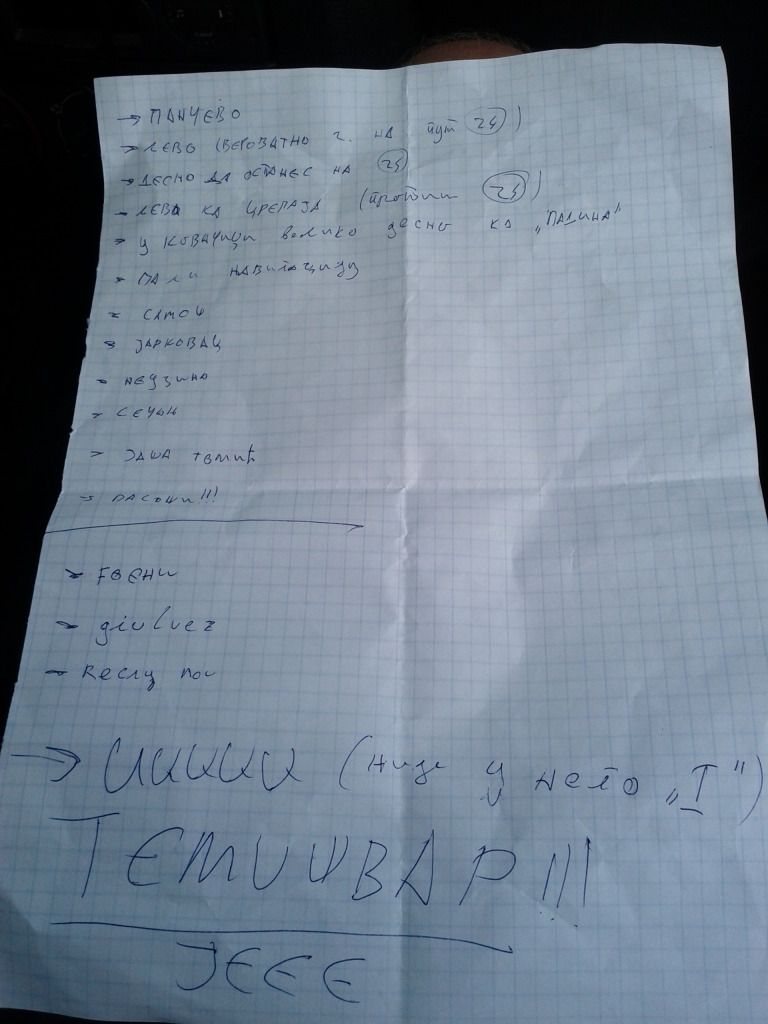 Unfortunately he didn't believe to his navigation and he bring his cell phone with maps and we took a shortcut to small border crossing in Jaša Tomić: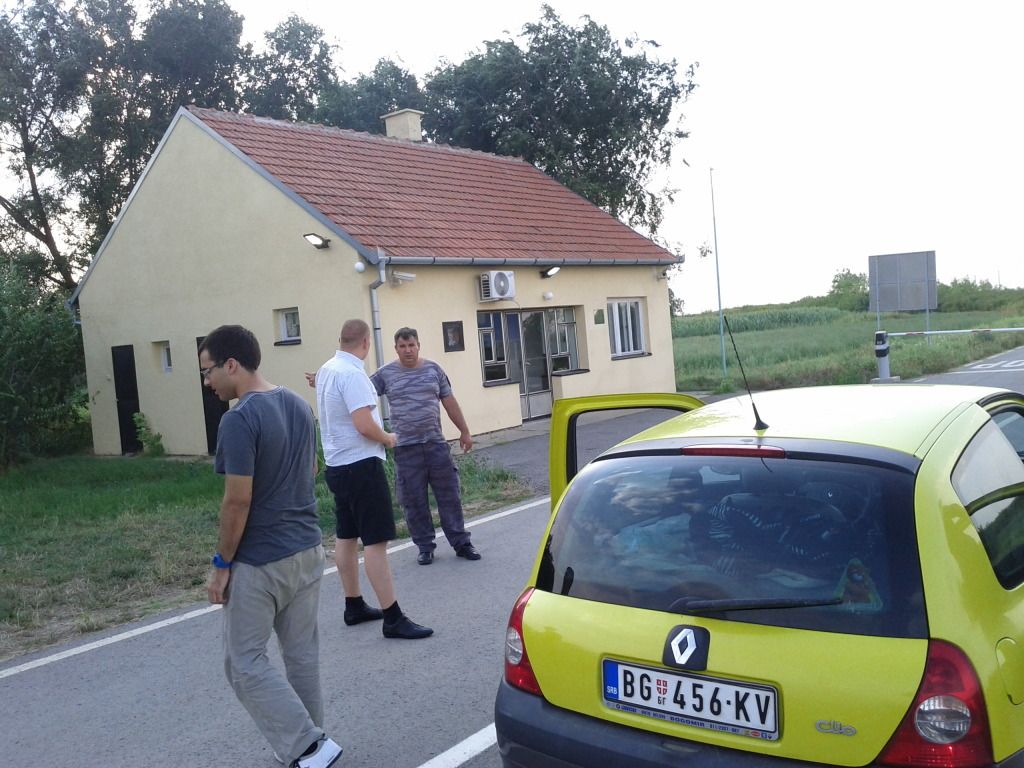 You can't believe it, it was closed and we must go to other border crossing 40 km far. We were very thirsty and we must pullover for more beers and you can see that temperature after 20h was still 30°C: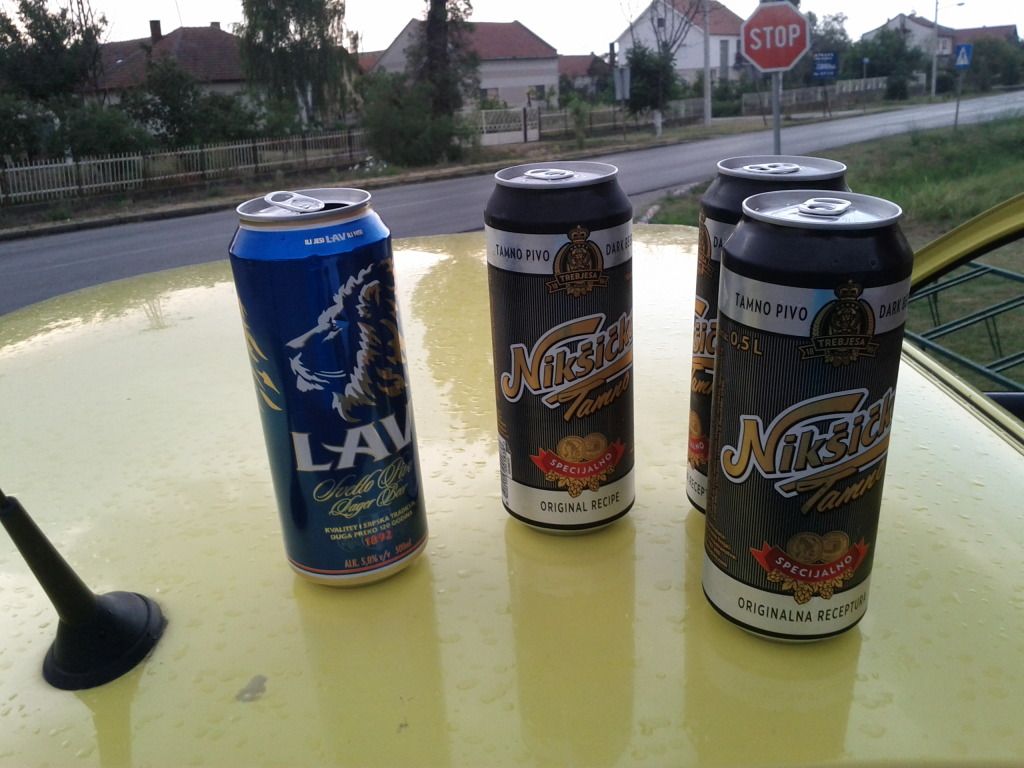 You can see that Gusterche was very happy when we finally get to border crossing which is open: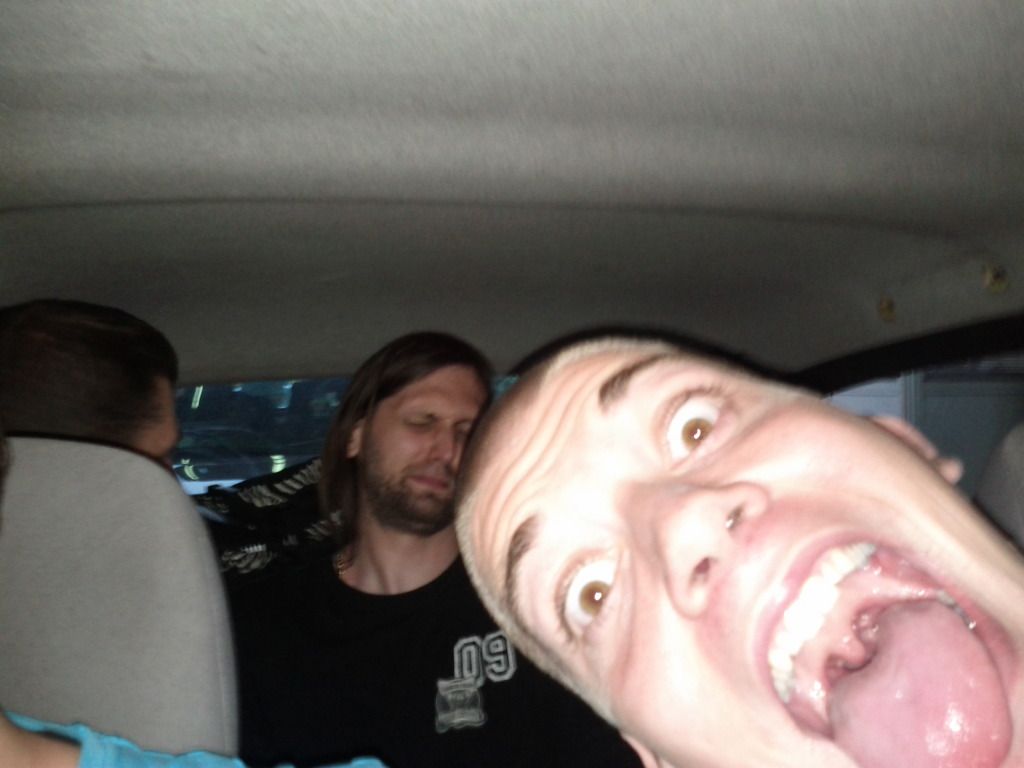 You can see our journey from Belgrade to Timisoara
Finally we came to Timisoara where Ortodox 4 ever waited for us in his red ferrari and lead us directly to the meeting because we came around 22:30 h:
Gusterche was very happy when we finally arrived to the meeting:
Because we were pretty late I'll show I couldn't take a photo of all people there, but if you want to see how look like:
mesther
,
matracuca
,
Charisiadis Hlias
,
Tasos Maximus
,
Gregus Hedvik
,
alzena
,
M Bogdan
,
Atsalenia
,
xtasia
,
taina
,
darco
,
Bogdan Adamutz
, Dsalageanu,
Chandra
,
gr3ed
,
Ignatius
,
Crista22
, pi_design,
wudang82
,
Petsku
,
Saaha
,
Romansul
,
scsaby
,
Vipescu
,
Emil JC
,
neotrix
, ionesta,
vlad_sabau
,
LadyArgana
,
avec
,
Squirrel
,
AlexMilotin
,
MermaidPrincess
,
wowotzange
,
hitman
,
ion-voda
,
Aaladinus
,
Xul0
,
bandigarf
,
srnica
,
montela12
,
pista2
,
Krichnouk
,
Fanette
,
Biduloh
,
Roscatul
,
Shadowman Fza
,
Xafania
,
Razvan Alin
,
Iodani
,
Art_Vandalayi
,
Sas Dragos
,
Florys
,
Blackpanther76
,
Alexis Nichiforos
, Sirdevil,
clawy
,
orthodox 4 ever
,
Ilphen
,
Sunsetter
,
ExploitDetected
,
Bihorean
,
Highst
,
aniujual
,
cosminell
,
drinkeru
,
BMA77
,
valy81
or
alpho
or someone else I'm sure I miss somebody
You can see it all HERE at this gallery
We stayed at that bar until 2:00 and then 5 of us with Shadowman Fza went to our
Hostel Costel
where were staying: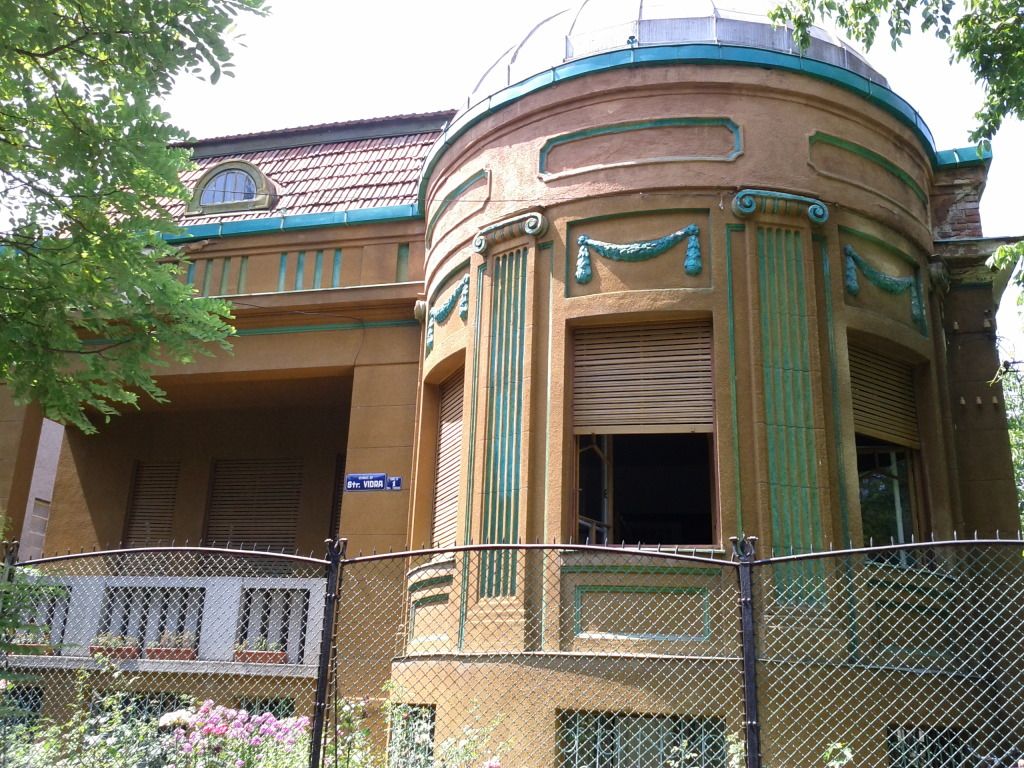 We wanted to go out partying, we were changing our clothes...
Gusteche wanted to go out in my jersey of Croatian National Football team but when we lie to our beds we felt a sleep in just few minutes.
Next day we were looking ourselves in mirror and we all look marvelous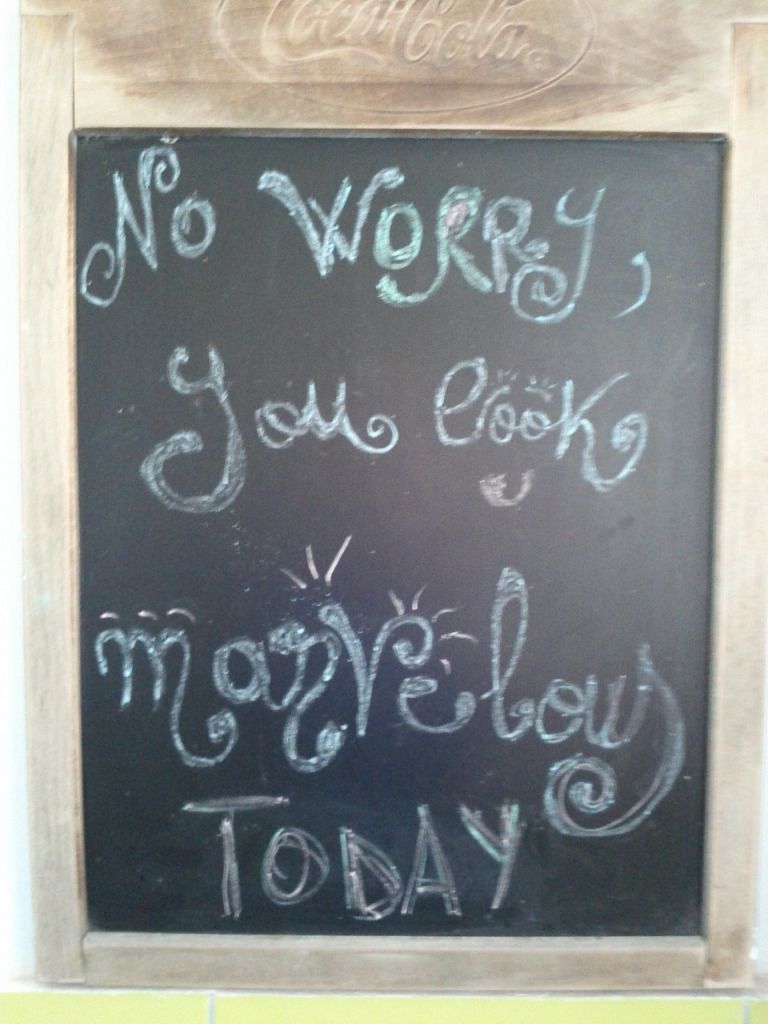 Our hostel was great, many interesting things there:
In the morning we go to city to grab something to eat and go sightseeing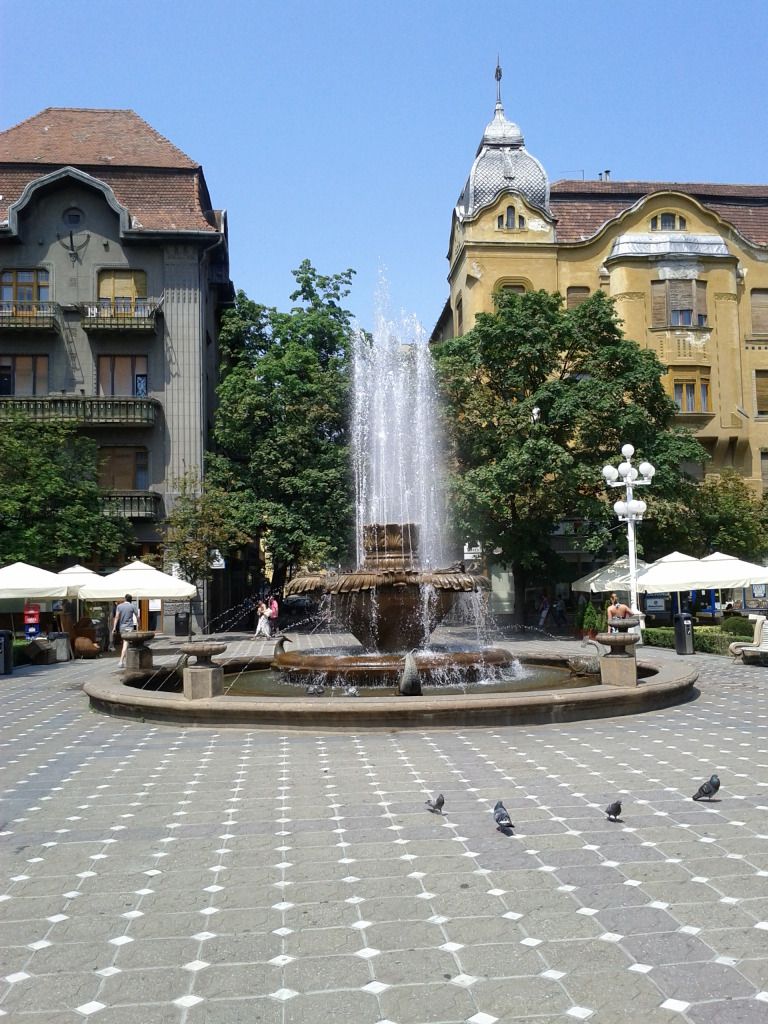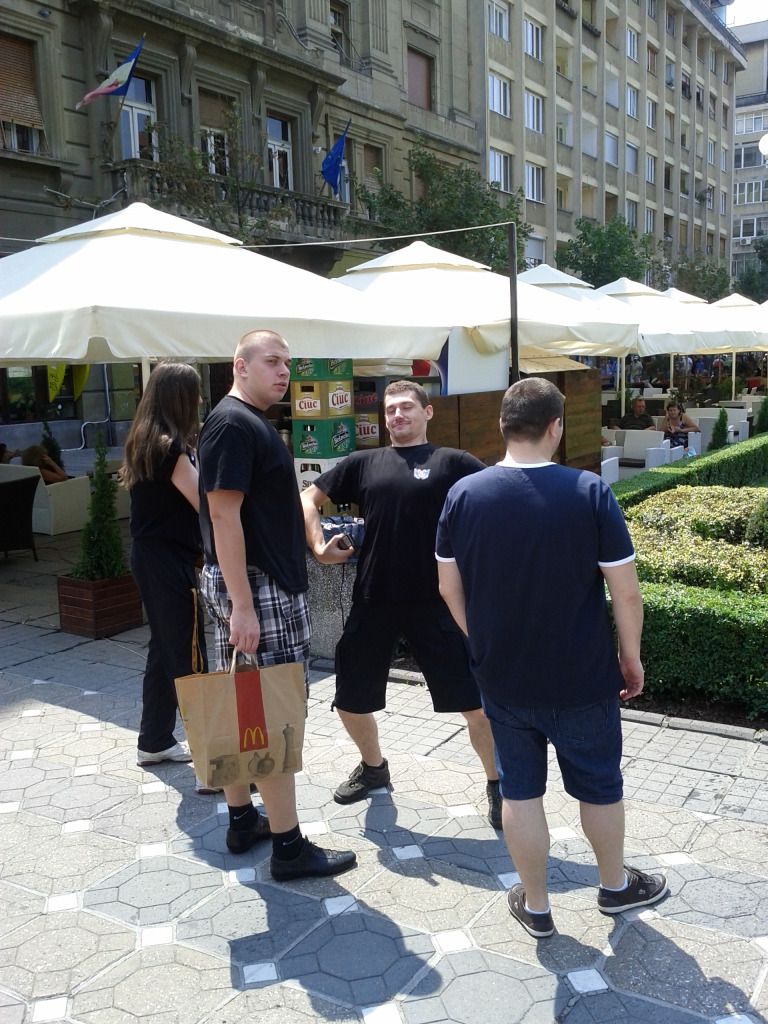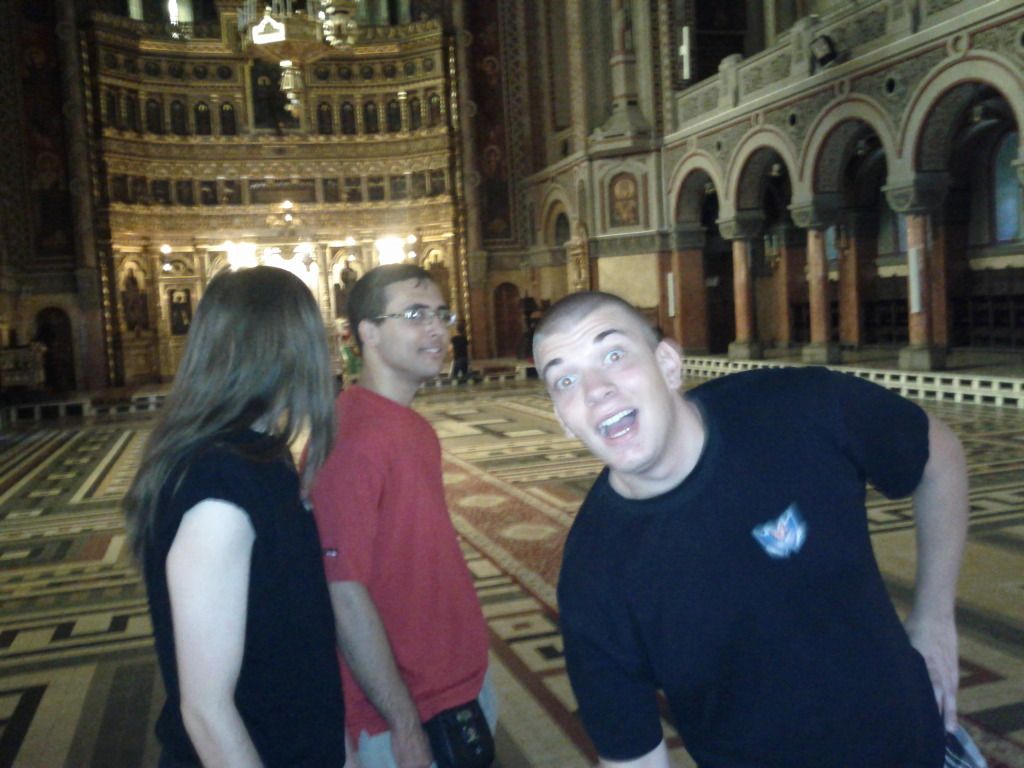 Because of economic crisis they have bench for only one person and we need to bring some bigger bench in the shadow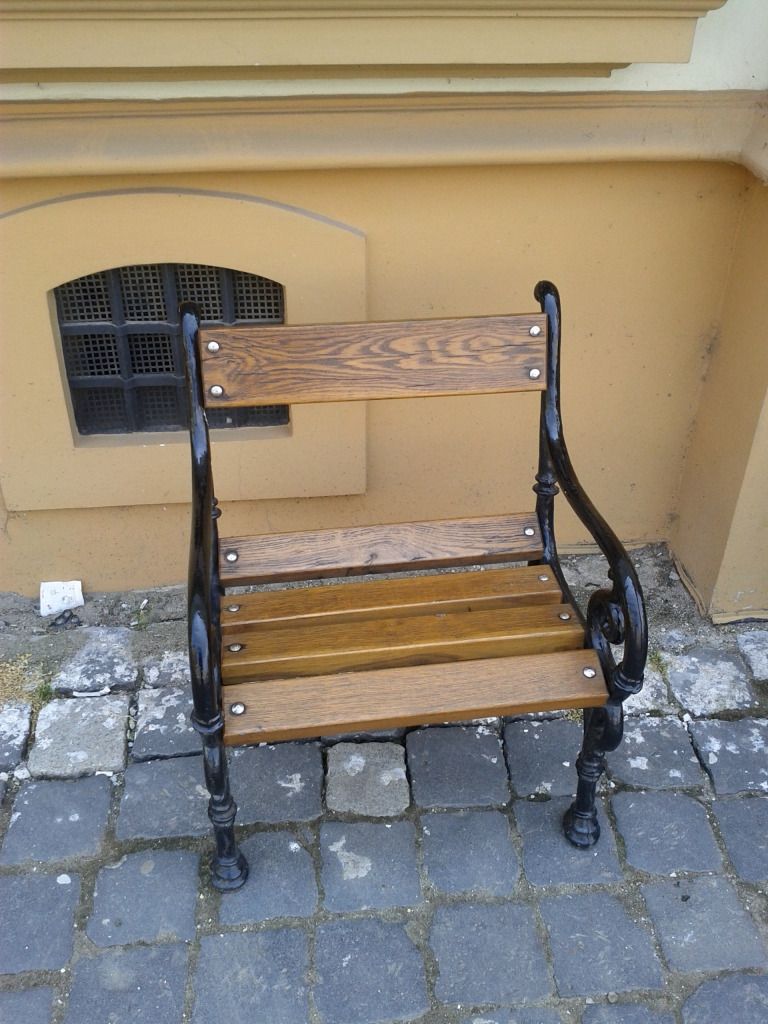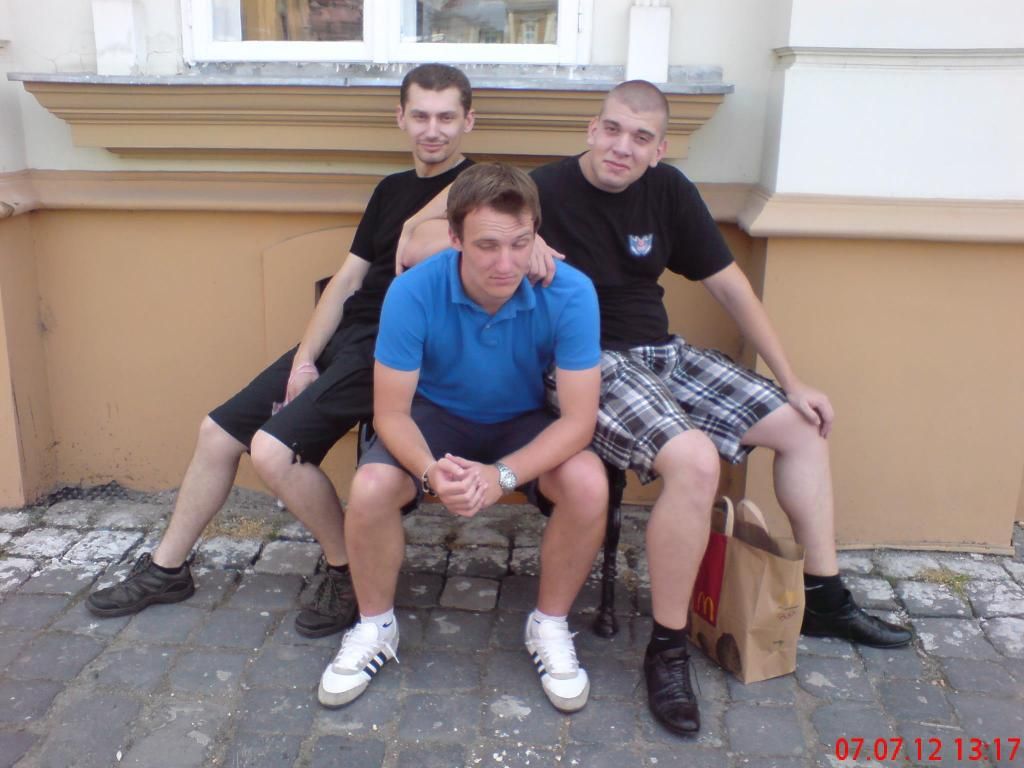 Gusterche finally found some pussy xD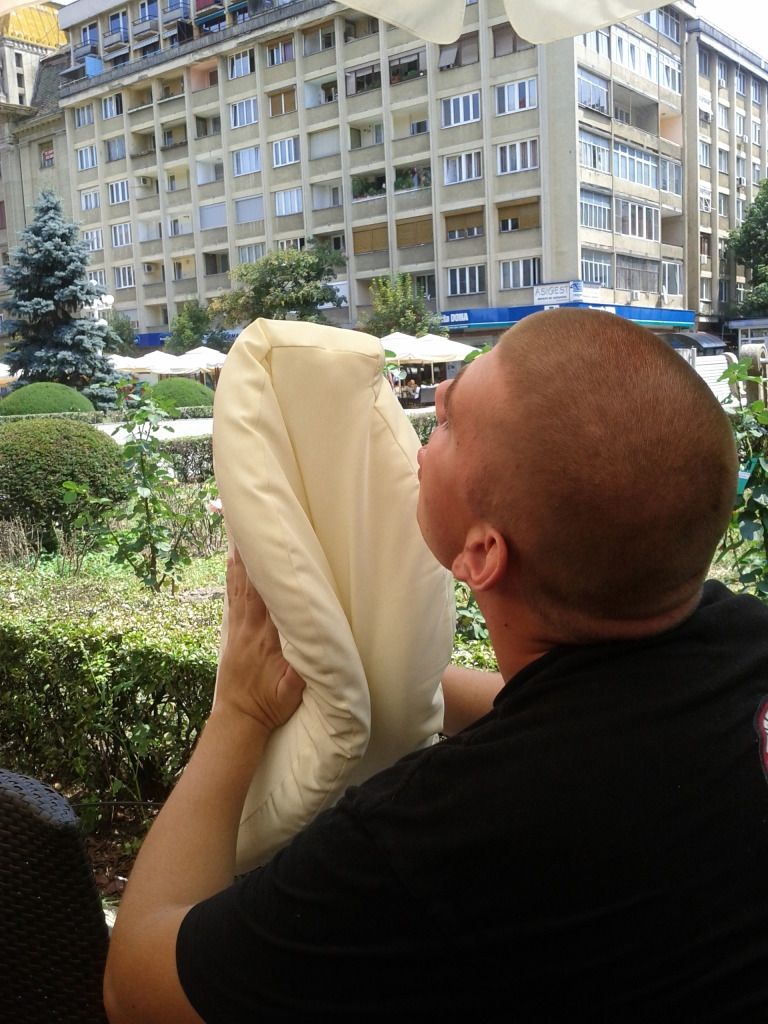 In the meantime we saw all this buildings: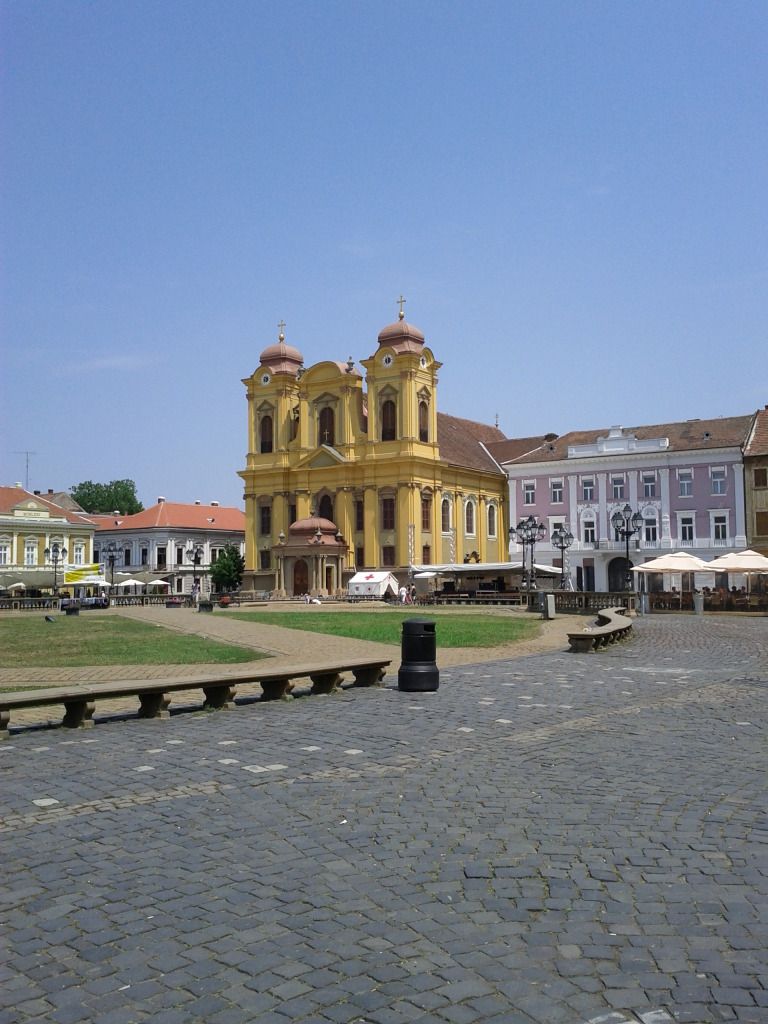 After that we went to souvenir shop and we buy magnets for fridge: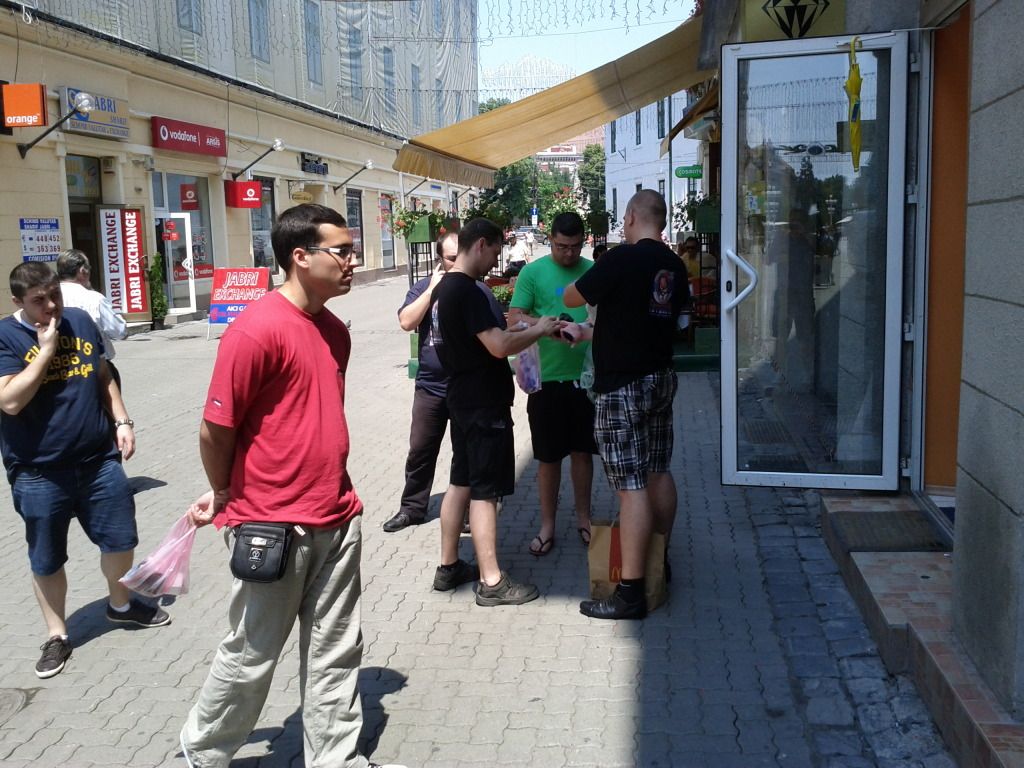 After that we knew that we see all here and it's time to go to hostel
First we went to market to buy some beers, ice cream and our favourite food: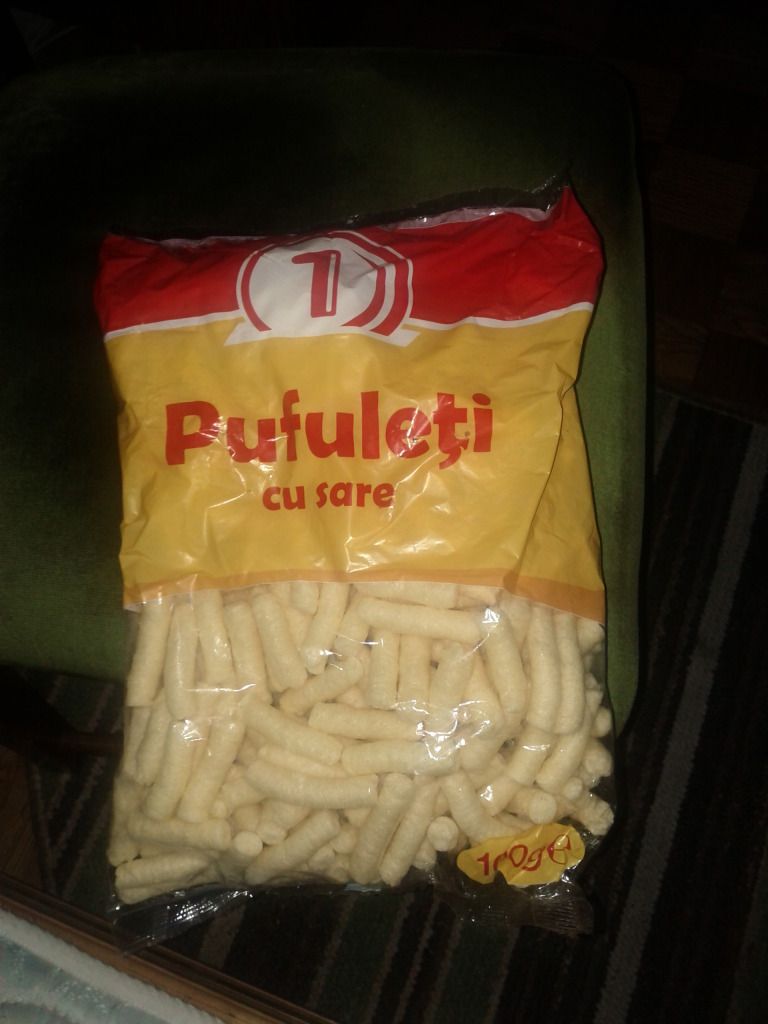 ...and we had a great afternoon in our living room with Xbox 360 and kinetic: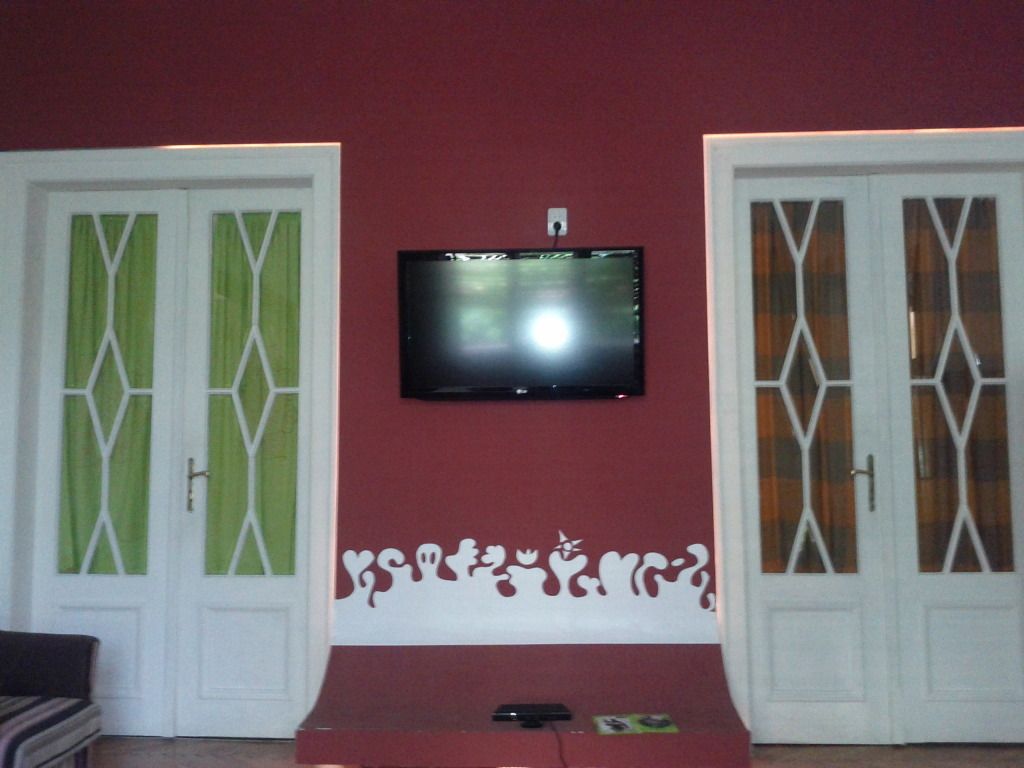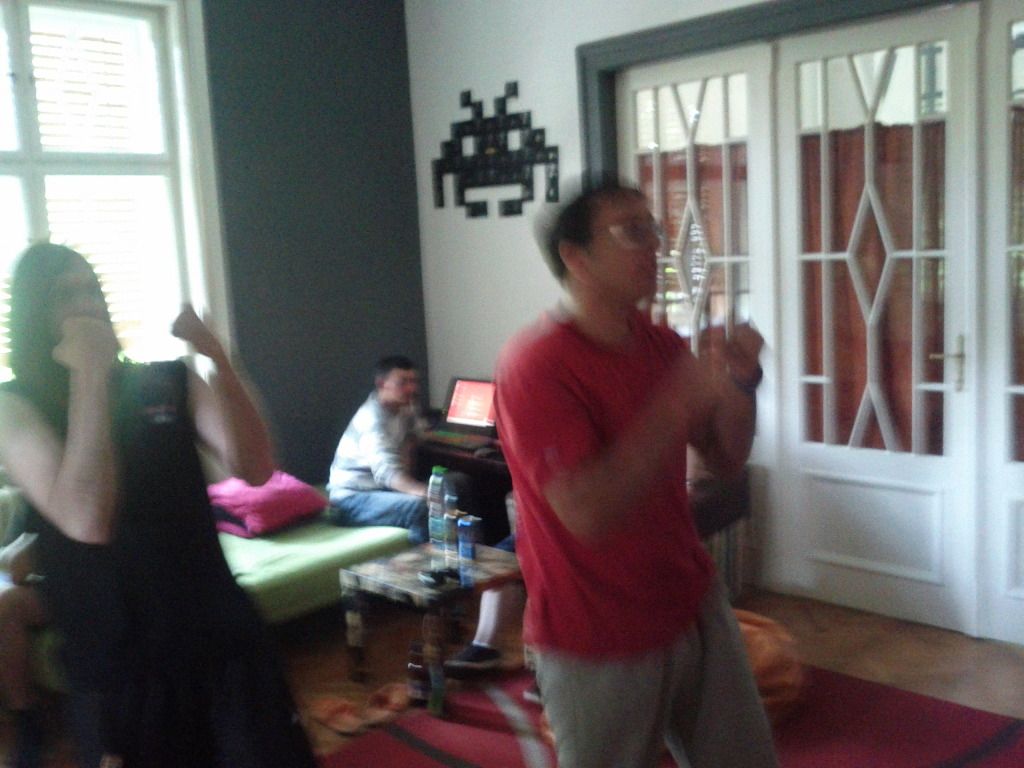 You can see the video how Yura Zver beats Milos Jablanovic at 100m:
I'm sorry I didn't record bowling, table tennis or long jump, it was very funny
But you can see in next video how guys are dancing at
Llama song
: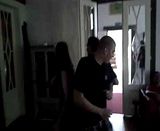 After exhausting afternoon we order 4 pizzas for us, we waited it for over 1,5 hours and the guy brings us wrong pizzas
We almost starved to death but we go out to eat pizza and it was great pizza and much cheaper than one we order :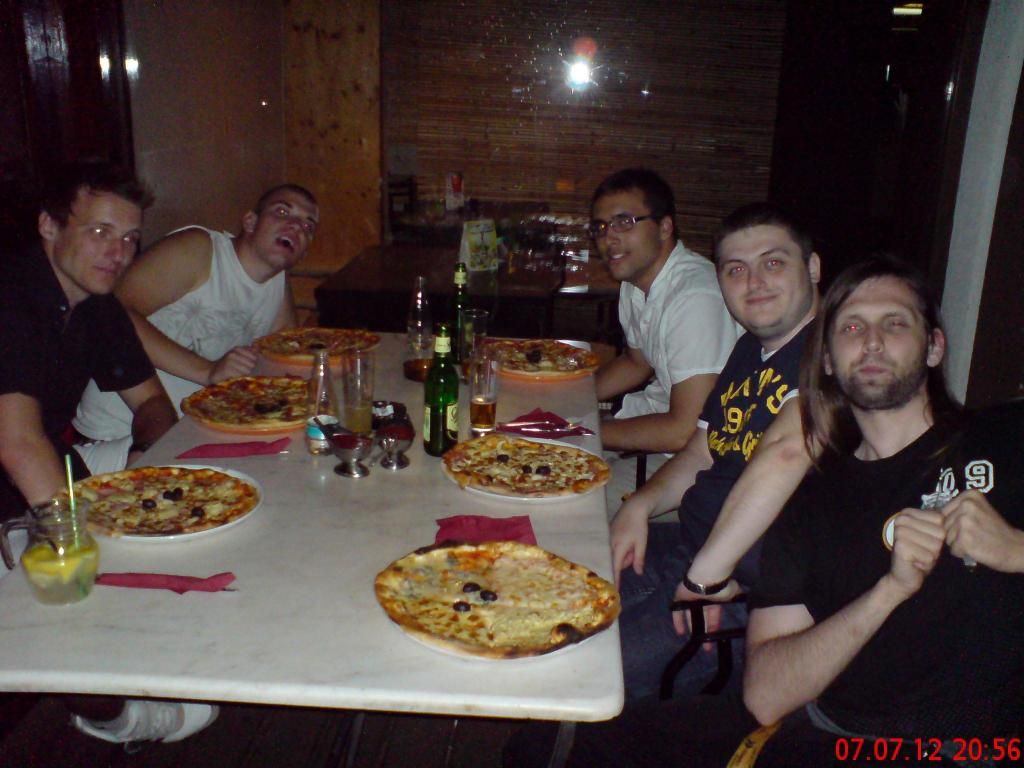 After we ate we go to meeting to partyyyyyy
Yura Zver, darco, ortodox 4 ever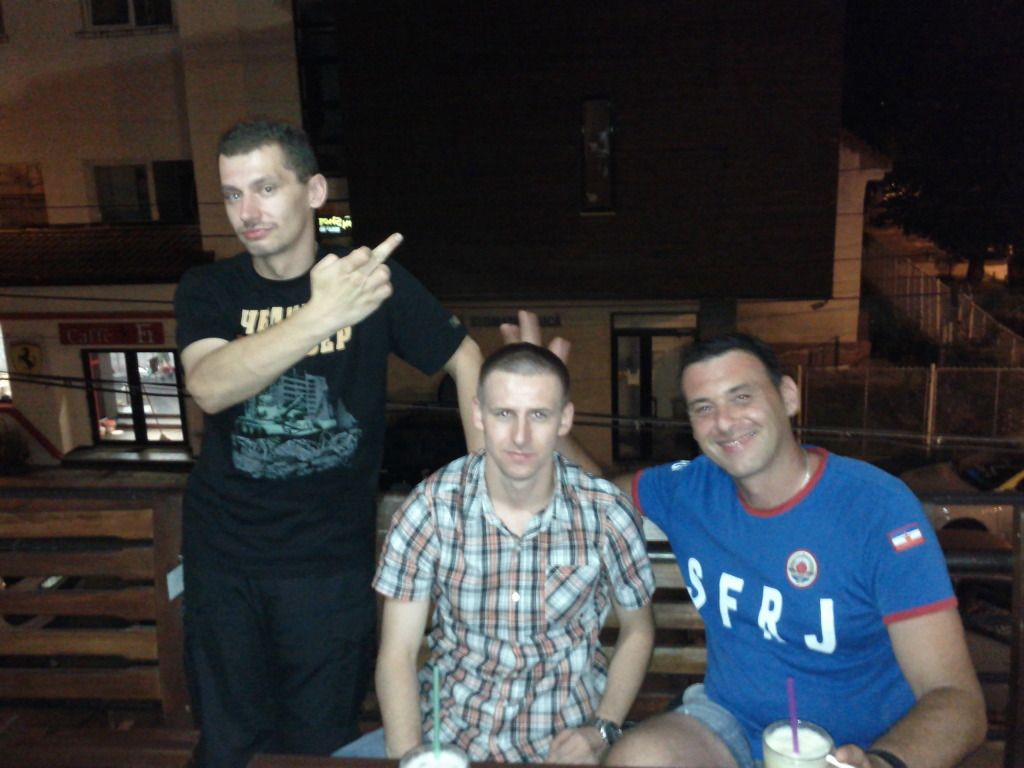 mesther, matracuca, M Bogdan and Bogdan Adamutz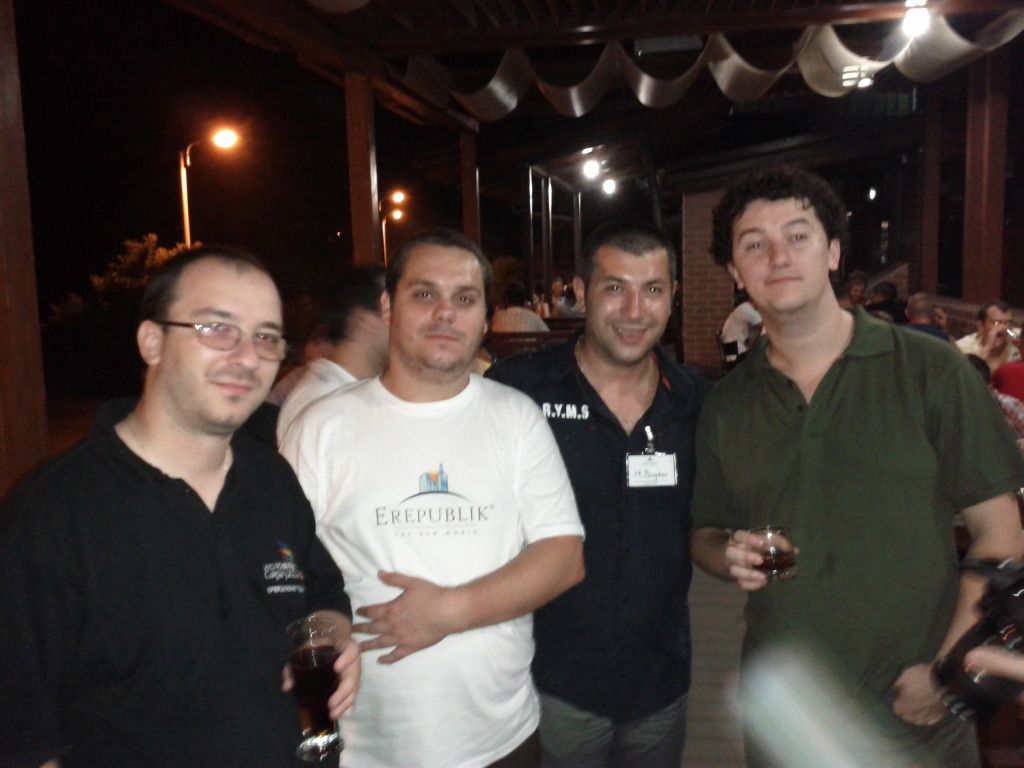 I didn't have too many photos from our meeting point but you have some galleries
HERE
HERE
and HERE
and you can see couple of hundred pictures there
We have after party at club El Che: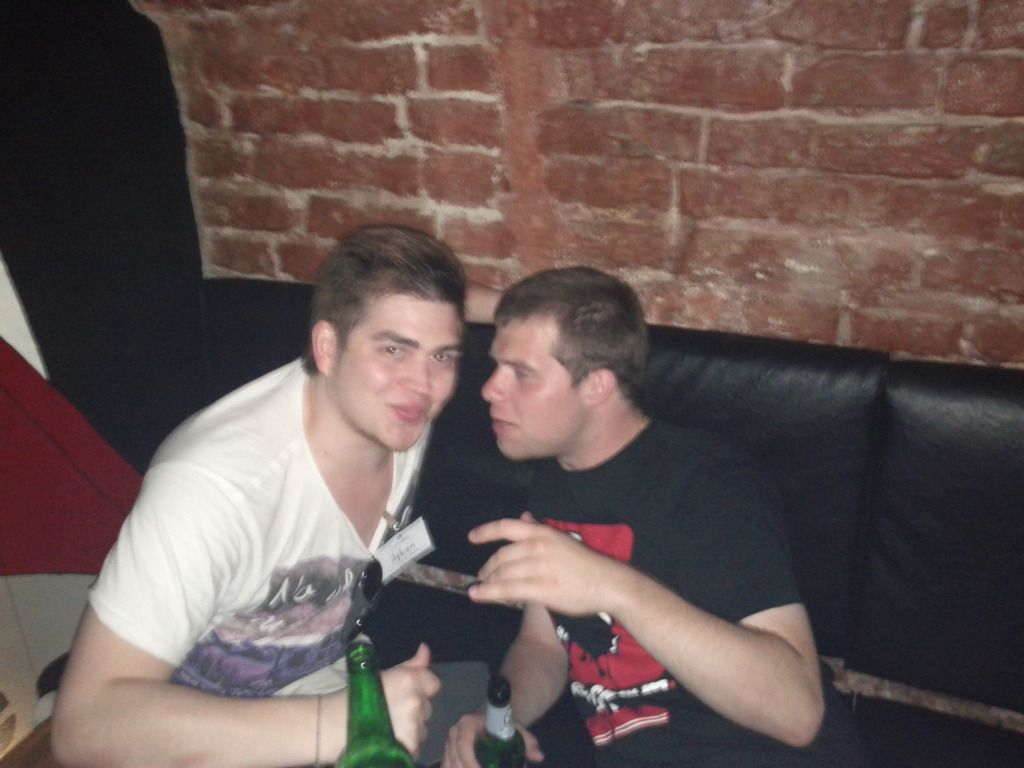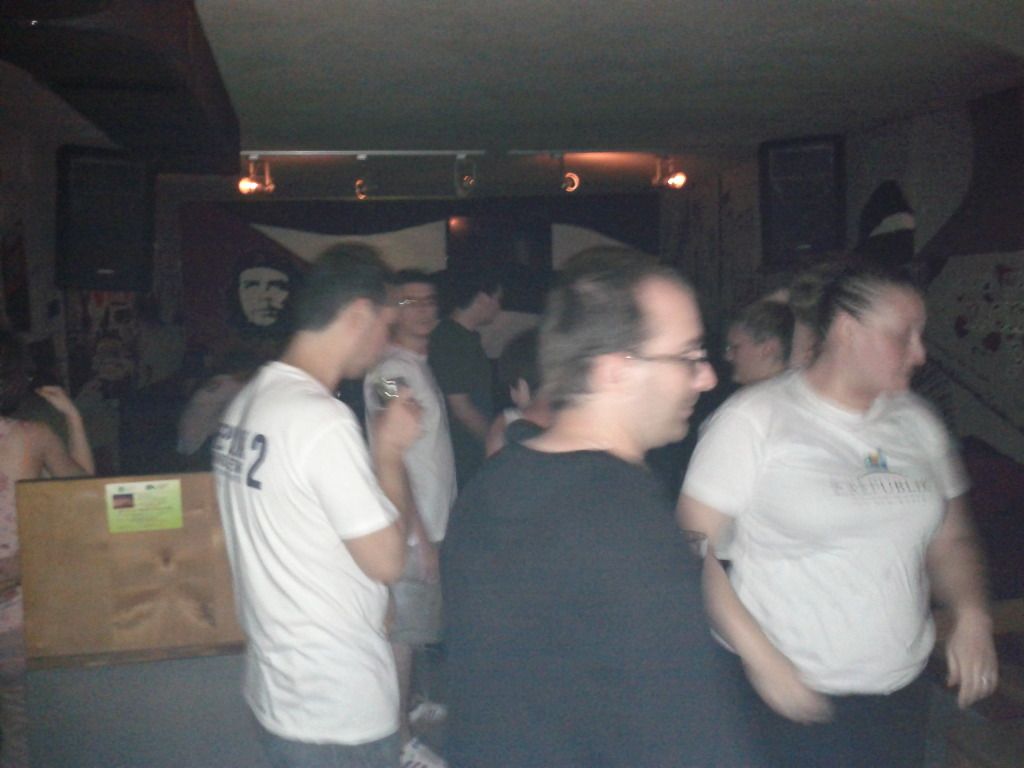 Sas Dragos was flying there xD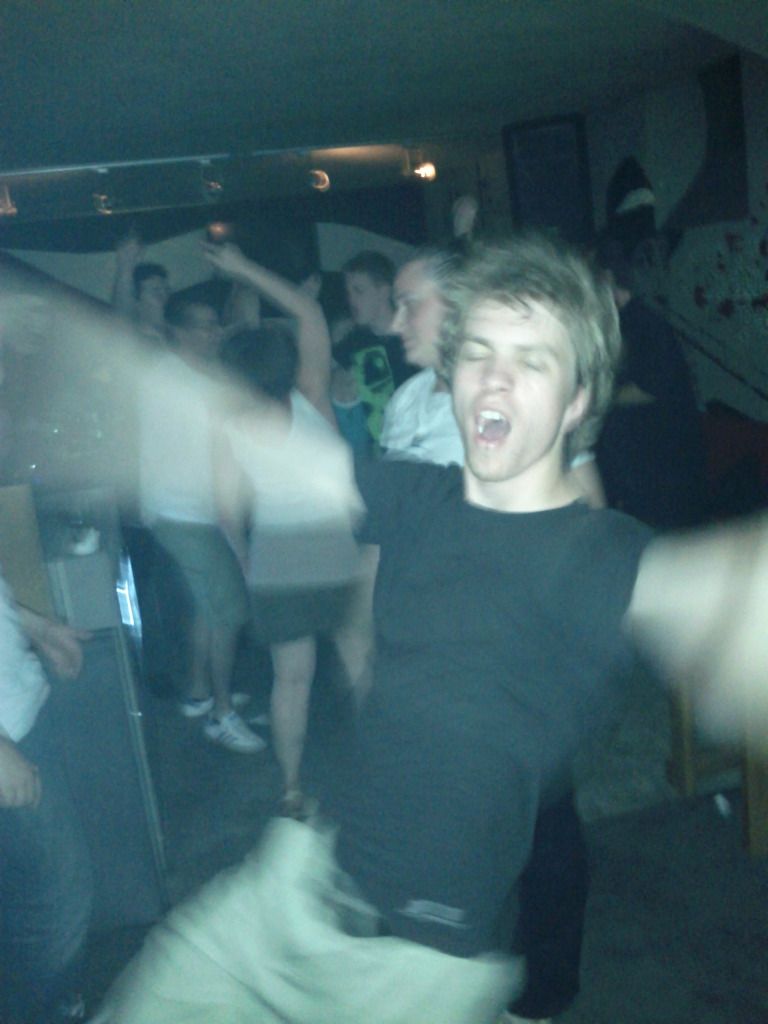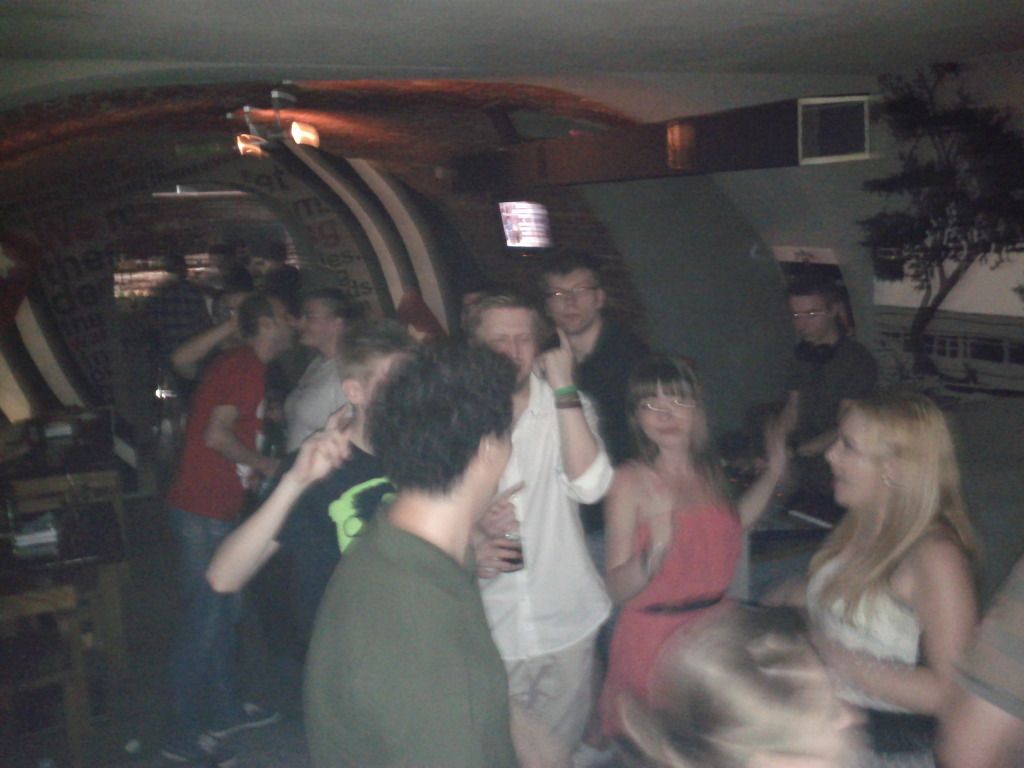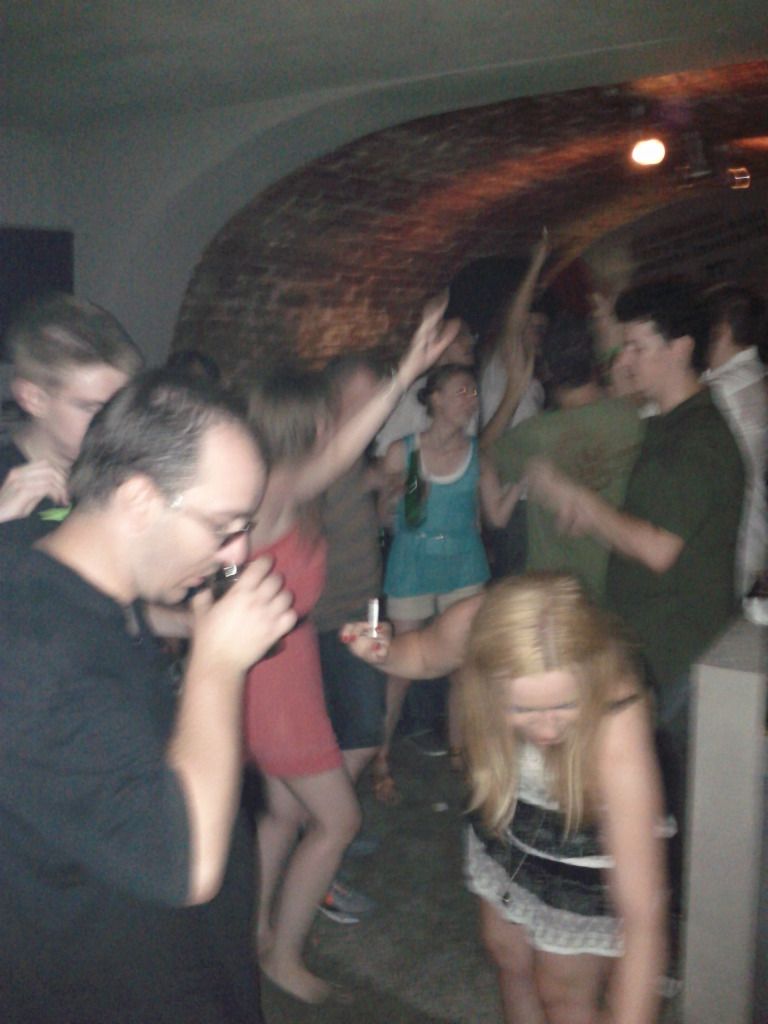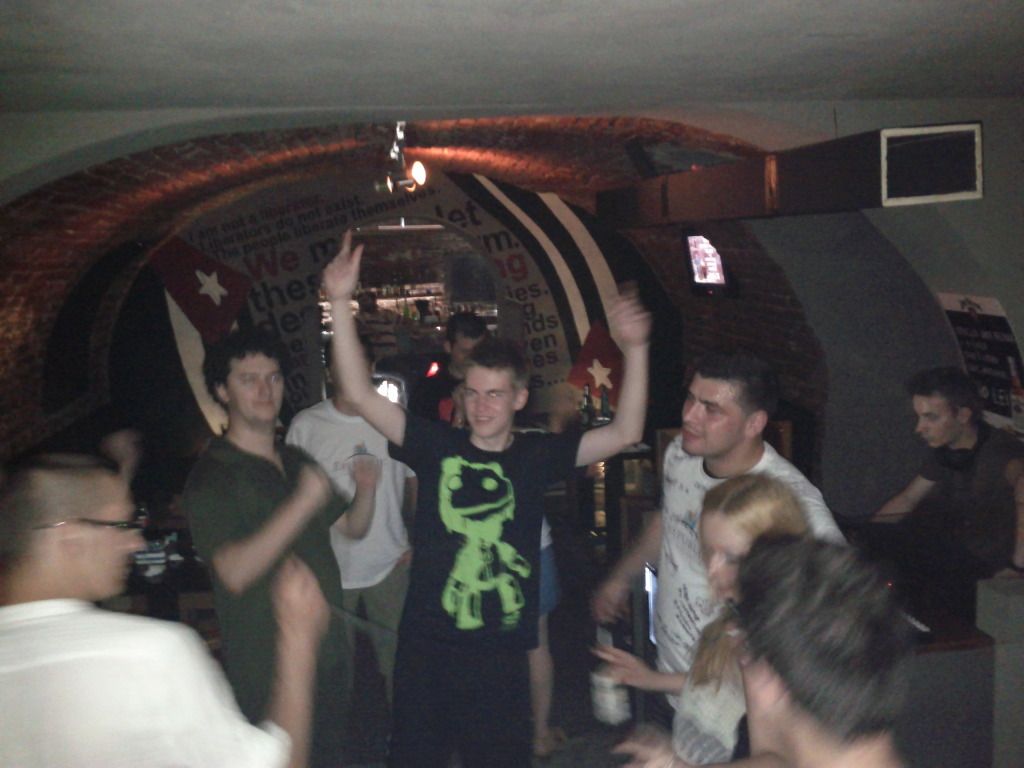 Cronoss and Hitman were enjoying my flashlight xD
I have a great time at El Che but it would be even better if DJ was smarter and if he didn't play one romanian and one foreign song
...and after some sleep we must move on: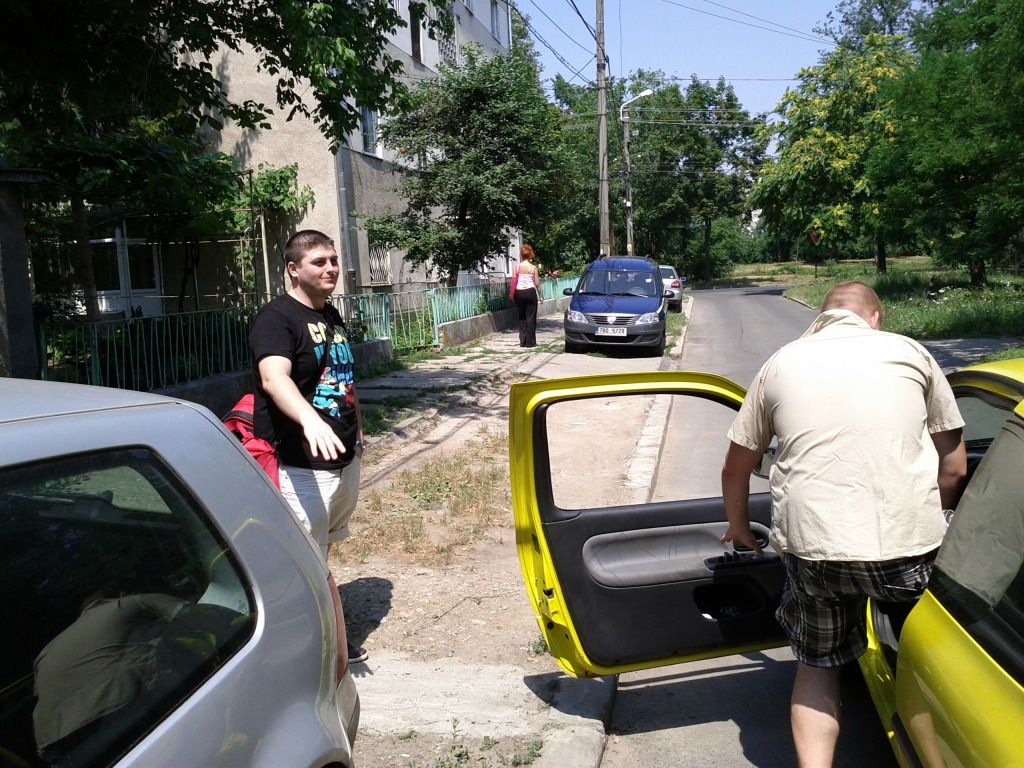 When we entered Serbia we saw some witch selling her broom and giving motorcycle for free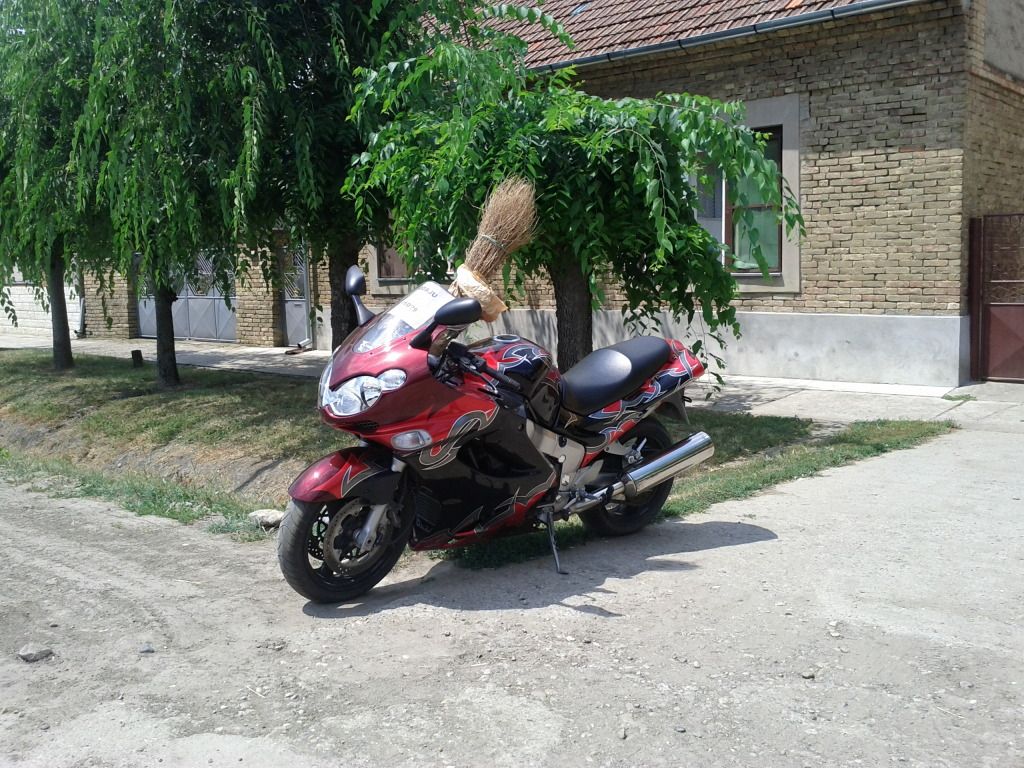 We must stop in Žitište because Rocky was waiting for us there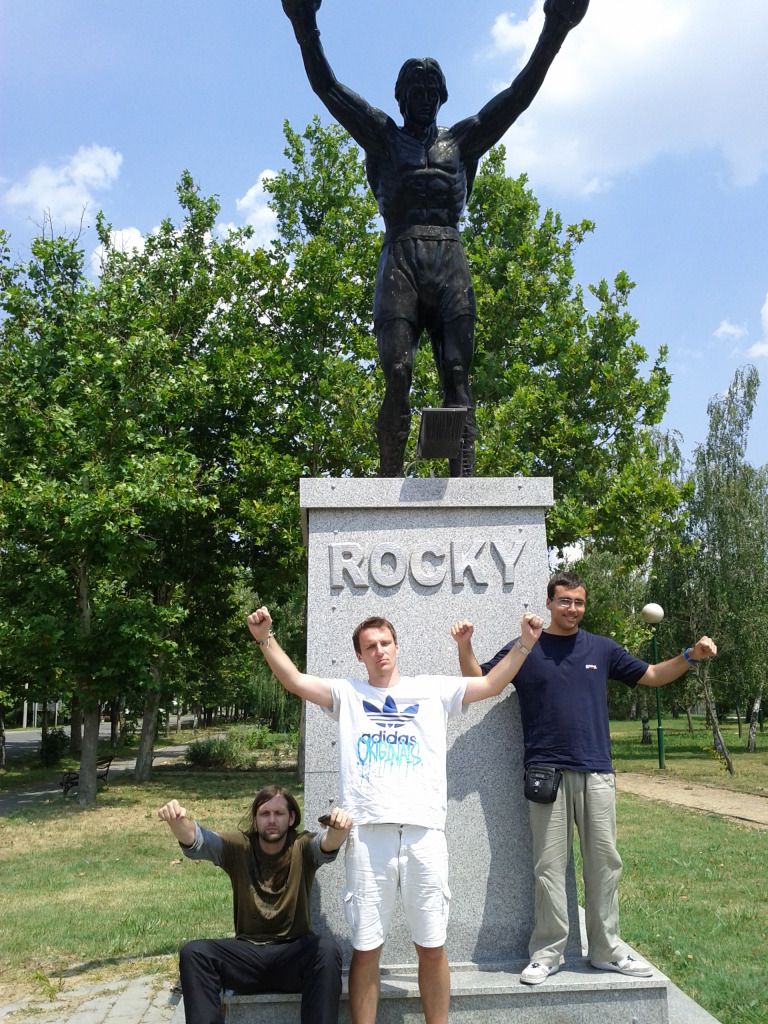 We came to Belgrade around 16:00 and temperature was pretty low, only 35°C
I thought I have a train at 17:30 but I was wrong, I was looking for wrong timetable, my next train went at 21:30 but I didn't care, I was enjoying at the bar drinking cold coffee and watching final of the Wimbledon and that means my trip would take even longer \o/
I just want to show you some bills from Romania to show you prices from there: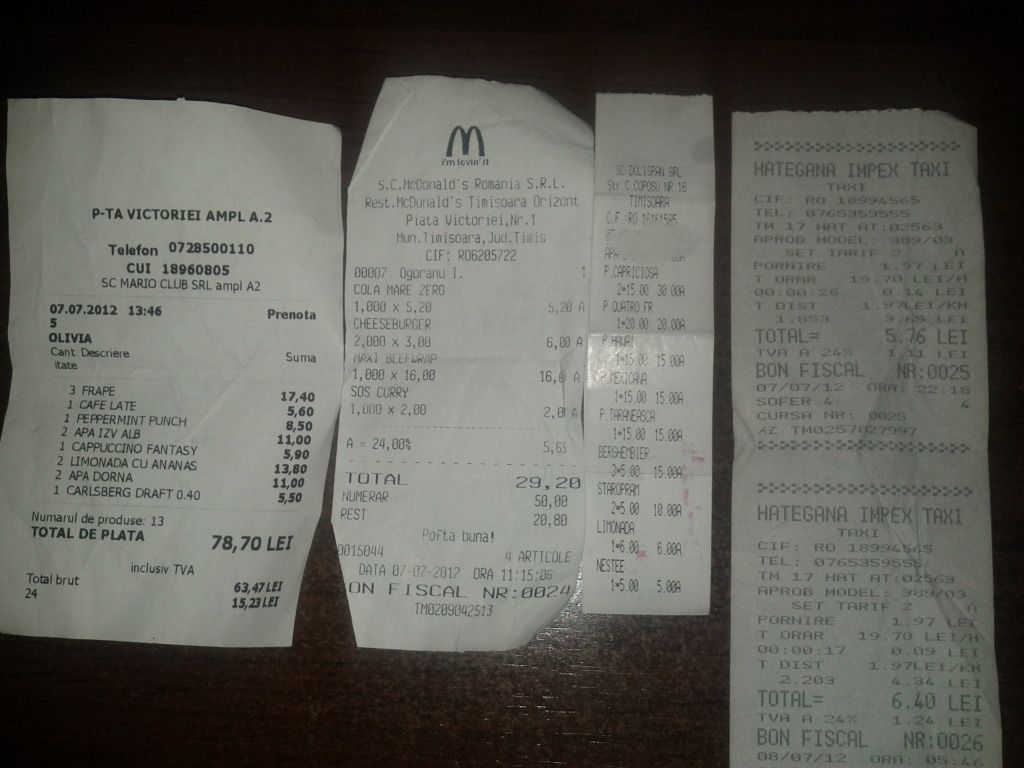 1 € = 4.5 LEI
Pizza at the restaurant = 15 LEI
Heineken 0.5 L in the club = 6 LEI
Night in hostel = 80 LEI
Big Menu in McDonalds = 21 LEI
How many € I spent on this trip:
Train in both directions Zagreb - Belgrade: 40 €
Money for gas for car: 20 €
Two nights in hostel: 18 €
Food and booze: 87 €
---
Total: 165 €
I just wanna show you how many of you could came here from near countries because this is very very cheap but it's your lose, not mine
It was fascinating that players came from Finland, France, Germany, Greece but there wasn't anyone from Turkey, Slovenia, Bosnia and Herzegovina but I'll say it again, it's your lose xD
I know I have a great time, I met so many new people and you can fell free to
add me on facebook
. Unfortubately 3 days is too short time to know everyone from meeting and I'm sure I didn't even meet all players from this pictures because there were too many people and too short time.
I hope next meeting who'll be in Greece we could be all at same hotel or hostel to hang around all day and night
I meeting should last at least a week, especially because next will be at the seaside \o/
I hope we'll meet again next year in Greece \o/
You can see article of Lady Argana and
her trip to Timisoara HERE
I'm trying to
collect all countries of the eWorld
for my True Patriot History and now I'm at 25/70 countries and you can help me if you are congressman
Post your comment
What is this?

You are reading an article written by a citizen of eRepublik, an immersive multiplayer strategy game based on real life countries. Create your own character and help your country achieve its glory while establishing yourself as a war hero, renowned publisher or finance guru.