Day 1,822, 09:26
•
by Arturo Stark
PUNTO ALFA.
"donde se dice que hay alguna que otra cosa interesante"

Bienvenidos, y comencemos de lleno con lo que ha ocurrido hasta ahora...


RW en andina
Una vez mas los colombianos intentan recuperar su territorio y han abierto RW en la región de andina.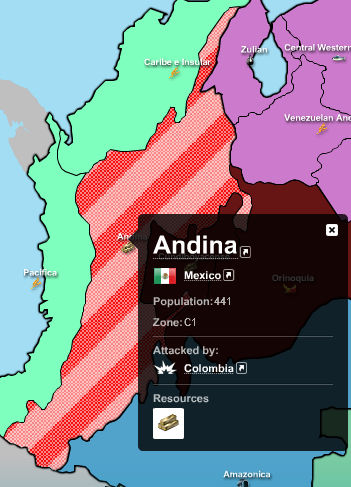 Por el momento en el marcador vamos ganando sin mucha resistencia, pero como nada es seguro todos sin excepción vamos a luchar por mantener nuestro dominio ahí.

Si en el regimiento de su MU no tienen la DO en andina pídanle a su capitán o comandante de unidad que la establezcan ahí.



---
Colombia regresa al mapa
Desde el día de ayer Colombia ha recuperado un territorio, el territorio de Amazónica, se han manejado muchas versiones de por que volvieron al mapa: que si nosotros entraremos ahí, que si es una provocación abierta de Brasil por medio de España hacia Argentina, en fin. Nada confirmado al 100%.
Ahora solo nos queda ver que ocurre con los colombianos.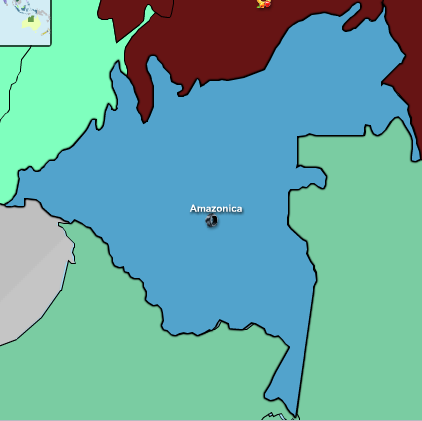 ________________________________________________________________________________
La guerra chile – Argentina
Chile ha recuperado ya 2 de sus territorios originales.
Actualmente se lleva a cabo una batalla en el territorio de Norte Chico donde Chile busca recuperar otro de sus territorios.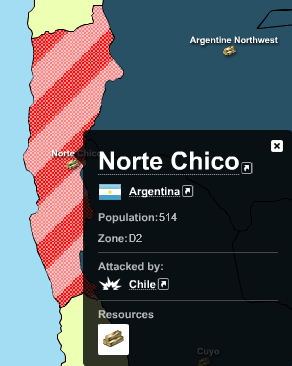 Los números no le favorecen a Chile, van muy abajo en el marcador en comparación con argentina.
En este momento las cosas no favorecen a Chile ya que tiene varios frentes de batalla abiertos con Nueva Zelanda, y Australia. Los australianos le han quitado ya un territorio a Chile y van por otro más.
Chile va ganando en Wellington uno de sus tres frentes de batalla, en próximas horas sabremos como termina esto.
---
por ahora es todo.
Voten, suscríbanse, pásenlo a quien mas confianza le tengan, comenten si les gusto, si no les gusto, si debería pegarme un tiro, lo que sea.
Saludos.
o7
Post your comment
What is this?

You are reading an article written by a citizen of eRepublik, an immersive multiplayer strategy game based on real life countries. Create your own character and help your country achieve its glory while establishing yourself as a war hero, renowned publisher or finance guru.