Day 1,821, 14:53
•
Published in Mexico
•
by Mathews Cosmius
REBELION TIME!!!
Hoy dia 1'821 del eMundo, pareciera ser que el 98% de las naciones se han dado el dia libre de batallas abiertas y han comenzado una serie de revueltas, eso al menos se puede ver a las 4:40 PM hora de Mexico y 14:39 hora del eMundo, pero...para muestra un boton, o en este caso, una imagen...



Estas son las campañas de nuestros aliados...como podemos ver, es solo una...




Y ademas ganada...por una margen tan alto, que deja al graaaaaaaaaan dios roto relativamente muy pequeño...sin ofender argentinos, su dios les ha fallao'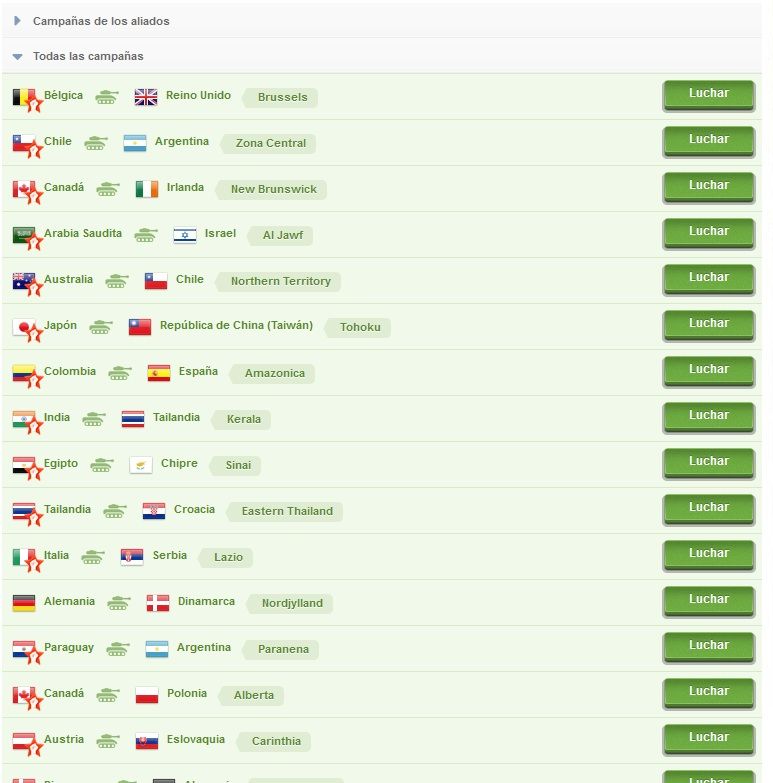 Este es sin embargo el numero de camapañas aparentemente ajenas a nosotros, como podemos apreciar...son un chingo...y casi todititas son revueltas o rebeliones...nomas una guerrita abierta se puede ver pero como ahi no pintamos naide
... y creanme...se sigue hasta muy abajo todavia...

Como podran ver...aparentemente no fue, precisamente un dia muy bueno en batallas abiertas...pero animense, algo interesante podria salir de esto...quizas, no estoy muy seguro...tengo fe

Asi que, de no salir nada relevante ni activo hoy, creo que es momento de un conchoncito suave, un cojin suavecito y un besito de las buenas noches, quizas no veamos un dia asi de relax en un rato...

Atte informando su no tan veraz pero muy amigable vecino el mathews cosmius

PD: Dejen sugerencias pa' algun proximo articulo, para la banda
Post your comment
What is this?

You are reading an article written by a citizen of eRepublik, an immersive multiplayer strategy game based on real life countries. Create your own character and help your country achieve its glory while establishing yourself as a war hero, renowned publisher or finance guru.