Day 1,731, 14:51
•
by J35000
Voilà le moment tant attendu que vous attendez tous.
Les résultats du concours du précédent article.

Les participants sont :
- droopy32
- pierrenantes
- Enicay
- Pierre Alain
- eVanius
- Stunter2
- Joey_18
- Natura-Time
- yolu33
- Mister M-W
- Pookram
- JamBono

L'article a récolté 68 votes avec 12 participants. Un grand merci à ceux qui ont voté, partagé l'article.
Et puis merde aux autres


Voici maintenant l'heure des résultats.
Pour maintenir le suspense, nous allons commencer par le 5ème
5ème : yolu33 . Récompense : 100 FRF
4ème : Pookram . Récompense : 150 FRF

On attaque maintenant le podium !
3ème : JamBono . Récompense : 200 FRF
2ème : une égalité. Natura-Time et Pierre Alain se partagent la seconde marche du podium . Récompense : 400 FRF chacun
1ème1er : Ce soir, dans une ambiance de folie, je vais maintenant dévoiler le nom de la personne qui a gagné ce magnifique gold en plastique d'une valeur de 4 FRF. Il s'agit de...
droopy32.
Au fond de la salle, droopy se lève tranquillement de sa chaise en disant : Ouais. Vous savez quoi ? Je suis content.



Les récompenses seront distribuées entre le 18 et le 22 janvier 2014.
Merci de votre participation en masse.

J'avais promis une vidéo d'un poulet dansant la techno si le précédent article atteignait les 60 votes. Ce fut chose faite.
Voici donc maintenant la vidéo tant attendue.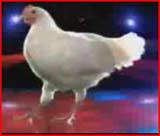 POULET QUI DANSE DE LA TECHNO.




Merci à tous, surtout, n'oubliez pas de votez cet article avec le bouton vert en haut à gauche, de vous abonner avec le bouton gris en haut à droite et de me verser 1000 FRF sur mon profil avec le petit bouton jaune avec une main tendant un gold en haut à droite.
Post your comment
What is this?

You are reading an article written by a citizen of eRepublik, an immersive multiplayer strategy game based on real life countries. Create your own character and help your country achieve its glory while establishing yourself as a war hero, renowned publisher or finance guru.