Day 1,857, 19:29
•
Published in Colombia
•
by diegozpy
Es el díadía 1.857 chile a duplicado su tamaño, y mas aun sus aliados le han dado un poder sin precedentes en su historia, en un cerrar de ojos le dieron la vuelta a la guerra ahora estamos en las pocas trincheras que aún quedan, el desgaste ya se siente en mis compañeros pero en las líneas enemigas parecen centauros dispuestos a saltar sobre nosotros


desde que abandone mi país no e visto una guerra tan llena de odio y mas que tierra se lucha por orgullo, estos dos viejos enemigos nacieron para destruirse y desde antaño han dejado todo en el campo, mi nación esta en algún lugar de EDEN


ahora, Uruguay entro a la guerra, es una nación pequeña pero realmente grande como aliado y aunque su población o su influencia no es precisamente la mayor un apoyo es un apoyo y en definitiva los soldados uruguayos luchan como leones en los campos de batalla ante un Chile que engulle poco a poco la desmembrada Argentina, muchos nos hemos sumado a la legión extranjera pues sabemos lo importante que es mantener a uno de los mas poderoso miembros de la alianza y luchamos contra toda probabilidad pero los soldados caen como si fueran figuras de papel luchando en un lugar donde se termina un país ...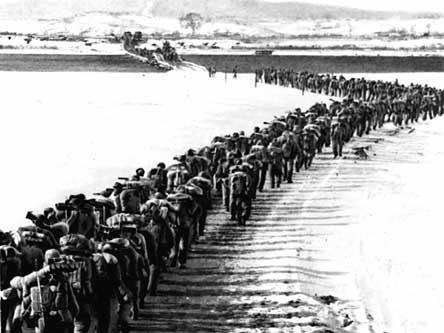 desde arriba nos ayudan y no me refiero a Dios, sino a los colombianos que han sacrificado la recuperación de sus territorios para socórrenos en esta lucha por libertad, por EDEN, por la patria.

desde antes de los tiempos y hasta el final mientras el sol pueda levantarse esta nación también se levantara



*esta emisión forma parte del programa de acercamiento binacional que se desarrollara con las diferentes naciones de EDEN para fortalecer los lazos de unión y mostrar que igual que los colombianos todos en EDEN tenemos Objetivos afines el respeto, el compañerismo y el Objetivo de progreso
Post your comment
What is this?

You are reading an article written by a citizen of eRepublik, an immersive multiplayer strategy game based on real life countries. Create your own character and help your country achieve its glory while establishing yourself as a war hero, renowned publisher or finance guru.