Day 1,558, 14:41
•
by cicaDRAZA1995
Koloseum (Kolosej, izvorno: Colosseum), izvorno nazvan "Amfiteatar Flavijevaca", je amfiteatar u Rimu. Ime je dobio po kolosalnoj skulpturi cara Nerona koja se nalazila ispred amfiteatra. U Koloseumu su održavane gladijatorske borbe, koje je moglo pratiti 50 000 gledatelja. Održavale su se i borbe sa životinjama i rijetko kada borbe s brodovima. U slučaju požara Kolosej bi se ispraznio za 10 minuta. Koloseum je 2007. uvršten među novih 7 svjetskih čuda.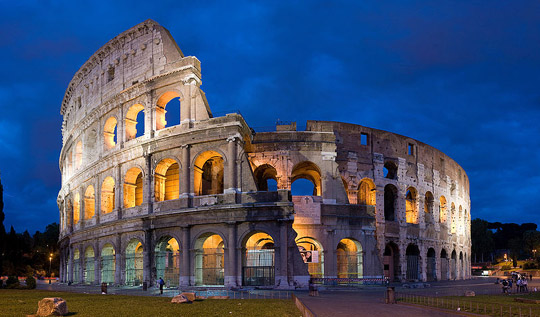 Gradnja je započeta 72. za vrijeme cara Vespazijana, a dovršena desetak godina kasije za vrijeme vladavine njegova sina Domicijana.
Sagrađen u obliku velikog valjkastog tijela na eliptičnom tlocrtu, sa sjedištima koja se koso spuštaju prema borilištu – areni. Zidni plašt – omotač volumena – gotovo je nestao u otvorima arkada koje ga u tri kata raščlanjuju i kroz koje su hodnici dobivali svjetlost i zrak, a bile su ukrašene cijelim skulpturama. Čak su i uski dijelovi zida plastički naglašeni polu-stupovima, a gornji plašt pilastrima. Imao je 50 000 mjesta za sjedenje (i 10 000 mjesta za stajanje), pa čak i pokretni krov od platna. Bio je to veličanstveni kompleks graditeljstva i kiparstva koji je služio brojnim spektaklima. Održavane su i pomorske bitke s pravim brodovima; za te je prigode arena bivala potpuno ispunjena vodom, a kanal za dotok vode se još uvijek nalazi ispod crkve sv. Klementa, nedaleko Koloseja.

Post your comment
What is this?

You are reading an article written by a citizen of eRepublik, an immersive multiplayer strategy game based on real life countries. Create your own character and help your country achieve its glory while establishing yourself as a war hero, renowned publisher or finance guru.