Day 1,897, 22:30
•
by Kravenn
Well, I mentionned it on UK forum, eUK lost MPP with Chile.
This is not due to CPs who forgot to launch renewal but because Australia and Chile are at war.
To be short
: UK had MPPs with each country. Chile and Australia signed a peace agreement.
Sadly, it was broken following that no improvement were made by Australia to have a pro CoT stance and several Australian congress members (and high profile) fought in RWs against Chile (which had the consequence to break the agreement).
On the same time, when 2 countries which you have MPPs launch war : you only keep the defender one (here Australia).
During last evening,
UK CP published a clear stance when he asked to UK fighters to not fight on that conflict
and a MPP with Chile will be signed as soon as possible (understand : once conflict ends or in the worst case, when australian MPP ends).
In my opinion
: He made a wise choice, Chile is a nice country and a good ally, our relations are excellent.
I'm sure that as long as UK have MPP with Australia, he will do his best to never put that conflict as campaign of the day.
Sadly, I receive an information that a military unit called "British Army" and leaded by DonDapper decided to not follow CP advice (and his MU is known as one of the strongest in eUK)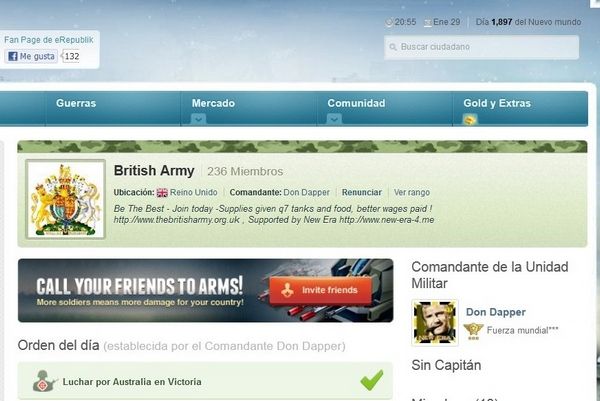 Even if your spanish is poor, you can see that
DonDapper chose himself to his soldiers to "fight for Australia in Victoria"
(against Chile).
I don't hide that it is very disappointing to see that kind of things, especially when you can choose to help "Estonia against Finland" or "Macedonia against Greece".
In that move,
Uk government isn't to blame
. Sadly, the choice made by that MU leader isn't a good one towards UK allies and it can affect relations between 2 countries. I also hope to see that MU leader explains what he has in mind when he made that choice.
PS
: British Army isn't the official UK MU.
The official one is Legion and that Military Unit follows TWO orders
(and will not fight against Chile)
Post your comment
What is this?

You are reading an article written by a citizen of eRepublik, an immersive multiplayer strategy game based on real life countries. Create your own character and help your country achieve its glory while establishing yourself as a war hero, renowned publisher or finance guru.