Day 1,688, 09:24
•
by Ministerio da Defesa
Esse é o jornal do Ministério da Defesa. Encorajamos todos os civis a lutarem seguindo as ordens aqui presentes, para ajudar a defender o Brasil e seus Aliados.
Vote neste artigo para aumentar sua visibilidade, e assine este jornal para receber atualizações.
São ordens específicas para cada divisão de acordo com a nova atualização do Plato. Esperamos assim que possamos utilizar melhor nosso dano!
Cliquem na imagem para prioridade máxima de sua divisão!!!

---
Wanna help Brazil in battles?? You are welcome to fight in any battle shown here. Remember, the importance is 5 > 1 stars.
Alentejo
LUTEM POR PORTUGAL! / FIGHT FOR PORTUGAL!
Norte Chico
LUTEM PELA ARGENTIA! / FIGHT FOR ARGENTINA!
Gulf of Mexico
LUTEM PELOS EUA! / FIGHT FOR USA!
---
Deutschschweiz
LUTEM PELA CROÁCIA! / FIGHT FOR CROATIA!
West Midlands
LUTEM PELA FRANÇA! / FIGHT FOR FRANCE!
---
Você que quer ajudar o eBrasil, sabe editar artigos, e criar artigos. Venha ser assistente do Ministério da Defesa, basta entrar em contato com algum Ministro.
Alguns conselhos:
Faça parte do programa
Madrugada dos Mortos Vivos (MMV)
e do
BI
você também, ajude seu país e receba recursos para lutar de graça, clique no banner para saber mais. Ambos no canal #ativosbr.
Para poder entrar no
#ativosbr
você precisa ter seu nick cadastrado no IRC.
Para tirar suas dúvidas de como usar o IRC, usem este
tutorial
.
Fiquem de olho na barra, se estiver
acima de 55%
e puder esperar espere, seu dano poderá ser útil a qualquer minuto.
---
Novos jogadores, busquem informações e peçam ajuda enviando uma
mensagem
para a
Assistência Social.

---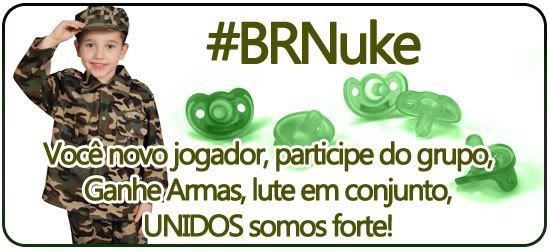 Participem do
BrNuke
- Ganhe food e arma para enfrentar seus inimigos.
---
Aliste-se no Exército, leia o
jornal
---
Soldado, ao ler o artigo é necessário votar nele e prestar continência nos comentários para mostrar que você está ciente das ordens do Ministério da Defesa. Fiquem sempre online nas suas respectivas divisões no IRC, missões surgem ao longo de todo o dia.
---
Gulitiwi
Presidente do eBrasil
Nukon
Vice Presidente
dfgusmao
Casa Civil
Mat1307
,
piresfelix
,
Fixxar City
e
Jota123
Ministros da Defesa
Post your comment
What is this?

You are reading an article written by a citizen of eRepublik, an immersive multiplayer strategy game based on real life countries. Create your own character and help your country achieve its glory while establishing yourself as a war hero, renowned publisher or finance guru.