Day 2,071, 14:20
•
Published in Romania
•
by Garda de Fier Investments

Unitatea militara
Garda De Fier - eLAM
a fost infiintata pe 7 ianuarie 2012 de catre
Exploit detected, Valahian, FreeGigi si LUC DA.
Unitatea Militara este strans legata de partidul politic
eLegiunea Arhanghelului Mihail.
Noi dorim sa oferim tuturor celor dornici un ajutor bine meritat, o cariera militara si nu in ultimul rand un loc unde sa se simta bine.
http://www.erepublik.com/en/main/group-show/2641
Uniforma Oficiala:
http://img839.imageshack.us/img839/8129/gardadefierelamsteag.jpg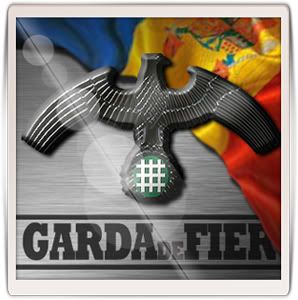 Echipa actuala:Comandanti:
Exploit detected, JohnCV (GDF 0
Comandanti Secunzi:
TTAUS, PaulTC (GDF)
Capitani:
Badea Gheorghe Montela12, ccarmas, Damayanty, andreasmacs,Oighen (GDF)
Reguli
1) Soldatii trebuie sa poarte uniforma oficiala
2) Cei ce doresc solda trebuie sa muncesca in firmele GDF
3) Obligativitatea de a face parte din partidul eLAM sau apolitic
4) Respectul reciproc este o conditie de baza,indiferent de grad militar,experienta in joc!
5) Se lupta la ordinele comandantilor,care respecta interesele eRomaniei!
6) Cine nu lupta timp de 7 zile consecutiv va fi exclus din GDF
7) Ajuta-ti camaradul! Vei fi si tu ajutat!

Eventualele probleme se rezolva pe plan intern!

In fiecare seara, la ora 21:30 se organizeaza o defilare pe chatul unitatii (prezenta este obligatorie).
Echiparea incepe de la ora 21.00 si consta in 5 arme Q7 si 500 wellness.
In limita sponsorizarilor se echipeaza si de la ora 18:00 5 arme q7 si 500 wellness!!!
In cazul luptelor pentru eRomania se echipeaza in functie de FoodFights.
Membrii unitatii sunt prezenti la defilarile organizate, mai ales de dragul jocului si al unitatii. Luptam cu drag pentru eTara noastra, pentru eRomania, dar si pentru aliatii nostri.
Sunteti interesati? Join us!!
Aveti optiunea de a lucra la firmele GDF. Daca alegeti sa lucrati la firmele GDF, veti primi zilnic:
- Salariul minim pe economie: x CC
+
- Solda o arma q7/zi
Puteti beneficia de "Echiparea de Zi", in care primiti zilnic wellness si arme daca indepliniti urmatoarele conditii: 25 de inamici ucisi pe ziua precedenta si afisarea uniformei GDF, angajat GDF.
Ajutorul GDF
, unul dintre cele mai importante programe de dezvoltare ofera arme si mancare celor mici (sub lvl 30).
Pentru a ne contacta va asteptam pe:
- chatul GDF:
http://tinyurl.com/gdf-chat
- FaceBook:
http://www.facebook.com/Garda.de.Fier.eLAM
- Forum:
http://gardadefier.freeforums.org/
"...De aceea nu politicianului mă adresez astăzi. Ci Ţie, Soldat. Înalţă-te. Istoria te cheamă din nou! Aşa cum eşti. Cu mâna ruptă. Cu piciorul frânt. Cu pieptul ciuruit. Lăsaţi-i pe neputincioşi şi pe imbecili să tremure. Voi daţi lupta cu bărbăţie."
Post your comment
What is this?

You are reading an article written by a citizen of eRepublik, an immersive multiplayer strategy game based on real life countries. Create your own character and help your country achieve its glory while establishing yourself as a war hero, renowned publisher or finance guru.