Dia 1,891, 17:51
•
por Edmond.D
Que music ^
Erepublik's congressional electoral system is very straightforward. When you go to the elections page on election day you're given an option to vote for one of 5 political parties; the 5 largest in the country. Canada elects a total of 40 congress members, and these are divided amongst the 5 parties based on what percentage of the vote they received. Each party has a list of candidates, party members who submitted an application to run for congress during the past week. On the 24th that list is organized by the Party President, and depending on
wah waaah wah waaah wah waah wah wah
...
Ok, so most of you probably already know all you need to about election mechanics. My point is, voters rely primarily on the party brand because it's hard to get a picture of
who
it is you're voting for on election day. This is easy for members of the top 5 parties, since they obviously subscribe to their own party's brand. It isn't so easy for everybody else however, and when
everybody else
represents almost 30% of the electorate, where they decide to vote can have a serious impact on who gets into congress and who doesn't.
So what I hope to do is look at some data, make some assumptions and try to figure out which candidates are sure-ins, which ones don't stand a chance, and who the election is uncertain for. Then, I'll try and to a critique on these individuals, based off what I can observe in-game and on the forums, and with any luck that will help eCanadians get a real sense of who it is they're voting for. So let's begin analyzing data!
My primary assumption is that party members will vote for their own party when possible. Since inactive party members certainly exist, I'll use PP election data to determine the size of each party's
active
membership. This assumption is crucial in determining which candidates are guaranteed to win, and there's a problem with it. Unfortunately there was a PTO attempt in Clan Wolf last election, so I need to make some more assumptions when it comes to determining these numbers.
This month Clan Wolf received 39 more votes in their PP election than they had last month, while the Sons of Anarchy received 33 less votes, and the CPF 15 less. I think it's safe to assume that the bulk of non-CW voters came from SOA last week, with some support from the CPF. In any case, membership in these parties has been stable for the most part (well, I actually think they've dropped a little bit, but I honestly haven't been paying much attention @_@) so I'm just going to use December's election results, at least for SOA, CPF and CW. For math's sake, next month, please try to avoid PTOs eCanada! ;-;
My second assumption is that about 450 people will vote in the next congressional elections. Our last
presidential election
had a turnout of 432, however there have been a few eCanadians who've returned to the country as of late, and I think it's safe to assume that activity and population have an increased, at least a little bit. And with this data in mind, I've created a pie chart to illustrate who I think will vote where next election.
Like I said, those numbers are based off Party Presidential election results. Translating that pie into congress seats looks something like this:
CPF= 7
MDP=7
CW=5
IPC=3
SOA=4
Undecided=14
This establishes the
minimum
amount of members each party should elect. Ergo, there's no point in me examining the top 4 candidates from the SOA because as far as I'm concerned, they've already been elected. As for those "undecided" votes, the voters who don't belong to one of the top 5 parties, the bulk of their support typically goes to the CPF. Last month over 40% of those votes went to the CPF, so I'll use that as a maximum, that is, I'm assuming in the upcoming election no party will receive more than 40% of the "undecided" votes. That means I don't intend to examine candidates who are below their party's minimum+6, because as far as I'm concerned, they've already lost the election! capisce?
So now I'll begin zooming in on the candidates who's chances of being elected are uncertain! ... Or at least I would if I knew the parties' top secret congressional rosters
Alas, the other half of this article will have to wait until tomorrow when our dear Party Presidents go in and re-organize their candidates. So stay tuned for updates and whatnot!
Also if anybody's interested, all the data I compiled along with a few more graphs can be found
here~
All the parties appear to have their stuff in order so I will begin the process of looking at the individuals who would most likely benefit from your vote tomorrow. I should also mention that because of silly mechanics, us losing Ontario yesterday caused a number of candidates from all parties to be removed from the ballot. As a result, the SOA and IPC only have 3 and 4 candidates respectively. With the sole support of party members, both will likely be able to elect all their candidates. For example, the IPC will only need 40-45 votes, anything beyond that will be wasted. If enough votes are wasted this way, then an entire congress seat will be wasted.
Wouldn't that be a shame?
Just something to keep in mind come election day~
This analysis is based off what I know personally, or was able to research. If anything seems out of place or there is anything anybody would like to add just comment or shoot me a PM and I'll adjust the article accordingly.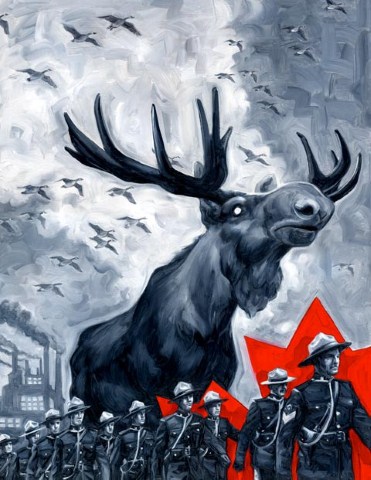 Moving on, if you are a member of the CPF, and you intend to be voting CPF, then here is the team you will likely be supporting.
In my opinion, these candidates have already won a seat in congress, so I needn't take a look into each of these individuals. However, if external support for the CPF is as strong as it typically is, then they could very easily elect every one of their candidates. So without further adieu, I'll begin examining the rest of their candidates, whos position in congress will rely on voters from outside of the CPF:
---
klop123 -
http://www.erepublik.com/en/citizen/profile/1521602
Forum Account -
http://tinyurl.com/ayjbaxo
He's been very active in eCanada the past few months, serving a few terms as MoD and as the CPF's party president. Most would agree that he was quite competent with his MoD position, and judging by his posts in congress he was able to make decent contributions.
---
Exalted Druid -
http://www.erepublik.com/en/citizen/profile/1828697
Forum Account -
http://tinyurl.com/bdjajel
An experienced and active member of congress, exalted druids posts are usually constructive, sarcastic, or both. There ya go, short and sweet.
---
Gunny165 -
http://www.erepublik.com/en/citizen/profile/5002881
Forum Account -
http://tinyurl.com/ab6ntn5
Gunny also has a wiki page. I like wiki pages
http://wiki.erepublik.com/index.php/Gunny165
During his one and only month in congress he released an article about his experiences and explaining his ideas, which was pretty awesome in my opinion, you can read it
here
His posts show me that he's a rather enthusiastic player.
---
Little Tony -
http://www.erepublik.com/en/citizen/profile/5227758
Forum Account - 404
Though there is no sign of forum activity his media activity tells me that he's been involved in managing a couple smaller parties in the past. His articles are often very critical and well thought out, I kinda wish he'd write more often.
---
kokalo03 -
http://www.erepublik.com/en/citizen/profile/6390024
Forum account - 404
No forum account, no media activity, I honestly don't have anything to say about kokalo >.<
---
Genyng Kislev-
http://www.erepublik.com/en/citizen/profile/5433707
Forum Account -
http://tinyurl.com/a7msdrw
Fairly active in the media, his articles are usually playful in nature. He's currently the ambassador to Taiwan, although he hasn't given an update in awhile. (Though I suppose neither have I
)
If you are in the MDP and you vote for the MDP like a good drone should, then here is the team you'll be electing:
If however, you are not in the MDP, but considering voting MDP, your votes will probably help the following candidates be elected:
---
Edmond.D -
http://www.erepublik.com/en/citizen/profile/6786541
Forum Account -
http://tinyurl.com/bjr6aek
Honestly, I'm trying to be objective here, so I shan't be writing about myself. Do your own research or send me a PM.
---
Chamrajnagar -
http://www.erepublik.com/en/citizen/profile/1545658
Forum Account -
http://tinyurl.com/b8mexlv
A long time eCanadian citizen who left the country some time ago in response to the congressional
pardon of Rolo Tahmasee
he's recently returned to the eCanada. He's served countless (too many for me to count anyways) positions in the past, and is one of the most experienced people on the ballot.
---
Cesare Vino -
http://www.erepublik.com/en/citizen/profile/5124739
Forum account -
http://tinyurl.com/ay2268e
A new eCanadian who recently emigrated from eFeance, his experience is extensive although he probably isn't nearly as well known here in eCan as he is in eFrance. Personally I think his connections with a country eCanada has traditionally been allies with could prove useful in congress.
---
Mary Chan -
http://www.erepublik.com/en/citizen/profile/1289955
Forum Account -
http://tinyurl.com/b4b4qxj
Probably eCanada's longest serving Vice President, she's one of those uber active players who's fairly approachable.
---
Duckquack -
http://www.erepublik.com/en/citizen/profile/7000780
Forum Account - 404
I think it's safe to assume we have a bit of a noob here. A little new blood here and there is important, but I'm seeing a lack of enthusiasm. Mind you the key word is seeing.
---
Ilyas0829 -
http://www.erepublik.com/en/citizen/profile/6959185
Forum Account -
http://tinyurl.com/b9ceesj
And here's some more new blood running for congress. He is on the forums and lurking, which is better than nothing. There's no media activity to examine, but he is asking potential supporters to message him with any questions they may have.
Based off their typical election turnouts, my assumption is that Clan Wolf will receive a minimum of 5 members of congress, those 5 being:
Clan Wolf would need approximately 45 non-CW votes to elect more than 8 candidates to congress. Anything is possible, however the past 3 months CW's "outside" support has only amounted to 10-15 votes. Therefore, if you are voting for the Clan tomorrow, most likely your votes will help these 3 individuals:
---
Peyton Marty -
http://www.erepublik.com/en/citizen/profile/6863934
Forum Account - 404
Here's a newer player, who I've honestly never heard of before. With no newspaper or forum account all I have to go on is Peyton's profile which says that he was in eGermany to begin with, and he believes he's in America. If anybody has any more information, please do share.
---
Colonel Sanders -
http://www.erepublik.com/en/citizen/profile/2145920
Forum Account -
http://tinyurl.com/an6b4z3
The player formerly known as Sanchez Shorties, he was active about 2 years ago before going silent. He was an active member of his party (the Democratic Action League) and his military unit (CAF) during his heyday and has served 2 terms in congress in the past as well as a term as Minister of Education. Based off his posts on the forum, I'd say his time in congress was fairly productive. Of course people can change over two years, and there aren't many signs of recent activity, though he did get a Plug endorsement:
---
WolfeCanada -
http://www.erepublik.com/en/citizen/profile/1521259
Forum Account- 404
Here's an older player, who I honestly know nothing about. There is no media activity, though if you run a google search with an erepublik filter, you find that he commented on some articles about 3 years ago. Weather that counts for anything or not is up to you.
And that's all I've got for now. Happy election day eCanada o/
Publicar comentário
O que é isso?

Este é um artigo escrito por um cidadão do eRepublik, um imersivo jogo de estratégia baseado nos países do mundo real. Crie um personagem e ajude seu país rumo à glória. Torne-se um herói de guerra, um editor renomado ou um guru das finanças.